Moody's CSR Report Highlights 2019 Milestones, COVID-19 Efforts
Moody's CSR Report Highlights 2019 Milestones, COVID-19 Efforts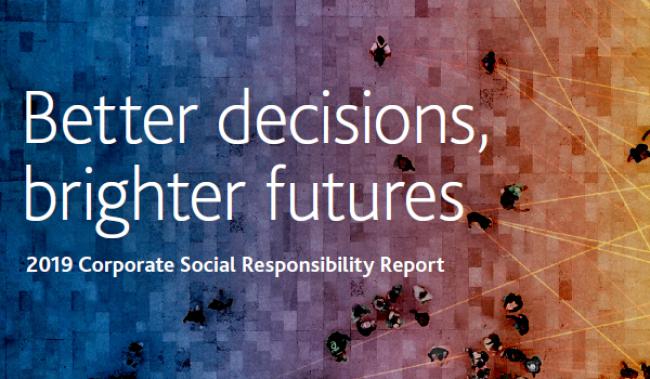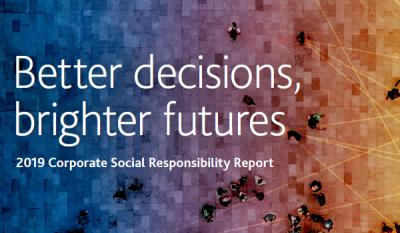 Friday, May 29, 2020 - 9:20am
May 28, 2020/ 3BL Media/-  Moody's Corporation's newly published annual Corporate Social Responsibility (CSR) report highlights the company's global partnerships and programs that exemplify its purpose of bringing clarity, knowledge and fairness to an interconnected world. It also outlines steps Moody's is taking to mitigate the impact of COVID-19 on its philanthropic partners and communities they serve, including support for small businesses and educational systems. 
"Corporate social responsibility is at the heart of our work to enhance connections and collaboration between people," said Raymond McDaniel, President and CEO of Moody's Corporation. "As we continue to navigate the impacts of COVID-19, we are focused on providing our stakeholders with the resources, information and insights that will help communities and economies recover and thrive."
"We remain steadfast in our commitment to building more inclusive economies, stronger communities and an environmentally sustainable future. CSR and social investing are part of the fabric of our company," added Arlene Isaacs-Lowe, Global Head of CSR and President of Moody's Foundation.
The report highlights milestones Moody's achieved in 2019 in each of its CSR strategic focus areas, outlined below.
Empowering people with financial knowledge
In 2019, Moody's launched its Pathway to Prosperity program, providing US small business owners with the tools and resources to more efficiently manage their cash flow and liquidity. The program serves America's Small Business Development Centers and is crucial to helping US small businesses navigate cash flow and liquidity challenges that have been intensified by COVID-19.
Moody's also served more than 1,000 entrepreneurs in Kenya through the 'Smart Duka' program. Under Moody's Reshape TomorrowTM initiative, its partner Technoserve trained small business owners, 68% of whom were women, on important elements of financial management, including loan readiness. This initiative will be especially useful for entrepreneurs requiring additional loan education and support related to COVID-19.
Helping young people reach their potential     
Moody's provided tutoring, mentoring and peer networking support for underserved students in London through Brunel University's Urban Scholars Widening Access Programme (USWAP). Since the program's launch in 2004, 91% of students have gone on to graduate from a university with 83% of the most recent USWAP alumni group studying STEM or finance.
In 2019, Moody's and Girls Inc. expanded their Generation Giga Girls (G3) program, with new learning hubs opening outside of New York City for the first time in its five-year history. The G3 program builds girls' skills in data analytics and computer programming; its curriculum will also supplement online learning efforts for students whose education has been affected by COVID-19.
Activating an environmentally sustainable future                                                  
Moody's made several strategic investments to extend its core environmental, social and governance (ESG) capabilities – including majority stakes in Four Twenty Seven, Inc. and Vigeo Eiris and a minority investment in SynTao Green Finance. The company also published more than 220 investor research pieces related to ESG considerations.
With the inaugural launch of Moody's Future Solutions™ global immersive pro bono program, the company provided skills-based volunteering to environmental organizations in China. Moody's volunteers conducted financial analysis of nonprofit programs and provided quantitative research to help better measure the country's contributions to the UN's Sustainable Development Goals. Moody's is expanding the program to other geographic locations and providing virtual support during the COVID-19 disruption.
View the full 2019 CSR Report.
Learn more about Moody's support for stakeholders in response to the COVID-19 pandemic.
Visit Moody's dedicated research hub and blog to read more about the company's business response to the COVID-19 pandemic.
ABOUT MOODY'S CORPORATION
Moody's (NYSE:MCO) is a global integrated risk assessment firm that empowers organizations to make better decisions. Our data, analytical solutions and insights help decision-makers identify opportunities and manage the risks of doing business with others. We believe that greater transparency, more informed decisions, and fair access to information open the door to shared progress. With over 11,000 employees in more than 40 countries, Moody's combines international presence with local expertise and over a century of experience in financial markets. Learn more at moodys.com/about.
Moody's builds toward a world where more people have access to opportunity, and where everyone has what they need to grow and thrive. We are committed to opening the door to brighter futures through our global corporate social responsibility programs connecting people around the world with the knowledge and resources they need to succeed. For more information visit moodys.com/csr.
Contacts
Jordan Brueckner
Communications
1.212.553.7931
or
Jeremy Davis
Corporate Social Responsibility
1.212.553.0195