Moody's - Sustainable Bond Issuance to Hit a Record $650 Billion in 2021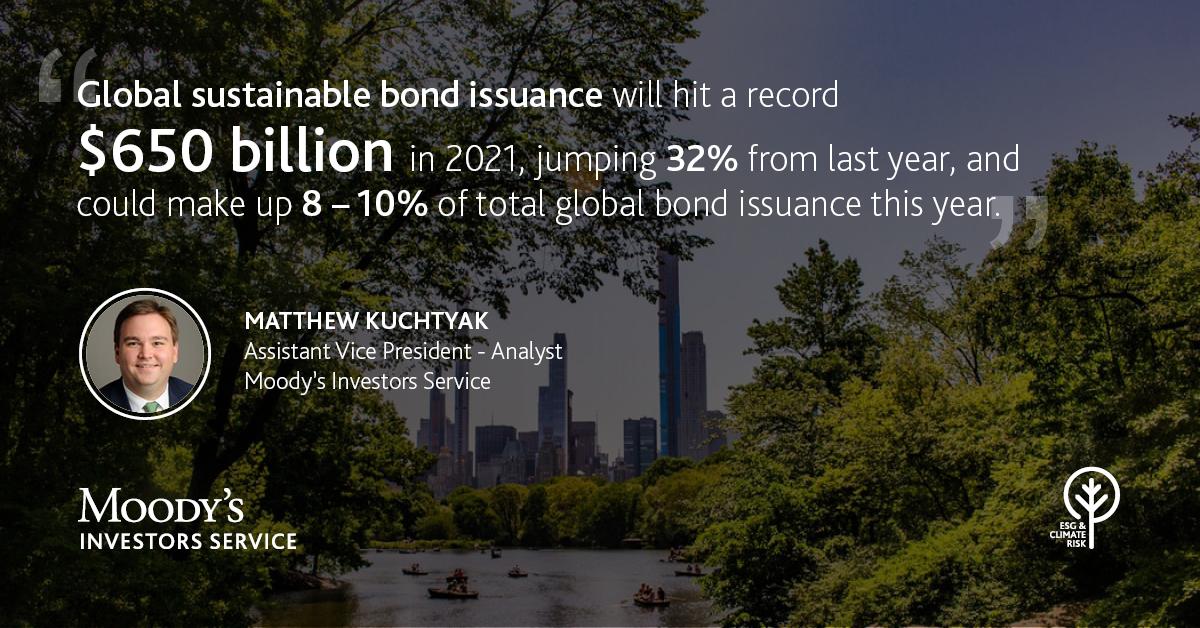 NEW YORK, February 09, 2021, /3BL Media/ - Global issuance of green, social and sustainability bonds – or sustainable bonds, collectively – will hit a record of $650 billion in 2021, a 32% increase over the $491 billion issued in 2020, Moody's Investors Service projects in a new report.
"We forecast $375 billion of green bonds, $150 billion of social bonds and $125 billion of sustainability bonds in 2021," says Matthew Kuchtyak, Assistant Vice President - Analyst at Moody's Investors Service. "We expect green bond issuance to jump by 39% this year as the economy continues to rebound and issuers increasingly pursue debt financing for environmentally-friendly projects."
Sustainable bonds may represent 8-10% of total global bond issuance in 2021, according to Moody's forecast, after accounting for 5.5% of total issuance in 2020. Growth in social and sustainability bond issuance will slow, however, as coronavirus pandemic-related financings begin to plateau. Moody's expects social bonds to grow 6% in 2021, after increasing sevenfold in 2020, while sustainability bonds will grow 58% after doubling in 2020.
Moody's says that key sustainable finance developments will advance significantly in 2021 – particularly sustainability-linked bonds and transition finance. Sustainability-linked bonds have strong growth potential, as they allow issuers to maintain the flexibility of general corporate purposes borrowing while potentially still appealing to sustainability-minded investors. Companies will seek to finance their carbon transition plans with both use-of-proceeds and sustainability-linked bonds as relevant standards advance, although the definition of credible transition targets across a wide range of sectors remains a hurdle to rapid market growth.
Governmental policy will further support sustainable debt market growth and development in the year ahead, as governments around the world heighten their focus on climate change and link economic recovery plans with sustainable development goals. Europe will continue to lead the way with the EU Green Deal and development of a sustainable finance taxonomy, while the Biden administration's policies will provide a boon for sustainable finance and investment in the US. China's 14th Five-Year Plan and a commitment to carbon neutrality by 2060 also suggest a resumption of growth in sustainable debt volumes in that market. 
Subscribers can access the report at: http://www.moodys.com/researchdocumentcontentpage.aspx?docid=PBC_1253505NOTE TO JOURNALISTS ONLY: For more information, please call one of our global press information hotlines: New York +1-212-553-0376, London +44-20-7772-5456, Tokyo +813-5408-4110, Hong Kong +852-3758-1350, Sydney +61-2-9270-8141, Mexico City 001-888-779-5833, São Paulo 0800-891-2518, or Buenos Aires 0800-666-3506. You can also email us at mediarelations@moodys.com or visit our web site at www.moodys.com.This publication does not announce a credit rating action. For any credit ratings referenced in this publication, please see the ratings tab on the issuer/entity page on www.moodys.com for the most updated credit rating action information and rating history.
Matthew Kuchtyak
AVP-Analyst
Environmental, Social & Governance
Moody's Investors Service, Inc.
JOURNALISTS : 1 212 553 0376
Client Service : 1 212 553 1653
Swami Venkataraman, CFA
Senior Vice President/Manager
Environmental, Social & Governance
Moody's Investors Service, Inc.
JOURNALISTS : 1 212 553 0376
Client Service : 1 212 553 1653
Releasing Office :
Moody's Investors Service, Inc.
250 Greenwich Street
New York, NY 10007
U.S.A.
JOURNALISTS : 1 212 553 0376
Client Service : 1 212 553 1653