Lockheed Martin Donates "Mars Experience" to National Air and Space Museum
Lockheed Martin Donates "Mars Experience" to National Air and Space Museum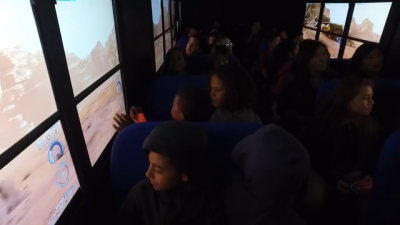 tweet me:
After 110,000 rides, @LockheedMartin "Mars Experience" bus finds new home at Smithsonian @airandspace museum http://bit.ly/2OI0Y6j #STEM #VR #fieldtrip #GenBeyond
Summary
Lockheed Martin's "Mars Experience" transported nearly 110,000 students, parents and educators to the Red Planet before going to its final home at the Air and Space Museum's Udvar-Hazy Center.
Wednesday, October 24, 2018 - 10:00am
Lockheed Martin donated its award-winning "Mars Experience" bus to the Smithsonian's National Air and Space Museum's Udvar-Hazy Center on Friday.
Ann Zulkosky, Director for NASA Programs at Lockheed Martin, handed the bus keys over to Dr. Peter Jakab, Chief Curator of the Smithsonian National Air and Space Museum, during a formal donation event.
A group of fourth- and fifth-grade students from nearby Loch Lomond Elementary School were the first to ride the bus at its new home.
Lockheed Martin launched the "Mars Experience" bus in 2016. To date, nearly 110,000 students, parents and educators have taken a ride to the Red Planet on it. The immersive educational experience was designed to show students that a trip to Mars isn't as far off as it may seem – the first people who will walk on Mars are likely in school right now.
The "Mars Experience" bus is part of Lockheed Martin's broader Generation Beyond STEM education program, an interactive digital curriculum used in thousands of classrooms around the country. Later this month, Lockheed Martin is adding to its space curriculum and rolling out new Generation Beyond digital lesson plans and educational videos focused on aerospace and flight.
Read more about Lockheed Martin's commitment to STEM education on the Generation Beyond homepage. Watch the "Mars Experience" bus video: https://youtu.be/FIS_JkNnCeI.
About Lockheed Martin
Headquartered in Bethesda, Maryland, Lockheed Martin is a global security and aerospace company that employs approximately 100,000 people worldwide and is principally engaged in the research, design, development, manufacture, integration and sustainment of advanced technology systems, products and services. This year, the company received three Edison Awards for groundbreaking innovations in autonomy, satellite technology and directed energy. Learn more at www.lockheedmartin.com.
More From Lockheed Martin
Monday, August 26, 2019 - 10:30am
Monday, August 19, 2019 - 1:20pm
Tuesday, August 6, 2019 - 12:20pm