It's Imperative That All Children Have Access to Tech Education, Says Winner of the Prestigious ISTE Making IT Happen Award
It's Imperative That All Children Have Access to Tech Education, Says Winner of the Prestigious ISTE Making IT Happen Award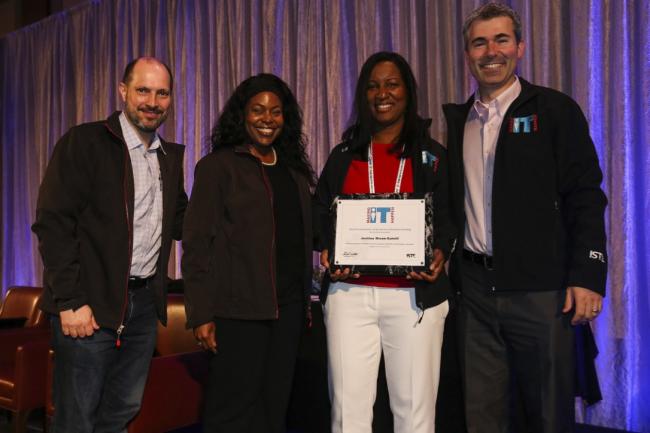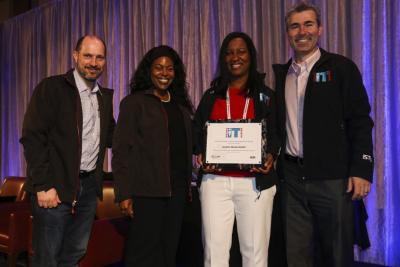 tweet me:
"Providing technology alone is not enough. These powerful tools are effective for learning only if used by teachers who embrace them and who receive comprehensive and ongoing training," says winner of @ISTE award. @JustinaNixon #verizoninnovativelearning http://bit.ly/2z32lF8
Thursday, July 5, 2018 - 10:00am
Justina Nixon-Saintil, director of programs for Verizon Innovative Learning, was honored last week with the Making IT Happen Award from the International Society for Technology in Education (ISTE).  The award, which honors extraordinary commitment, leadership, courage and persistence in improving digital learning opportunities for students, recognizes Nixon-Saintil's leadership of Verizon's work to provide free technology, access and innovative curricula to under-resourced schools across America.
Here, Nixon-Saintil shares some insight into the initiative that was honored with the ISTE award.
Why does Verizon focus on education?
As a global technology leader, Verizon recognizes that we are literally changing the world. This gives us great power and even more, a great responsibility to ensure that our technology benefits all people equally. Our motto is, we don't wait for the future; we build it. And as we build, it's our responsibility to ensure that segments of the population are not left behind. By 2020, a huge percentage of jobs will require technology skills.1   Yet today, millions of American students lack the tech literacy and skills they need to succeed in the digital world.2 It's imperative that all children, especially those in under-resourced communities and from groups that are under-represented in STEM fields, have access to technology and tech education. Because, morally and ethically, they deserve the opportunity to achieve their potential, and because pragmatically, economically and socially, the world will benefit from their contribution.
How is Verizon Innovative Learning tackling its mission?
Since 2012, we have invested more than $200 million, and this year we announced that we are committing another $200 million, to provide immersive next-gen technology, teacher training, STEM curricula and connectivity to under-resourced students across the United States. There are two ways we reach students: in school and in immersion programs.
Currently, we are working with 100 middle schools throughout the US, in a whole-school approach that gives a tablet and data plan to every student and teacher. With our nonprofit partner, Digital Promise, we provide professional development to teachers throughout the school year and in the summer. Also, we provide a digital learning coach to work with the teachers every day to help them take full advantage of technology in the classroom. We're also helping schools create innovation labs, outfitted with next-gen tech such as augmented reality, virtual reality, 3D design and printing and much more. These are spaces where students are learning to become makers and creators.
In our immersion programs, we are working with colleges and universities to reach middle-school-aged students who are dramatically under-represented in STEM fields. Currently, with 24 Historically Black Colleges and Universities and Hispanic Serving Institutions, we're serving minority males. And, with 16 community colleges, we're serving girls in rural communities. Both of these programs begin with an on-campus summer camp that teaches technology and entrepreneurship skills, and gives students hands-on experience that helps develop the thinking and collaboration skills that are needed for jobs in the digital economy. After the summer camp, students attend weekly workshops throughout the school year. Also, the programs pair students with mentors who role model success in STEM careers.
What's been the impact so far?
We're tracking the impact over the short term and the long term.  In the short term, we're seeing that teachers are able to tailor lessons to kids' individual strengths and weaknesses, so that they can focus on areas that need the most help. 62% of teachers said using tech made their instruction more effective.
With technology in their hands, and always-available access to the internet, kids are driving the pace and direction of learning. This is leading to gains in student engagement, with 75% of teachers saying that students are more engaged, and 57% of students saying science is now more interesting. This is instilling both a love of learning, and an ability to curate and direct their own path for continued development. And, we're seeing academic gains. The percentage of Verizon Innovative Learning (VIL) students who improved in math was three times greater than comparison students -- and two times greater in reading.  At-risk children in our program, which includes students with disabilities, improved in math at a rate of five times their non-VIL peers at the 6th grade level and three times at the 7th grade level.3 
In the long term, we're making kids comfortable with emerging technologies, teaching them not only to operate them from a technical standpoint, but also how to use them to create and innovate.  We're empowering a new generation of workers by equipping them with the tech skills and social and emotional abilities to make a meaningful contribution to their communities and the world.
We're making sure all kids -- poor kids, minority males, girls in rural areas – understand the world of opportunities open to them in the digital economy.
What's your advice for other organizations working in STEM?
Our work has been evolving since 2012, and I can certainly say we've learned a lot – much of it by trial and error. In fact, as part of our work with Digital Promise, we have documented the process from the beginning in an online guidebook. We offer this information for free as a resource for school districts and any organization working to close the digital learning gap.
The main thing we've come to understand is that providing technology alone is not enough. These powerful tools are effective for learning only if used by teachers who embrace them and who receive comprehensive and ongoing training. The most effective programs are holistic and iterative. It's very important to measure and monitor the impact, and to always be ready to adapt to new challenges. 
Verizon Innovative Learning
Millions of American students lack the tech access and skills they need to succeed in the digital world.2   Verizon has been working to help solve this problem holistically through a transformative program called Verizon Innovative Learning. Verizon Innovative Learning provides free technology, free internet access, and hands-on learning experiences to help give under-resourced students the education they deserve. Powered by a next-gen, technology-infused curriculum that fundamentally changes the way teachers teach and students learn, Verizon Innovative Learning is giving kids the ability to do more in this world. Students are showing improvement in math and reading, and they're more engaged in school.
# # #
1U.S. Bureau of Labor Statistics
2Pew Research Center Analysis of 2013 American Community Survey (IPUMS)
3Westat March 15, 2017 research.
More From Verizon
Monday, November 30, 2020 - 6:25pm
Wednesday, November 18, 2020 - 1:15pm
Tuesday, November 10, 2020 - 10:10am