INFOGRAPHIC: PANDORA | Minimising Our Environmental Impact
INFOGRAPHIC: PANDORA | Minimising Our Environmental Impact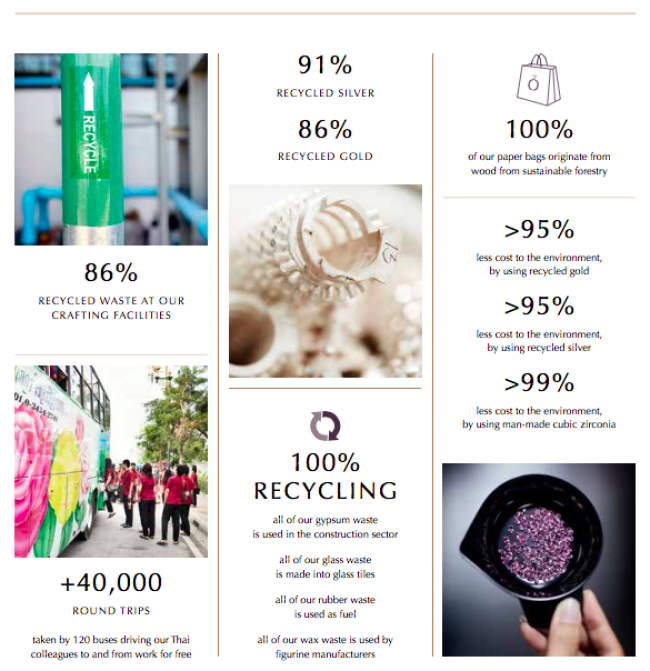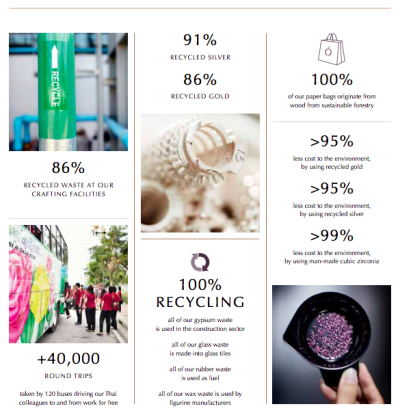 tweet me:
PANDORA is focused on minimising #environmental impact http://bit.ly/2w6EVwc
Thursday, September 7, 2017 - 9:00am
NATURAL CAPITAL
At PANDORA, we recognize that mining and processing of metals and stones are associated with adverse environmental impact. A recent study performed for PANDORA by the environmental cost consultancy Trucost, sought to quantify and value the hidden positive and negative externalities of different materials used in our manufacturing. The study calculates the financial cost of environmental damage (such as health cost associated with pollution) to society from various materials and crafting methods. The study revealed that using recycled precious metals and man-made stones significantly reduces the environmental cost compared to mined materials due to less environmental damage.
PRECIOUS METALS
The Trucost study revealed that when it comes to silver and gold, using recycled sources reduces the environmental cost with more than 95%. We want to minimise our environmental impact on the planet. As part of our efforts to advance social and environmentally responsible sourcing practices, 86% of all gold grains used in the crafting at our Thai facilities in 2016 originated from recycled sources. The remaining 14% originated from virgin material from certified conflict free refineries.
When it comes to silver, 91% of the silver grains used in the crafting at our Thai facilities in 2016 originated from recycling. The remaining 9% originated from virgin materials supplied by certified members of the RJC. Thus, PANDORA can guarantee that the vast majority of our silver is environmentally friendly compared to virgin material. 
MAN-MADE STONES
We gain many ethical advantages by predominantly using man-made stones in our collections. The origin of man-made stones is fully traceable and the ability to grow stones with fewer quality variations considerably reduces material waste. In a recent study carried out for PANDORA, the environmental cost of man-made cubic zirconia stones compared to mined diamonds is estimated to be decreased by more than 99% when it comes to greenhouse gas emissions and air pollutants.
CRAFTING
PANDORA experienced a sharp increase in demand and produced approximately 106 million pieces of jewellery in- house in 2016. At the same time, the greater complexity and intricacy of our jewellery designs have made it challenging to simultaneously reduce our energy and water consumption at our crafting facilities. With the new Leadership in Energy and Environment (LEED) certified crafting facility in northern Thailand and another LEED certified crafting facility currently under construction in Bangkok, we expect to be able to significantly improve our environmental performance in the years to come.
Energy
PANDORA Production Thailand (PPT) is by far our most energy-consuming entity. The amount of energy used here increased from 29,472 MWh in 2015 to 35,907 in 2016. The rise in energy consumption reflects the increase in crafting complexity and the number of pieces of jewellery produced. Besides the state-of-the-art burnout ovens used in the crafting process, the extensive use of chillers to ensure a cool and comfortable working environment throughout our facilities consumes a considerable amount of energy. Ovens and chillers put together account for approximately 40% of energy consumption. We expect the LEED-certified facilities will significantly optimise the use of energy going forward, plus contribute with solar power, and we look forward to the future results.
Water
As a result of our growth and the increased complexity in our jewellery designs, our water consumption at PPT increased from 482,500 m3 in 2015 to 584,108 m3 in 2016. In 2016, we invested in additional on-site waste water treatment at our Bangkok facilities, drastically improving the quality of waste water. The disposal of waste water is subject to control by both our own SHE team and local authorities, and is audited by external experts as a final check. Our new LEED certified facilities have a clear focus on water recycling, and we expect to improve our future water consumption and recycling significantly.
Waste
The crafting of our jewellery generates four main types of process waste: gypsum, glass, rubber and wax. Gypsum waste is recycled in the construction sector, glass waste is recycled into glass tiles, rubber waste is used as fuel by the cement industry and, finally, wax waste is used in the casting process by a figurine manufacturer. Some categories are sold and others we pay to have recycled, as in the case of gypsum where PANDORA pays for the transportation to the vendor. In 2015, these four main types of waste reached an impressive result: 100% reuse or recycling, making the total reuse or recycling of our crafting waste 83%. In 2016, we were able to continue the trend with 100% recycling of our main types of waste and a total recycling of 86%.
Find more detailed data on waste on pandoragroup.com/csr 
LOGISTICS
PANDORA jewellery is sold in more than 100 countries around the world; hence PANDORA requires logistics services from a variety of different providers moving our goods through different types of transport – rail, sea, road and air. In 2014, CO2 emissions from the transport of our jewellery was identified as a focus area, and we have been in close dialogue with our transport providers on how to gather reliable data and how to minimise emissions in the future. In 2016, the estimated transport emissions for over 90% of our transport activities amounted to 8,700 tonnes of CO2; up from 5,400 in 2015. We consider this rise in transport emissions to be a result of our growth and especially the increased number of concept stores, which is without a doubt the store type with the highest use of point of sales materials: such as fixtures & furniture, bags & boxes. It is encouraging that dialogue with our transport providers, all global leaders in their industries, clearly shows a dedication towards lowering their emissions. In 2017, we will continue the dialogue but still concentrate our focus on a place where our sphere of influence is stronger: our supply chain and our crafting. 
STORES
PANDORA jewellery is presently sold in about 2,100 PANDORA concept stores around the world, of which more than around 600 are owned and operated by PANDORA. The remaining stores are operated by our retail partners.
Our current store concept "Evolution" was introduced in 2014 and it is environmentally friendly in several ways. The concept is designed to be extra durable and it is possible to replace smaller parts over time – stretching the lifetime of the fixtures and furniture. As part of the development of Evolution, energy consumption was considerably reduced by relying on LED lights rather than conventional light bulbs. According to our in-house estimates, this change and the ongoing optimisation of LED light bulbs has enabled us to cut up to 50% off our electricity consumption in an average PANDORA concept store. The reduction is a result of more efficient lights, which also create less heat – reducing the need for air conditioning. In 2016, approximately 50% of all concept stores had switched to Evolution.
Finally, all paper bags are certified by the Forest Stewardship Council (FSC). Moreover, we continuously seek to expand our range of certified paper-based and wood-based materials according to international sustainability standards. 
Continue reading the complete PANDORA Ethics Report 2016 here 
More From PANDORA
Wednesday, March 21, 2018 - 9:30am
Tuesday, February 27, 2018 - 10:10am
Monday, November 20, 2017 - 9:45am
Videos from PANDORA