INFOGRAPHIC: PANDORA is Committed to Providing Proper Working Conditions
INFOGRAPHIC: PANDORA is Committed to Providing Proper Working Conditions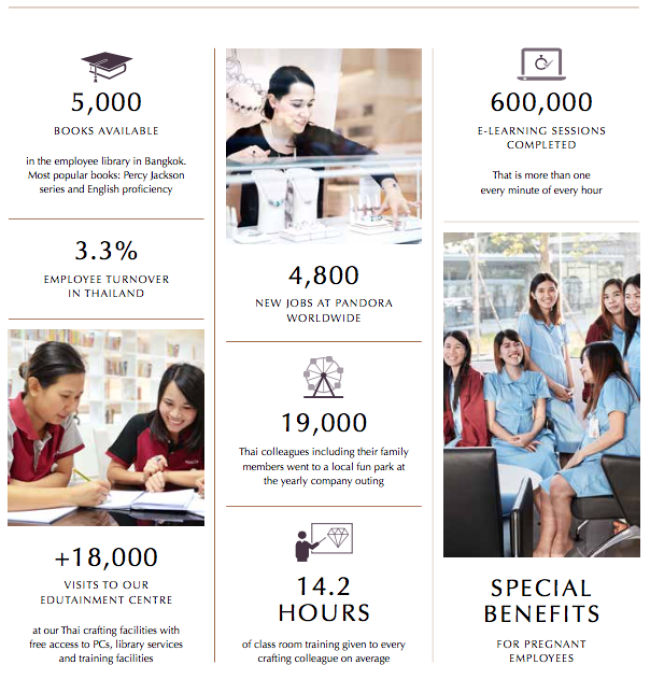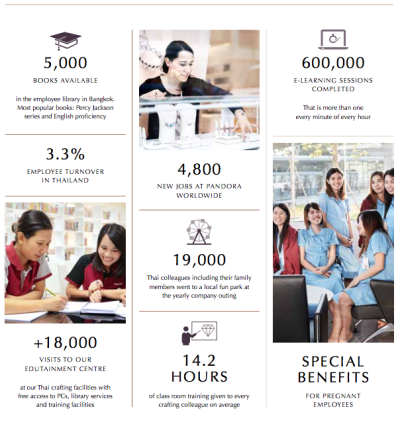 tweet me:
INFOGRAPHIC: PANDORA is committed to providing proper working conditions http://bit.ly/2x0Jl4u #EthicsReport
Wednesday, August 30, 2017 - 8:00am
CODE OF ETHICS
In 2015, PANDORA launched a new Code of Ethics, stipulating our ethical aspirations as a company and our ethical expectations to the behavior of our people. The code covers areas such as human rights, working conditions, environmental footprint, anti-corruption and supplier relations. Building on our ethics policies (available on www.pandoragroup.com/csr), the code offers our employees one common point of reference for ethical dilemmas backed by training modules spanning hiring procedures, workplace ethics and anti-harassment to fraud, gift giving and misuse of company assets. In 2016, we continued the implementation of our Code of Ethics to all staff and directors, and initiated a major review process to ensure that the Code of Ethics remains relevant vis-á-vis the development of the company and the world around us. A new code and training program is expected to be rolled out in 2017.
To support the Code of Ethics, our employees are encouraged to raise ethical concerns or ideas for ethical improvements with local management, HR, Legal or Ethics departments. Should employees perceive that concerns are not properly addressed, or if they are not comfortable with raising their concerns through these channels, they can chose to use PANDORA's externally administered multilingual Ethics Hotline. In 2016, less than 10 cases were raised through the Ethics Hotline. We see this as a positive indication of our employee's trust in our internal structures.
TRAINING
The main contact between PANDORA and our consumers is established and nurtured by over 35,000 people, who are passionate about selling our jewellery in more than 100 countries around the world. We are dedicated to helping sales people develop their skills and knowledge, both in our own stores and the 8,100+ points of sale operated by our partners. Our extensive training programmes span face-to- face training, coaching and e-learning.
The scope is broad and entails training in PANDORA's values, ethics, identity and history, jewellery and material expertise, crafting processes, and professional sales skills and techniques. Face-to-face training is supported by our comprehensive e-learning programme, which is available in 22 languages. In 2016, the number of online training sessions completed amounted to more than 600,000. This means that our people completed one online training session every minute of every hour in 2016.
DIVERSITY
Employment and promotions at PANDORA must always be based on merit. We are deeply committed to working against any form of discrimination and remain especially committed to ensuring gender diversity in our management positions. To this end, we have set a number of management diversity objectives, and progress is reviewed once a year by our Executive Management and Board of Directors.
By 2020, the percentage of women in senior management positions (members of the Management Board, general managers and vice presidents) should be at least 40%. At the end of 2016, 37% of senior management were women, compared to 33% in 2015, 34% in 2014 and 24% in 2013.
The gender composition of the Group's leadership programmes should mirror the gender composition of staff in vice president and director positions. Since we started our leadership programmes in 2012, the gender split has on aggregate been close to 50/50. In 2016, women accounted for 56% of this management group, and made up 60% of the enrolment in our leadership programmes.
By 2018, at least 35% of Board members elected at the Annual General Meeting must be women. At the end of 2016, women made up 30% of a Board members (3 out of 10), compared to 22% in 2016 (2 out of 9). As such, we are well above the average 16% for Danish listed companies, but still below the 35% target. The Board will continue to consider gender composition when appointing new members. 
Continue reading the complete PANDORA Ethics Report 2016 here 
More From PANDORA
Wednesday, March 21, 2018 - 9:30am
Tuesday, February 27, 2018 - 10:10am
Monday, November 20, 2017 - 9:45am
Videos from PANDORA