How Aflac Found a Duck's Purpose
How Aflac Found a Duck's Purpose
Aflac put its duck mascot to work as a companion robot for kids with cancer—and animated the company's brand purpose along the way.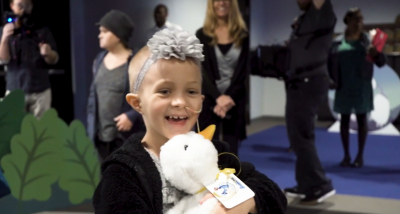 tweet me:
Supporting children facing cancer and funding pediatric cancer research were two initiatives by @Aflac that were finally brought together when the company debuted a companion robot called My Special Aflac Duck®. http://bit.ly/3c6Byr8 via @WJS
Friday, February 21, 2020 - 11:25am
The Aflac Duck has been squawking, waddling, and shaking its feathers loose in commercials for years, making a household name for itself and for the Aflac brand. Meanwhile, the supplemental insurance provider has been quietly donating millions of dollars to support kids with cancer and fund pediatric cancer research.
While those two initiatives define the brand, they weren't firmly connected until 2018, when Aflac debuted a companion robot called My Special Aflac Duck that the company donates to children undergoing cancer treatment. The project was born out of an effort to unite Aflac's marketing with its longstanding mission of helping kids with cancer, according to Catherine Hernandez-Blades, senior vice president and chief ESG (environmental, social, and governance) and communications officer for Aflac. To date, the company has donated more than $140 million to pediatric cancer research and treatment.
More From Aflac Incorporated
Friday, June 26, 2020 - 12:25pm
Monday, June 22, 2020 - 11:35am
Tuesday, June 16, 2020 - 1:15pm