Creating a More Sustainable World Through Logistics
Creating a More Sustainable World Through Logistics
As the world grows more connected, UPS is helping it grow connected sustainably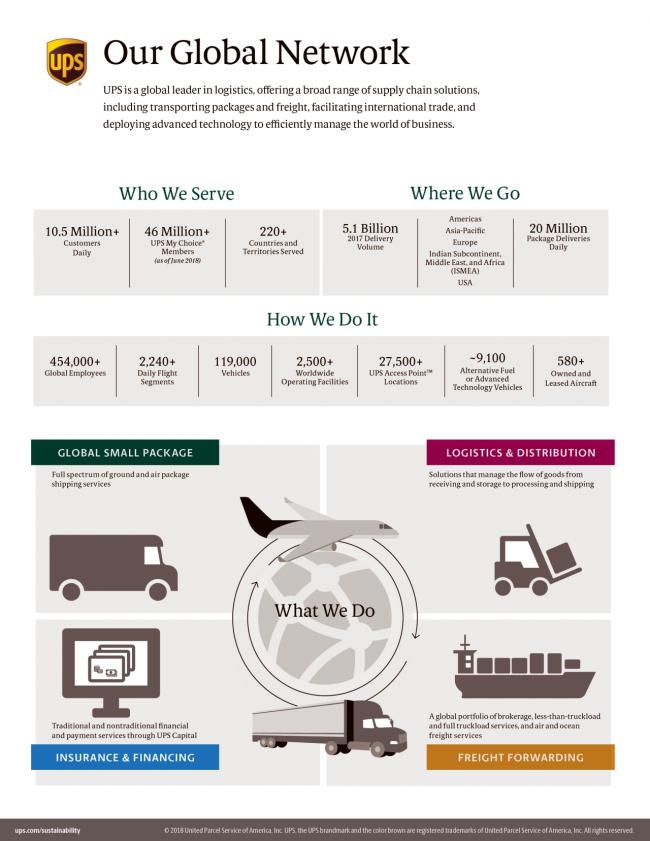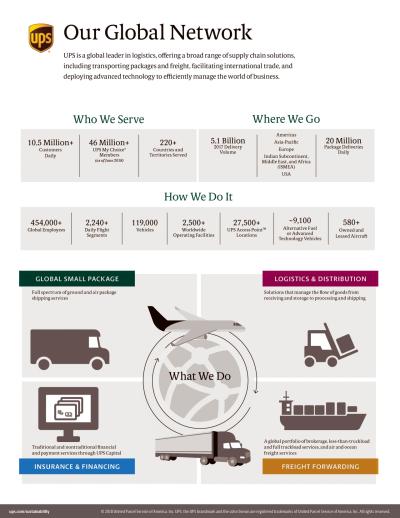 tweet me:
See how @UPS is playing an important role in helping the world grow more connected sustainably http://bit.ly/2lUl501
Wednesday, July 11, 2018 - 12:05pm
Today, an entrepreneur in India can create an online storefront and sell her products to customers in Brazil. A manufacturer in China can ship goods to Europe by rail, more quickly and with lower emissions than by ocean transport. A business can purchase carbon credits to offset the environmental impact of its shipping activities. And an electrically-powered bike can navigate city streets to deliver a package the last mile to its destination, quietly and with zero tailpipe emissions.
The world is growing more connected, and UPS is playing an important role in that transformation. We enable commerce by connecting individuals and organizations in more than 220 countries and territories. Customers use our broad logistics capabilities, global presence, industry-leading technologies, and innovative solutions to grow businesses and build strong, connected communities.
UPS has a long history of positioning our business to capitalize on growth trends. Today, these trends include e-commerce growth in the retail sector, nontraditional competitors entering the market, logistics outsourcing, expansion of global trade, and emerging market growth. Another trend is the demand for shipping solutions and operating models that consider the impacts of a business on the environment. Climate change can present a risk to our economic performance as countries, territories, and regions enact taxes and fees on transportation and logistics companies to regulate GHG emissions. Because different regions are following different paths with regard to climate change, this risk is impossible to quantify precisely, but the need to mitigate it is clear.
UPS is addressing the risk of climate change and its associated regulation by improving the fuel and emissions efficiency of our business, as well as by educating policymakers and the public about our contributions toward making commerce more carbon-efficient. We do this by using intermodal transportation that includes airplanes, trains, ships, trucks, cars, carts, and bicycles, and by loading every vehicle to maximize shipping volumes and minimize miles traveled. Our fleet includes approximately 9,100 alternative fuel and advanced technology vehicles that further reduce emissions. We offer customers supply chain optimization solutions that help improve inventory management and reduce their carbon footprint. We also reduce unnecessary visits to customer stops — and the associated environmental impact — by consolidating package deliveries to a UPS Access Point™ location or holding shipments at the customer's option so multiple deliveries can be made in a single trip. By making use of these services, our customers become partners in our journey toward greater efficiency.
More From UPS
Thursday, May 28, 2020 - 7:50am
Wednesday, May 27, 2020 - 7:50am
Tuesday, May 26, 2020 - 3:00pm