The Corporate Champions for Education
The Corporate Champions for Education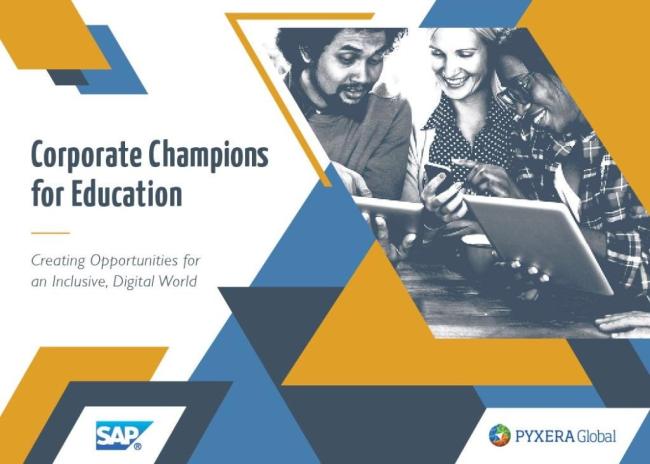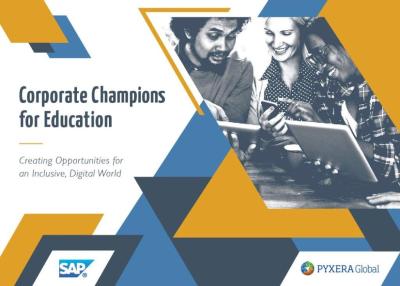 tweet me:
Accelerating leadership development, building nonprofit capacity, gaining insight into rapidly growing markets, engaging employees, and developing authentic CSR reputations: introducing the Corporation Champions for Education #CorpChamps #CSR @sap4good http://bit.ly/2BwCxAf
Wednesday, February 13, 2019 - 9:10am
Accelerating global leadership development, building the capacity of nonprofit organizations to better meet their missions, gaining insight into rapidly growing markets, engaging employees, and developing authentic reputations for Corporate Social Responsibility—all of these are reasons for companies to engage in international skills-based volunteering, otherwise known as Global Pro Bono. 
With backing from SAP, PYXERA Global has immediate openings for participants in the Global Pro Bono program Corporate Champions for Education, a multi-company collaborative approach. 
Why join the Corporate Champions for Education? 
It accelerates global leadership skills and provides a comparative corporate culture & competency experience 
Participants have a rare opportunity to accelerate their leadership skills not only in the context of a new market environment, but also side-by-side with professionals from other companies in other industries. In previous multi-company programs, participants observed that this 'crucible' development experience served to highlight the competencies and cultures of the different companies, developing greater appreciation for their own unique culture and core competencies, while at the same time developing a greater respect for others.
It opens the opportunity to collaborate to companies of all sizes
Typical programs require the development of a structure that supports several participants, which can effectively prohibit small and medium companies from participating. Because the program allows companies to send from 1–4 participants per team, it allows companies to 'right size' their effort and expense. This flexibility and affordability also allows multinational companies to experiment and pilot the practice, as part of an integrated CSR and employee engagement strategy.
It builds capacity in underserved markets to close the skill gap and improve lives and livelihoods
In 2019, the Corporate Champions for Education will assemble into teams and deploy on four-week assignments with nonprofit organizations in Vietnam (May-June) or Colombia (September-October). Using their professional and business skills, they will work on projects to improve the strategy and/or operations of organizations dedicated to addressing some aspect of the United Nations Sustainable Development Goal #4: "Ensure inclusive and equitable quality education and promote lifelong learning opportunities for all." 
"We are actively seeking companies large and small to join us as Corporate Champions for Education," said Alexandra van der Ploeg, Head of Corporate Social Responsibility at SAP. "Our intent is to collaborate with them to increase the capability of organizations that focus on preparing youth and/or adults for a digital world. We believe that building the capacity of local organizations is the best, most sustainable way to ensure that their clientele have the requisite competence and confidence to participate in today's—and tomorrow's—global, and increasingly digital, economy." 
About the Corporate Champions for Education (#CorpChamps)
The Corporate Champions for Education will be in Vietnam May 16–June 17 and in Colombia September 12–October 11, 2019. Participants from several companies across industries will form diverse teams to work on specific projects, using their professional business and operational skills during four-week secondments with nonprofit organizations in select underserved markets. SAP funds the underlying development and administration of the program, which is implemented by PYXERA Global. Collaborating companies pay a flat fee for each participant, inclusive of travel, hotel, food, training, and on-the-ground support. The deadline for commitment for the Vietnam program is February 28, 2019; the deadline for commitment for the Colombia program is May 31, 2019.
For more information: https://www.pyxeraglobal.org/corpchampion/
About PYXERA Global (@PYXERAGlobal)
For nearly 30 years, PYXERA Global has leveraged the unique strengths of corporations, governments, social sector organizations, educational institutions, and individuals to enhance the abilities of people and communities to solve complex problems and attain mutually beneficial goals. 
The PYXERA Global team is passionate and dedicated to navigating challenges and pinpointing purposeful global engagement opportunities for its clients and partners. Initiatives include a wide range of services from local content development to Global Pro Bono programs and integrated community development efforts that transform lives and livelihoods.