Child Patient Alexandra Raises $150 for Aflac Cancer Center
Child Patient Alexandra Raises $150 for Aflac Cancer Center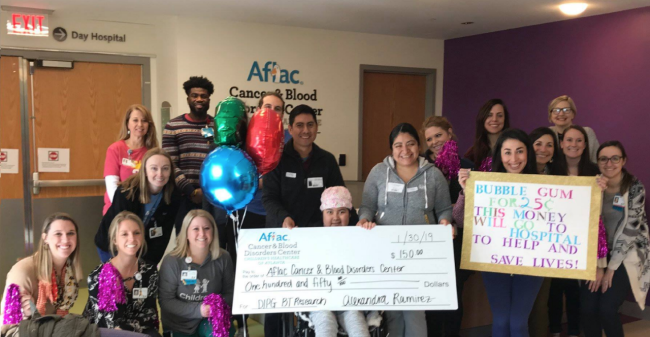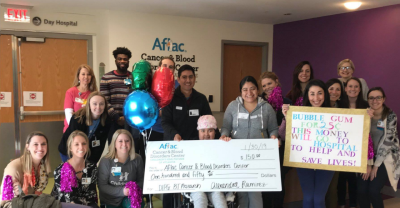 tweet me:
By selling bubblegum at 25 cents a piece, child @Aflac Cancer Center patient Alexandra was able to raise $150 for the hospital. http://bit.ly/2Wndg3I
Wednesday, May 8, 2019 - 9:00am
Alexandra is not only a brave patient—she's also a stellar saleswoman. The 10-year-old sold gum at $0.25 per piece and raised a whopping $150 for the Aflac Cancer Center! She handed over her check as staff came to cheer and support her, just as they have throughout her brain tumor battle. Thank you, Alexandra!
To learn more about the Aflac Cancer Center, please go to www.choa.org/medical-services/cancer-and-blood-disorders.
About Aflac
Aflac (NYSE:AFL)is a Fortune 500 company, providing financial protection to more than 50 million people worldwide. When a policyholder or insured gets sick or hurt, Aflac pays cash benefits fairly, promptly and directly to the insured. For more than six decades, Aflac supplemental insurance policies have given policyholders the opportunity to focus on recovery, not financial stress.
To learn more about Aflac, visit the company's website.
More From Aflac
Wednesday, February 19, 2020 - 11:15am
Thursday, February 13, 2020 - 11:30pm
Tuesday, February 4, 2020 - 3:15pm