Bye Bye, Bei Bei, Bye Bye
Bye Bye, Bei Bei, Bye Bye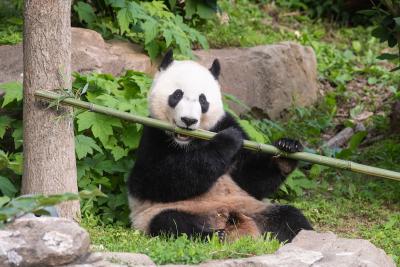 tweet me:
Bei Bei the giant panda gets a flight to his new home in Chengdu, China to help support the global giant panda population thanks to @Fedex #DeliveringForGood http://bit.ly/35swskU
Friday, November 22, 2019 - 4:15pm
Bei Bei was born Aug. 22, 2015, at the Smithsonian's National Zoo's David M. Rubenstein Family Giant Panda Habitat. Although the first 4 years of his life were spent at the Zoo, Bei Bei departed Washington D.C. for Chengdu, China on November 19th as part of the Zoo's cooperative breeding agreement with the China Wildlife Conservation Association. The agreement states that all cubs born at the Zoo must move to China when they reach 4 years of age. Bei Bei turned 4 on Aug. 22.
In preparation for his departure, the Smithsonian's National Zoo contacted FedEx to be the transportation provider of this shipment. FedEx had previously donated dedicated aircrafts to bring Bei Bei's older brother Tai Shan to China in 2010, older sister Bao Bao to China in 2017 and their parents, Mei Xiang and Tian Tian, to the United States in 2000. As a part of the company's FedExCares "Delivering for Good" initiative, FedEx uses its global network and logistics expertise to help organizations with mission-critical needs in times of disaster and for special shipments.  Thus, the company again agreed to provide a dedicated B777 aircraft to fly Bei Bei and his panda team to Chengdu, where his new keepers drove him to Bifenxia Panda Base where he will stay in quarantine for approximately 30 days. Bei Bei will enter the giant panda breeding program when he reaches sexual maturity between 6 and 7 years old.
Since giant pandas are listed as "vulnerable" in the wild by the International Union for Conservation of Nature, Bei Bei's return to China is important to contribute to the global giant panda population. There are only an estimated 1,800 pandas remaining in the wild. Bei Bei, like his brother and sister before him, plays a vital role in reintroducing giant pandas to the wild.