Better the Balance, Better the World
Better the Balance, Better the World
Symantec supports TechWomen and a gender-balanced tech industry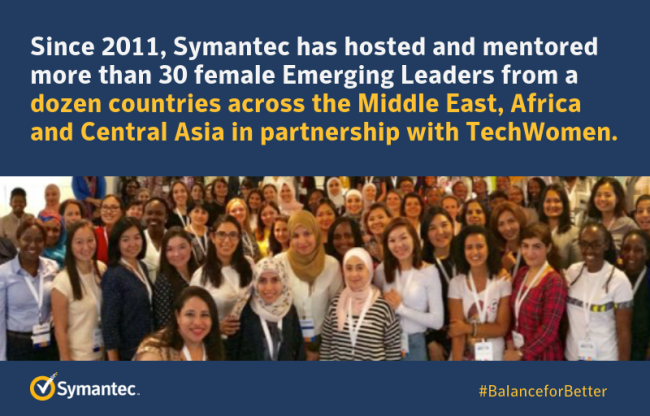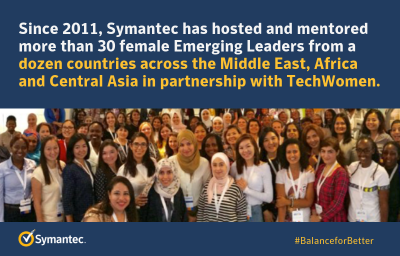 tweet me:
Happy #InternationalWomensDay! @Symantec celebrates women all year by supporting their interest in #STEM careers through @TechWomen. Learn more about how they work towards #BalanceforBetter: https://symc.ly/2tV60zt
Friday, March 8, 2019 - 12:05pm
By Eileen Brewer, Director in Product Development, Symantec
Today is International Women's Day, a global day celebrating the social, economic, cultural, and political achievements of women. This year's theme #BalanceforBetter focuses on how gender balance is essential for economies and communities to thrive.
Balance is not a women's issue, it's a business issue. We notice gender-balance's absence and celebrate its presence in boardrooms, governments, media coverage, and in the tech industry. And, every person, government and company has a part to play in building a gender-balanced world.
At Symantec, supporting the U.S. State Department's TechWomen program is one way we work towards #BalanceforBetter. TechWomen connects and supports female "Emerging Leaders" in science, technology, engineering and mathematics (STEM) from Africa, Central and South Asia, and the Middle East.
Through mentorship and exchange, TechWomen strengthens participants' professional capacity, increases mutual understanding between key networks of professionals, and expands girls' interest in STEM careers by exposing them to female role models.
More From NortonLifeLock
Friday, January 15, 2021 - 11:00am
Thursday, January 14, 2021 - 2:00pm
Thursday, December 10, 2020 - 12:00pm