Arconic Foundation and Discovery Education Receive Prestigious CODiE Award for Best STEM Instructional Solution for Grades 6-12
Arconic Foundation and Discovery Education Receive Prestigious CODiE Award for Best STEM Instructional Solution for Grades 6-12
Innovative No-Cost Dynamic Digital Content Building STEM Thinking Earns Prestigious Industry Recognition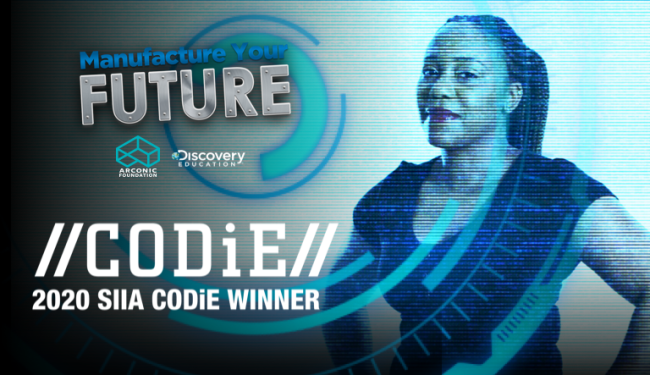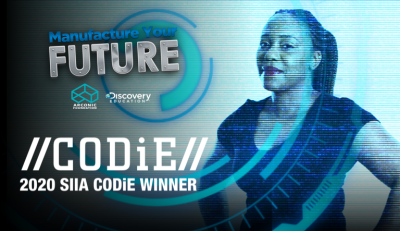 tweet me:
The 2020 CODiE Awards has named @DiscoveryEd and @Arconic_Fdn the winner of the 'Best STEM Instructional Solution in the Grades 6-12' category for their #ManufactureYourFuture initiative. Check out the award-winning digital resources here: https://bit.ly/3ga2VCs
Friday, May 22, 2020 - 8:00am
SILVER SPRING, Md., May 22, 2020 /3BL Media/ – The Software & Information Industry Association (SIIA) – the principal trade association for the software and digital content industries – recently announced the winners of the 2020 CODiE Awards in education technology. Arconic Foundation and Discovery Education was named Best STEM Instructional Solution in the Grades 6-12 category for their Manufacture Your Future initiative. Through a suite of no-cost digital resources, Manufacture Your Future cultivates the next generation of manufacturing leaders and innovators.
Manufacture Your Future provides hands-on learning for 3rd-12th grade teachers, students, and families that build the skills necessary for a future career in manufacturing. Comprehensive, cross-curricular lesson plans and resources explore a variety of topics from the history of manufacturing to STEM-based interactives on robotics. The program's family discussion starters extend the conversation beyond the classroom, giving parents a way to highlight the crucial role manufacturing plays in day-to-day life. Discover all the no-cost digital resources at manufacureyourfuture.com.
37 awards were given for products and services deployed specifically for education and learning professionals, including the top honor of the Best Overall Education Technology Solution. A SIIA CODiE Award win is a prestigious honor, following rigorous reviews by expert judges including educators and administrators whose evaluations determined the finalists. SIIA members then vote on the finalist products, and the scores from both rounds are tabulated to select the winners. Learn more and see all the award winners here.
"Congratulations to the 2020 Ed Tech CODiE Award winners," said SIIA President Jeff Joseph. "The COVID-19 pandemic reminds us of the importance of innovative edtech products and services such as those we honor today. This year's class takes a special place among the many amazing products recognized across the 35-year history of the CODiE Awards."
"The Arconic Foundation believes in the importance of developing the future manufacturing workforce through innovative programming and education opportunities. Through Manufacture Your Future, we strive to make the STEM careers of tomorrow fascinating to the students of today by unleashing the power of creativity and innovation," said Diana Toman, President of Arconic Foundation and Executive Vice President and Chief Legal Officer of Arconic. We are proud that our partnership with Discovery Education is providing free digital educational resources for students around the world and honored that this program is being recognized with the CODiE Award for Best STEM Instructional Solution."
"We recognize the critical importance of engaging today's learners in the application of STEM skills to make the world a better place," said Lori McFarling, President of Corporate & Community Partnerships at Discovery Education. "We are proud to support the Arconic Foundation in our shared mission to inspire students to see themselves as innovative manufacturing solution-seekers and to provide equity of access to quality STEM education experiences that power the careers of tomorrow."
The prestigious CODiE Awards recognize the companies producing the most innovative Business and Education technology products across the country and around the world. As the global leader in standards-aligned digital curriculum resources, engaging content, and professional learning for K-12 classrooms, Discovery Education has previously won CODiE awards for STEM Connect, Science Techbook, and the Social Studies Techbook Series.
In response to the ongoing COVID-19 crisis, Discovery Education is offering schools and school systems not currently using the company's digital services free access to Discovery Education Experience. Schools accepting this offer will have access to Discovery Education's dynamic K-12 learning platform and its ready-to-use digital lesson plans, activities, and standards-aligned resources through the remainder of the school year. In addition, Discovery Education is offering a suite of no cost resources for parents and caregivers called Daily DE that can be used at home. For more information, visit Discovery Education's comprehensive Virtual Learning resource website dedicated to helping educators adapt their instruction to meet today's needs.
For more information about Discovery Education's digital resources and professional learning services, visit www.discoveryeducation.com, and stay connected with Discovery Education on social media through Facebook, follow us on Twitter at @DiscoveryEd, or find us on Instagram and Pinterest.
###
About the CODiE Awards
The SIIA CODiE Awards is the only peer-reviewed program to showcase business and education technology's finest products and services. Since 1986, thousands of products, services and solutions have been recognized for achieving excellence.  For more information, visit siia.net/CODiE.
About Arconic Foundation
Arconic Foundation supports programs that prepare the advanced manufacturing workforce through education and skill-building. Arconic Foundation is independently endowed with assets of approximately $150 million and invests in the communities of Arconic Corporation – a leading provider of aluminum products that advance the ground transportation, aerospace, industrial, packaging and building and construction markets.
About Discovery Education
Discovery Education is the global leader in standards-aligned digital curriculum resources, engaging content, and professional learning for K-12 classrooms. Through its award-winning digital textbooks, multimedia resources, and the largest professional learning network of its kind, Discovery Education is transforming teaching and learning, creating immersive STEM experiences, and improving academic achievement around the globe. Discovery Education currently serves approximately 4.5 million educators and 45 million students worldwide, and its resources are accessed in over 140 countries and territories. Inspired by the global media company Discovery, Inc., Discovery Education partners with districts, states, and like-minded organizations to empower teachers with customized solutions that support the success of all learners. Explore the future of education at www.DiscoveryEducation.com.
Contact
Grace Maliska | Discovery Education | gmaliska@discoveryed.com
Ryan Kish | Arconic Foundation | Ryan.Kish@arconic.com
Jennifer Baranowski | SIAA | jbaranowski@siia.net
More From Discovery Education
Thursday, January 14, 2021 - 3:30pm
Wednesday, December 16, 2020 - 9:35am