April 16-20, 2018 Is National Volunteer Week
April 16-20, 2018 Is National Volunteer Week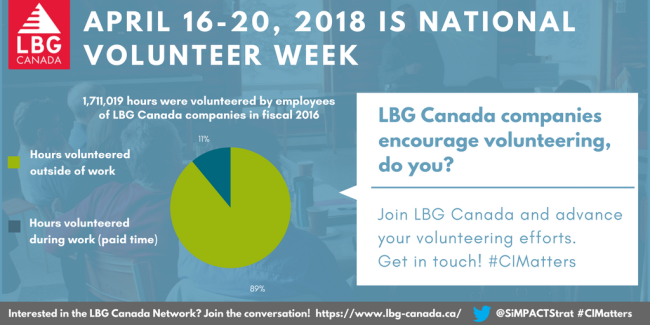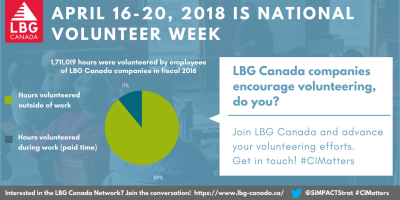 tweet me:
Its #NationalVolunteerWeek! #LBGCanada companies encourage volunteering, do you? http://bit.ly/2qDkPFy #CIMatters #NVW2018
Monday, April 16, 2018 - 4:40pm
LBG Canada companies encourage volunteering, do you?
Join LBG Canada and advance your volunteering efforts! Get in touch! #CIMatters 
-30-
About LBG Canada
LBG Canada is a network of corporate community investment professionals from many of Canada's leading companies, who work together to apply, develop and enhance the use of the LBG Model and measurement framework in Canada. Participation in LBG Canada encourages companies to focus on strategy, measurement and reporting to demonstrate the business value achieved through investment in community. LBG Canada is facilitated by SiMPACT Strategy Group.
More From SiMPACT Strategy Group
Thursday, January 14, 2021 - 12:15pm
Thursday, December 17, 2020 - 2:40pm
Monday, September 14, 2020 - 7:00pm
Videos from SiMPACT Strategy Group