Announcing the Las Vegas Sands 2017 Corporate Social Responsibility Overview
Announcing the Las Vegas Sands 2017 Corporate Social Responsibility Overview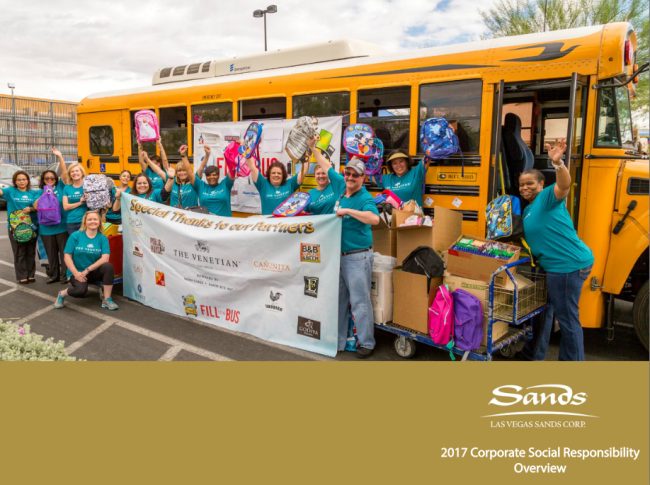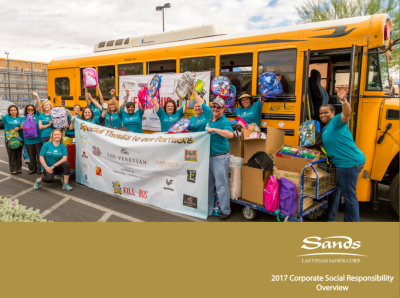 tweet me:
.@LasVegasSands announces the availability of its 2017 #CorporateSocialResponsibility Overview http://bit.ly/2kF3poV #CSRreport
Wednesday, May 30, 2018 - 2:15pm
Las Vegas Sands is strongly committed to being a good corporate citizen and creating a positive impact on its guests, partners, stakeholders, and within the communities it operates worldwide. By focusing on enriching its Team Members and company culture, making communities a better place to live, and preserving and protecting the planet, the company upholds its responsibilities as a business while continuing to create extraordinary experiences amongst its Integrated Resorts.
The 2017 Corporate Social Responsibility Overview highlights the areas of performance that best illustrates the company's priorities and successes through stories of community and volunteer outreach, leadership and developmental growth, adapting to a sustainable lifestyle, and more.
Click here to view the Las Vegas Sands 2017 Corporate Social Responsibility Overview.
More From Las Vegas Sands
Friday, February 21, 2020 - 2:55pm
Thursday, February 20, 2020 - 10:30am
Wednesday, February 5, 2020 - 3:15pm