Aflac Employees Lay the Groundwork for a Better Tomorrow
Aflac Employees Lay the Groundwork for a Better Tomorrow
Aflac and Habitat for Humanity: Built on Community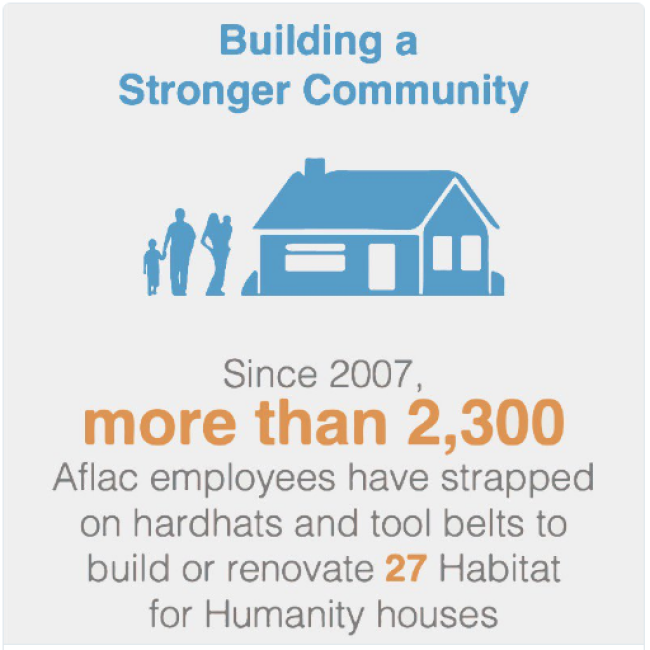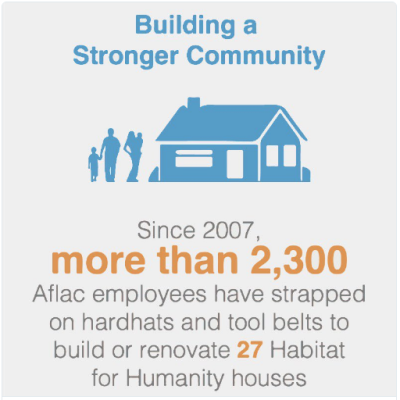 tweet me:
.@Aflac employees have built or renovated 27 #HabitatForHumanity houses since 2007 http://bit.ly/2zurSmw @Habitat_org
Tuesday, November 28, 2017 - 10:05am
Since 2007, more than 2,100 members of Aflac's Columbus, Georgia, team have strapped on hardhats and tool belts with Habitat for Humanity. The program is so popular that Aflac holds lotteries to determine which employees will get the chance to participate. This year, 175 employees built Aflac's 11th Habitat house, to the great delight of resident Marion Dantzler. Meanwhile, 50 employees at Aflac's Columbia, South Carolina, location worked alongside new Habitat for Humanity homeowners during a five-day renovation project, completing the team's second home construction.
In Omaha, Nebraska, more than 120 Aflac employees and volunteers worked through inclement weather, mud and dust to build a total of four Habitat homes in the past three years. In 2016, the Nessie and Gwendolyn family were the well-deserving recipients who helped in building their new, beautiful home. Volunteers from Aflac Human Resources organized lunches for the construction teams, which were busy with demolition, porch repairs, framing, painting and installation of windows and drywall. 
More From Aflac Incorporated
Thursday, April 29, 2021 - 11:00am
Tuesday, April 27, 2021 - 1:35pm
Thursday, April 22, 2021 - 11:00am