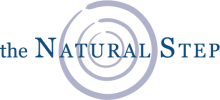 The Natural Step Canada is a dynamic non-profit organization with over a decade of experience helping organizations and individuals understand and make meaningful progress toward sustainability.
We envision a sustainable world in which individuals, communities, and businesses thrive within nature's limits.
We strive to inspire, educate, and connect Canadian leaders to accelerate the transformation toward a sustainable world.
Through award-winning learning programs and our unique suite of advisory, coaching, training, and process facilitation services, we translate the fundamentals of sustainability into practical steps businesses and communities can take to achieve lasting change.