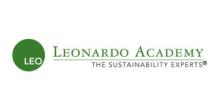 Mission Statement
Leonardo Academy is a charitable 501(c)(3) nonprofit organization dedicated to advancing sustainability by leveraging innovative tools and information to motivate the competitive market. By utilizing an interdisciplinary approach to sustainability strategies, education and implementation, we strive to make sustainability practical for everyone.
We develop integrative sustainability solutions designed to enhance the environmental stewardship, social responsibility and economic prosperity of organizations, corporations and individuals. We see a world filled with sustainable opportunities that can transform the way we live today and ensure the prosperity of future generations. 
Programs and Services
Leonardo Academy works on a broad range of sustainability issues and provides comprehensive sustainability programs and services to help companies, organizations, families and individuals implement sustainability. Our programs and services include: organizational sustainability assessments and implementation; emissions footprints, reduction strategies and offsets; event emissions footprints, sustainability assessment and implementation; sustainable event certification through our Cleaner & Greener® Program; LEED® assessments, implementation and certification application preparation; sustainable land management; sustainability training; and sustainability standards development.
Join Our Work
Individuals, organizations and companies are invited to join in Leonardo Academy's work on advancing sustainability. One important way to join in our work is by making a charitable donation to support these efforts. Online donations can be made at: www.leonardoacademy.org.