Your Guide to the WELL Community Standard™ Pilot
by Nathan Stodola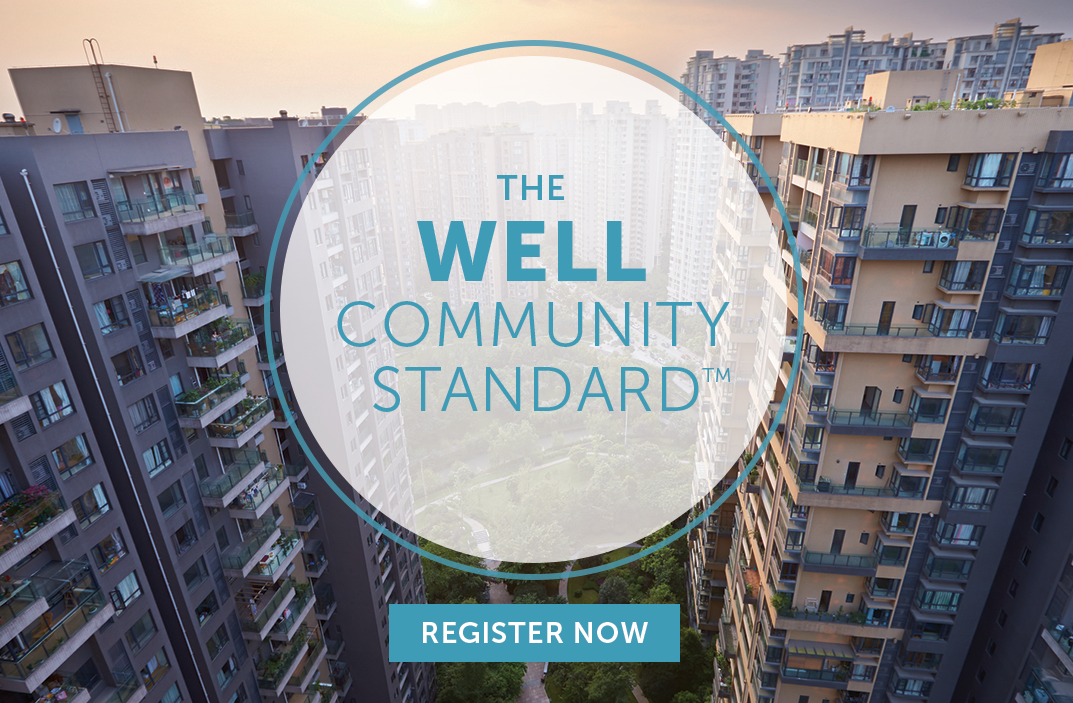 The WELL Community Standard™ pilot is a district-scale rating system centered exclusively on health and wellness that aims to set a new global benchmark for healthy communities. With the launch of the WELL Community Standard, IWBI is ushering in a new era of fostering and cultivating neighborhoods, districts and other communities that have health and wellness attributes built into their DNA.
Communities as vehicles of global public health: The "why" behind WELL communities
Over the last decade, green building rating systems and standards have made significant strides toward the market transformation of the building industry, resulting in a rapid expansion of environmentally conscious building and planning practices throughout the world. Now, through the WELL Community Standard, IWBI is elevating human health to the forefront of community building and design practices, and delivering cutting-edge health and well-being interventions at the district scale that support both planet and people.
The WELL Community Standard aims to impact individuals not just within the walls of their home or workplace, but throughout the public spaces where they spend their days. A WELL community functions to protect health and well-being across all aspects and areas of community life. The vision for a WELL community is inclusive, integrated and resilient, with a strong community identity fostering high levels of social interaction and engagement. Resources in a WELL community – natural, human and technological – are used effectively, equitably and responsibly to meet the community's current and future needs and priorities.
The WELL Community Standard: At a glance
The WELL Community Standard is made up of 110 features within 10 concepts. Those familiar with the WELL Building Standard will notice that the seven concepts have been expanded to 10 total concepts within the WELL Community Standard: Air, Water, Nourishment, Light, Fitness, Temperature, Sound, Materials, Mind and Community.
There is one precondition in each concept, while the remaining features are optimizations. Most features address the community at large – outdoor environmental conditions, the presence of amenities and the geography of the project – and a small number apply rules within the buildings themselves.
Scope and boundaries
The program is created with flexibility and adaptability to cover various types of ownership and development, including public, private and joint public-private developments, and for both new and existing communities. Project owners may use their discretion to determine project boundaries; however, once selected, the certification requirements must be applied consistently across the premises, including to properties under separate ownership (unless indicated otherwise in the standard).
Scoring
The WELL Community Standard has three levels of certification, each with a minimum point threshold: 50 for Silver, 60 for Gold, and 80 for Platinum. Projects accumulate points through optimizations (one point each, up to 100); innovations (up to 10 points); achieving healthy building certifications (up to 30 points); and achieving green building certifications (up to 10 points, not to exceed 30 points combined from healthy and green certified buildings).
| Level | Minimum Points |
| --- | --- |
| Silver | 50 |
| Gold | 60 |
| Platinum | 80 |
WELL communities: The buildings within
To ensure that all parts of the community are addressed as spaces that hold the potential to deliver health and wellness benefits, WELL Community Certification requires some buildings within the project's boundaries to be certified under a qualifying health and wellness building standard, and provides projects the opportunity to earn additional points for going above the minimum.
All projects must contain at least one health and wellness certified building. For new developments, health and wellness certified buildings must represent at least 15% of total building count or of total gross building area (to project's benefit) that is owned, operated or managed by the project owner. Existing communities pursuing WELL Community Certification are not held to this requirement.
Because planetary health and human health are inextricably connected, WELL standards also aim to be interoperable and synergistic with green rating systems. Thus, projects with buildings certified under a qualifying green rating system also can earn up to 10 points, with the combined green and healthy certified buildings earning up to 30 points.
Approved certifications currently include the following:
Health and wellness certifications

WELL Building Standard (IWBI)

Living Building Challenge (ILFI)

Petal Certification (ILFI): any petal combination which includes Health and Happiness

Sustainability certifications

LEED (USGBC)

BREEAM (BRE)

Green Star (GBCA)

Petal Certification (ILFI): any petal combination which does not include Health and Happiness

Zero Energy Certification (ILFI)

HQE (Certivéa)
Project teams may suggest additional options for IWBI to evaluate, and when approved, those options will be added.
Certifying your WELL community
Once the project team finalizes its designs and operations, they submit documentation for the features they're pursuing. Upon successful review by GBCI, the project is awarded "Design Verified" designation. Once the project is built and it passes performance verification measurements for air and water quality, it achieves WELL Community Certification, which is valid for five years. Projects that are built in stages may include additional phases at recertification to expand the project boundary.
Step one—Project registration
Projects register for the WELL Community Standard through WELL Online.
Step two—Documentation verification
Projects submit annotated documents for review of design- and policy-based features. Upon successful evaluation by GBCI, projects are awarded the "Design Verified" designation. This may take place prior to the completion (or commencement) of construction.
Step three—Certification
After construction, the project team must attest that all documentation submitted is currently valid, or make any necessary updates to the documentation. Projects undertake performance verification for the necessary features in the Air and Water concepts, and submit these measurements to GBCI. Projects may gather the performance data or, when available, utilize existing data collected at the municipal level through state agencies, universities or other entities. Upon successful evaluation of this data, projects are awarded WELL Community Certification.
Step four—Recertification
WELL Community Certification is valid for five years. If the project is constructed in phases, the owner may choose to pursue certification for a single phase. The project may then include additional phases to also be evaluated at the time of recertification under a single expanded boundary.
Developing the standard
Development of the WELL Community Standard is focused on evidence-based research to derive appropriate, actionable strategies and interventions.
IWBI collaborated with a robust team of WELL Community Standard Working Group members and contributors to develop the WELL Community Standard. They have been instrumental in refining program operations and providing expert content recommendations for community features, parts and requirements, as well as other market feedback and review throughout the development process.
Working group members include several of the building and health fields' most highly esteemed organizations, professionals and subject matter experts: Arup, Gale International, Coeur de Ville in Ville d'Issy-les-Moulineaux, France, Hart Howerton, HKS, Inc., McLennan Design, Shanghai EXPO UBPA Business Development Co., Ltd. and SRIBS, Tropicana Field Conceptual Master Plan Project in St. Petersburg, Fla., the U.S. Green Building Council, and Water Street Tampa in addition to a host of subject matter experts in the fields of architecture, public health, urban planning and engineering.
Questions? Please reach out to us at wellcommunity@wellcertified.com and a member of our team will follow up with you.