Yale and the World Business Council for Sustainable Development Announce Collaboration to Improve Corporate Reporting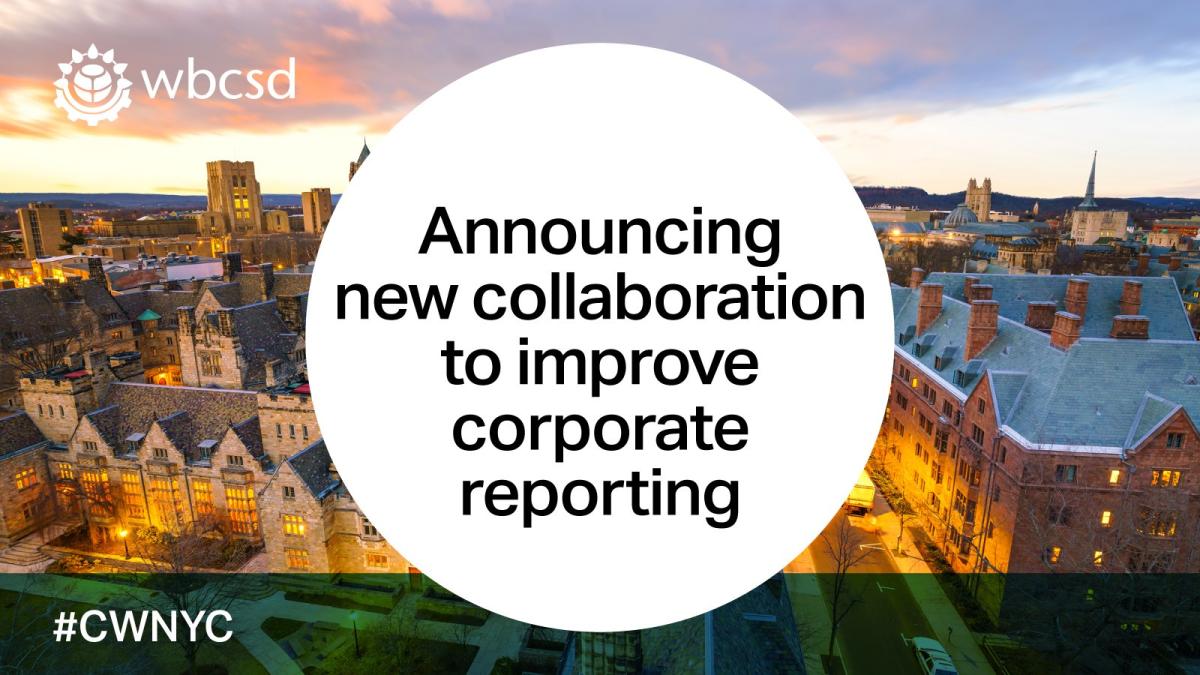 September 22, 2017 /3BL Media/ -- Recognizing the critical role that private capital flows will play in moving society toward a more sustainable future, Yale University has launched the Yale Initiative on Sustainable Finance (YISF). This new academic effort will provide high-quality research on the flow of capital into sustainability-oriented projects and sustainable companies.
As the private sector increasingly acknowledges the need to move toward an efficient and inclusive economy, companies, investors and governments are asking for research and guidance on how they can best transform practices, shift investments and measure the impact of sustainability efforts in the corporate world, and, more specifically, in the realm of finance.
YISF will engage faculty from Yale School of Forestry & Environmental Studies (F&ES), Yale School of Management (SOM) and Yale Law School (YLS). The project proposes a multi-dimensional approach to investigate challenges in sustainable finance. YISF anticipates extensive interactions with market participants, leading scholars and non-profit organizations. These partnerships will strengthen YISF's efforts to identify, develop and disseminate new ideas broadly through research, workshops and roundtables.
YISF will focus on three initial sustainable finance issues:
(1) impediments to the movement of mainstream capital into sustainability-related projects
(2) needs of sustainability-minded investors
(3) standards in the burgeoning Green Bonds market
"Perhaps nothing has held back movement toward a sustainable future more than the lack of money being invested in projects that take environmental considerations into account and recognize the inter-dependence between sustainability and financial performance," said Dan Esty, co-director of YISF and a professor at F&ES and Yale Law School. "YISF will get to the heart of issues related to financial flows in support of the sustainability agenda."
Housed at the Yale Center for Environmental Law and Policy and the Yale Center for Business and the Environment, YISF will be co-led by Todd Cort, a faculty member with joint appointments at SOM and F&ES. "Our aim is to move swiftly toward meaningful conclusions that are relevant and timely for application in the market," Cort said.
As a starting point, YISF is working with the World Business Council for Sustainable Development (WBCSD) to help clarify the concept of Environmental, Social and Governance (ESG) materiality for companies. YISF will bring together Yale's research expertise and WBCSD's convening power in their common efforts to improve the relevance of sustainability information in corporate reporting.
"We're delighted to be partnering with Yale University as a renowned seat of learning. Our work with YISF is aimed at strengthening the quality and relevance of ESG information so that companies are better informed on their ESG impacts and dependencies, leading to more effective disclosure to facilitate better decision-making in the capital markets. Our ambition is to drive capital towards more sustainable investment and the creation of longer term value," said Rodney Irwin, Managing Director of Redefining Value at WBCSD.
YISF will kick off on September 22, 2017 during a launch symposium for the Journal of Environmental Investing's special issue on "The State of ESG Data."
Notes to editors
This project is part of the Conservation and Financial Markets Initiative, a five-year effort of the Gordon and Betty Moore Foundation that aims to leverage the power of mainstream financial markets in order to help drive the food sector away from practices that degrade natural ecosystems.
About the World Business Council for Sustainable Development (WBCSD)
WBCSD is a global, CEO-led organization of over 200 leading businesses working together to accelerate the transition to a sustainable world. We help make our member companies more successful and sustainable by focusing on the maximum positive impact for shareholders, the environment and societies.
Our member companies come from all business sectors and all major economies, representing a combined revenue of more than $8.5 trillion and 19 million employees. Our global network of almost 70 national business councils gives our members unparalleled reach across the globe. WBCSD is uniquely positioned to work with member companies along and across value chains to deliver impactful business solutions to the most challenging sustainability issues.
Together, we are the leading voice of business for sustainability: united by our vision of a world where more than 9 billion people are all living well and within the boundaries of our planet, by 2050. www.wbcsd.org Follow us on Twitter and LinkedIn
About The Yale Center for Business and the Environment:
The Yale Center for Business and the Environment provides a platform for generating, incubating and launching innovative action at the intersection of business and the environment.
The Center joins the strengths of two world-renowned graduate schools—the Yale School of Management (SOM) and the Yale School of Forestry & Environmental Studies (F&ES)—together with an extensive network of internal and external thought leaders at the business-environment interface.
Learn more at cbey@yale.edu
Connect with us on Twitter, Facebook and LinkedIn
About the Yale Center for Environmental Law & Policy
The Yale Center for Environmental Law & Policy advances fresh thinking and analytically rigorous approaches to environmental decision-making across disciplines, across sectors, and across boundaries.  
In addition to its research activities, the Center aims to serve as a locus for connection and collaboration by all members of the Yale University community who are interested in environmental law and policy issues. The Center supports a wide-ranging program of teaching, research, and outreach on local, regional, national, and global pollution control and natural resource management issues. These efforts involve faculty, staff, and student collaboration and are aimed at shaping academic thinking and policymaking in the public, private, and NGO sectors.
Learn more at envirocenter.yale.edu
About the Gordon and Betty Moore Foundation:
The Gordon and Betty Moore Foundation fosters path-breaking scientific discovery, environmental conservation, patient care improvements and preservation of the special character of the Bay Area. Visit www.moore.org or follow @MooreFound.