Xylem Partners With UNICEF to Create a Brighter Future for 3.4 Million Children in India's Most Vulnerable Communities
Partnership to Improve Access to Water, Sanitation and Hygiene Awareness, Accelerating Progress Towards the UN Sustainable Development Goals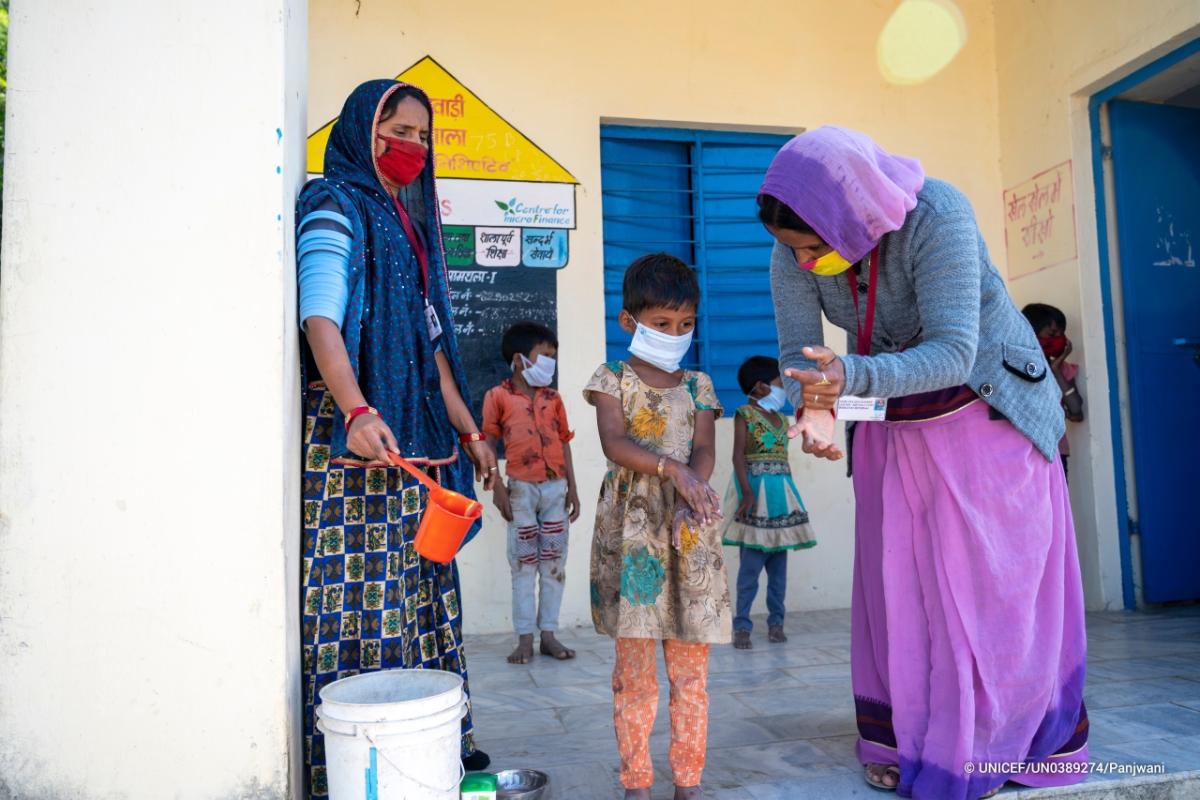 AWW and Sahaika demonstrate hand wash techniques to kids. Village Amthala, Abu Road, Rajasthan
RYE BROOK, N.Y., December 14, 2021 /3BL Media/ - Xylem Watermark, the corporate social responsibility program of global water technology company Xylem Inc. (NYSE:XYL), aims to reach over 3.4 million children by end of 2023 through its support of UNICEF, the world's leading organization for children. Aligned with the UN Sustainable Development Goals, the partnership seeks to improve awareness of water, sanitation and hygiene (WASH) in India's most vulnerable communities, with a focus on strengthening WASH protocols in schools and pre-schools, known as anganwadi centers.
Currently, 25% of children in India experience high water vulnerability, and half of all schools lack adequate hand washing facilities.[1] Water poverty is worse in rural communities and among pre-school children, where one in every three children lack access to a basic water service and more than a quarter of children (26%) are without toilet facilities. UNICEF's WASH program, formed in partnership with the Indian government, centers on 15 states and 192 districts. The program provides technical support to the government and mobilizes partners to build WASH facilities and strengthen hygiene practices, which are inherently linked to child growth, development, school attendance and learning outcomes. Xylem Watermark's funding will enable UNICEF to reach more children through their WASH in schools and pre-schools program, ultimately preventing disease and supporting long-term behavioral change.
"Availability and access to safe water and sanitation is fundamental to improving the health and well-being of millions of Indians," said Austin Alexander, Vice President of Sustainability and Social Impact at Xylem. "As part of our work to solve water challenges around the world, we are pleased to support UNICEF in India to accelerate progress towards the UN Sustainable Development Goals of water and sanitation access for all. In doing so, we hope to create a brighter future for communities across India."
"We are proud to be associated with this remarkable program to help make India water-secure," said Nitin Bhate, Managing Director of Xylem India. "This builds on Xylem's work to provide our customers across India with innovative solutions to water challenges, and on our broader efforts to improve access to safe drinking water and sanitation for vulnerable communities through Xylem Watermark."
UNICEF's WASH interventions in 2021-2023 are expected to help increase the provision of gender-sensitive WASH facilities in rural schools. The program will also support the government in implementing WASH standards in pre-schools and increase the number of UNICEF-supported states with COVID-19 sensitive WASH program plans, and menstrual health and hygiene action plans.
"We're excited to partner with Xylem Watermark who will be investing in improving services and practices that fulfill a child's right to clean water, sanitation, and hygiene (WASH), notably in their learning environment, more so when it's crucial to bring them back to schools safely amid COVID-19," said Nicolas Osbert, Chief of WASH at UNICEF India. "UNICEF remains steadfast in its commitment to ensuring equitable access of WASH through cost-effective interventions within 45,000+ schools across India. Not only could this partnership benefit more than 3 million children, but it contributes to achieving the global SDG-6, where the private sector's contribution is pivotal."
In 2020, Xylem committed to supporting UNICEF's COVID-19 relief efforts, helping to reduce human-to-human transmission of COVID-19 by promoting handwashing and personal hygiene practices. The global collaboration was successful in reaching over 3.3 million people with messaging on COVID-19 prevention measures, with over 117,000 benefitting from critical WASH supplies. Additional support included providing healthcare workers with personal protective equipment and training on infection prevention and control measures, and the development of a knowledge management hub for global WASH practitioners.
With UNICEF's work in 190 countries and territories, the expanded partnership will continue to contribute to achieving Xylem's 2025 sustainability goals, including commitments to education and disaster-response, and progress towards SDG 6. For more information on UNICEF India and its programs, visit here.
ENDS
About Xylem
Xylem (XYL) is a leading global water technology company committed to solving critical water and infrastructure challenges with innovation. Our more than 16,000 diverse employees delivered revenue of $4.88 billion in 2020. We are creating a more sustainable world by enabling our customers to optimize water and resource management, and helping communities in more than 150 countries become water-secure. Join us at www.xylem.com.
About Xylem Watermark
Xylem Watermark, the corporate social responsibility program of global water technology company Xylem Inc, was initiated in 2008, with a focus on protecting and providing safe water resources around the world and also educating people on water-related issues. The global initiative, which encompasses employee and stakeholder engagement, provides access to clean drinking water and sanitation, and humanitarian emergency response to help communities become more water-secure and sustainable.
About UNICEF
The United Nations Children's Fund (UNICEF) works in more than 190 countries and territories to put children first. UNICEF has helped save more children's lives than any other humanitarian organization, by providing health care and immunizations, clean water and sanitation, nutrition, education, emergency relief and more. UNICEF USA supports UNICEF's work through fundraising, advocacy and education in the United States. Together, we are working toward the day when no children die from preventable causes and every child has a safe and healthy childhood. For more information, visit www.unicefusa.org
UNICEF does not endorse any company, brand, product or service.
###
[1]https://www.unicef.org/media/95241/file/water-security-for-all.pdf
Contact: 
Houston Spencer, Xylem
+1.914.240.3046
Houston.Spencer@xylem.com
 
Sonia Sarkar, UNICEF
+91-981 01 70289
ssarkar@unicef.org