Wounded Veteran Receives Keys To Mortgage-Free Home
Wounded Veteran Receives Keys To Mortgage-Free Home
After a 22-year career serving his country, retired combat veteran Sgt. James Davis receives a rare gift – a home donated in honor of his sacrifice.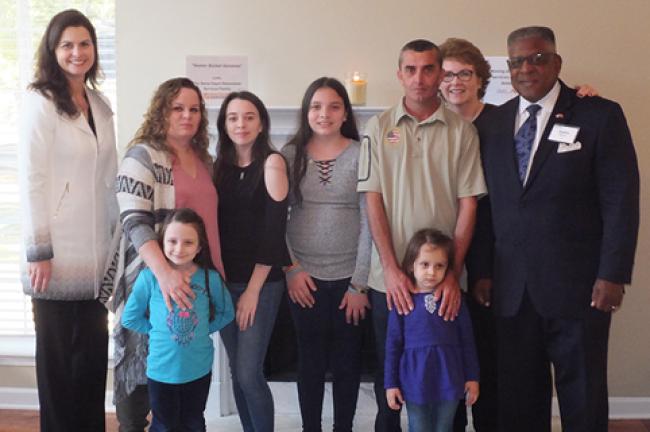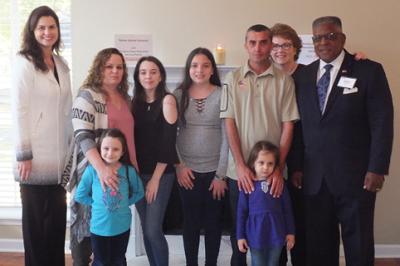 Tuesday, November 7, 2017 - 10:40am
Retired U.S. Army veteran James Davis recently received a life-changing gift – the keys to a newly renovated home in metro Atlanta. Surrounded by a small crowd of his family, friends, neighbors, employees from PNC and the Military Warriors Support Foundation, Davis accepted the keys to the family's new home during a presentation ceremony in McDonough, Ga.
More than 50 Atlanta-area PNC Bank employees donated time to help remodel the split level, four bedroom, 2.5 bath home, which includes new landscaping and extensive bathroom, bedroom and kitchen upgrades. And many of those PNC volunteers, including Georgia regional president and Gulf War veteran Eddie Meyers, returned to help celebrate the family's arrival.
"Many of our combat wounded have returned home with severe injuries that will impact their families for a lifetime," said Meyers, a U.S. Marine Corps captain and Gulf War combat veteran.
With this home donation, we're privileged to honor Sgt. Davis and his family, who have sacrificed so much to protect our freedom.
During a routine clearance mission in his second deployment to Iraq, Davis and other members of his combat team were ambushed by a car bomb. Davis sustained significant injuries during the attack and now suffers from PTSD and other health issues.
In recognition of his valiant service, Davis has been awarded the Purple Heart, the Army Commendation Medal, Army Achievement Medal, Global War on Terrorism Service Medal, Iraq Campaign Medal with Campaign Star, Combat Action Badge and many others.
A Home for the Family
The new homeowners expressed gratitude for everyone who helped support their dream for a new home and a new life in Atlanta's suburbs.
"This house means everything to us and our girls," said Misty Davis, who joined her husband James in accepting the keys to their new home. "If it wasn't for Military Warriors Support Foundation and PNC Bank, we don't know where we'd be right now. We were basically homeless, until we got here, so we thank you."
With the move to McDonough, the couple and their daughters, who range in ages from 4 to 18, now have some stability and big plans for the future. It's a future that includes a greater sense of security and safety for the family, thanks to an alliance with PNC and the Military Warriors Support Foundation.
Ongoing Veterans Support
Since 2011, the Military Warriors Support Foundation has awarded nearly 800 mortgage-free homes to qualified combat wounded veterans through its competitive Homes 4 Wounded Heroesprogram. The Davis family was among the nearly 50 families that applied for the McDonough, GA home.
"PNC answered the call and chose to collaborate with us and we cannot thank them enough for their humbling generosity in helping us serve our nation's heroes, like the Davis' Family," said Kathy Feeney, executive advisor, Military Warriors Support Foundation. "Their continued support is essential to our success, as we push forward with our mission to serve the heroes who have served for us."
This is the third mortgage-free home PNC has donated to a deserving veteran through MWSF's Homes 4 Wounded Heroes program. PNC also has previously donated remodeled homes in Chicago and Pittsburgh. PNC's donations are part of an ongoing effort to recognize and honor active service members and veterans for their sacrifice.
Learn More: Our Commitment to Veterans | Our Military Banking Program »