The World Business Council Releases New Report on How Low-carbon Microgrids Benefit Commercial and Industrial Companies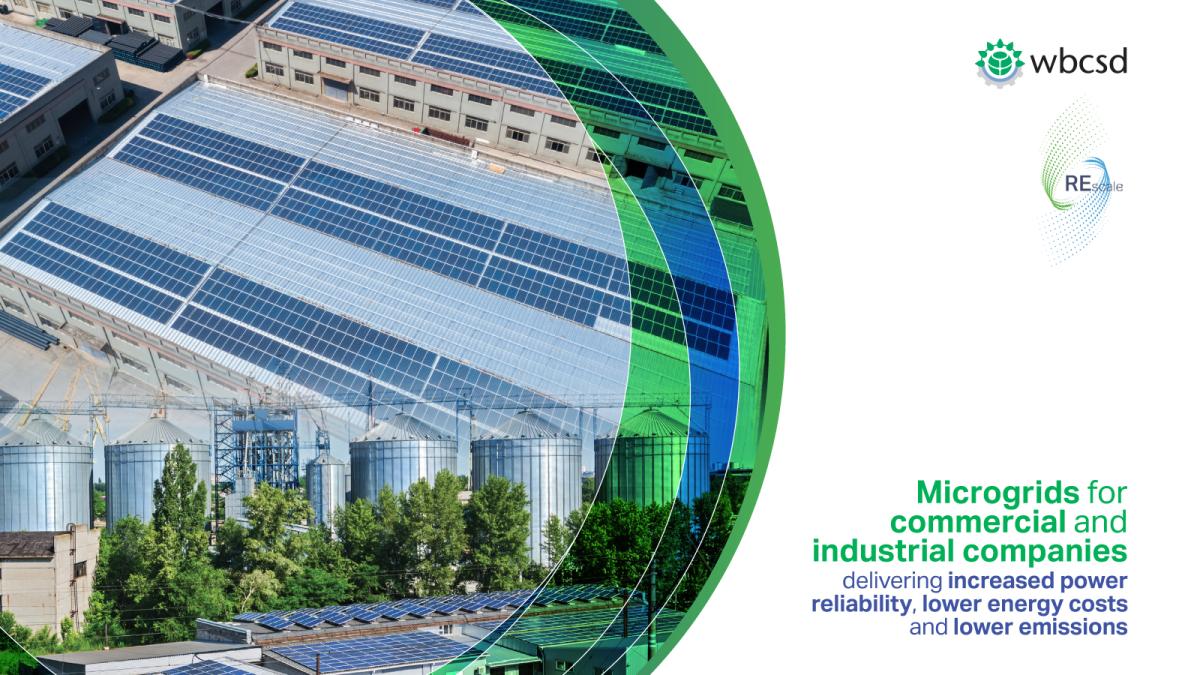 GENEVA, November 7,2017 /3BL Media/ -- Today, the World Business Council for Sustainable Development (WBCSD) releases its new guide "Microgrids for commercial and industrial companies." Presented by ABB, CLP Group, Eaton Corporation, EDP, Enel Group and Schneider Electric, the report explains when, why and how commercial and industrial (C&I) companies can benefit from low-carbon microgrids.
The new report will be helpful to C&I companies because it answers key questions for considering different energy supply options including: when can a company use microgrids? Why should they install low-carbon microgrids? How should they be financed? What are the wider benefits?
Reliable, affordable and sustainable power remains a critical need for C&I companies in off-grid areas or areas with inconsistent supply. Even in areas with reliable grids, C&I companies wish to improve the economics for self-production, increase their resiliency and lower emissions. This report is a key step in helping them do so.
According to the report, C&I firms are motivated to switch to low-carbon microgrids in order to
save on energy bills thanks to lower operating costs;
increase security and reliability of energy supply;
achieve self-defined targets for renewable energy sourcing and lower greenhouse gas emissions
Over the past three years, solar PV microgrids have become competitive with thermal solutions. The levelized cost of energy of PV microgrids is now significantly lower than that of diesel generators and comparable with that of gas microturbines. Moreover, the cost of battery packs decreased by more than half, improving the business case for storage and peak-shaving.
Beyond the technical and financial aspects, low-carbon microgrids are also bringing proven significant environmental and social benefits and are becoming an anchor to supply energy to other neighboring consumers.
For C&I customers who are interested in investigating microgrid opportunities, the report provides a checklist of the information they need to start a new, successful project.
For more information, please contact:
Felicity Glennie-Holmes
WBCSD Communications
glennie-holmes@wbcsd.org
+41 22 839 3110
About the World Business Council for Sustainable Development (WBCSD)
WBCSD is a global, CEO-led organization of over 200 leading businesses working together to accelerate the transition to a sustainable world. We help make our member companies more successful and sustainable by focusing on the maximum positive impact for shareholders, the environment and societies.
Our member companies come from all business sectors and all major economies, representing a combined revenue of more than $8.5 trillion and 19 million employees. Our global network of almost 70 national business councils gives our members unparalleled reach across the globe. WBCSD is uniquely positioned to work with member companies along and across value chains to deliver impactful business solutions to the most challenging sustainability issues.
Together, we are the leading voice of business for sustainability: united by our vision of a world where more than 9 billion people are all living well and within the boundaries of our planet, by 2050.