Women in the New Era of Work: 5 Trends Toward a Better Workplace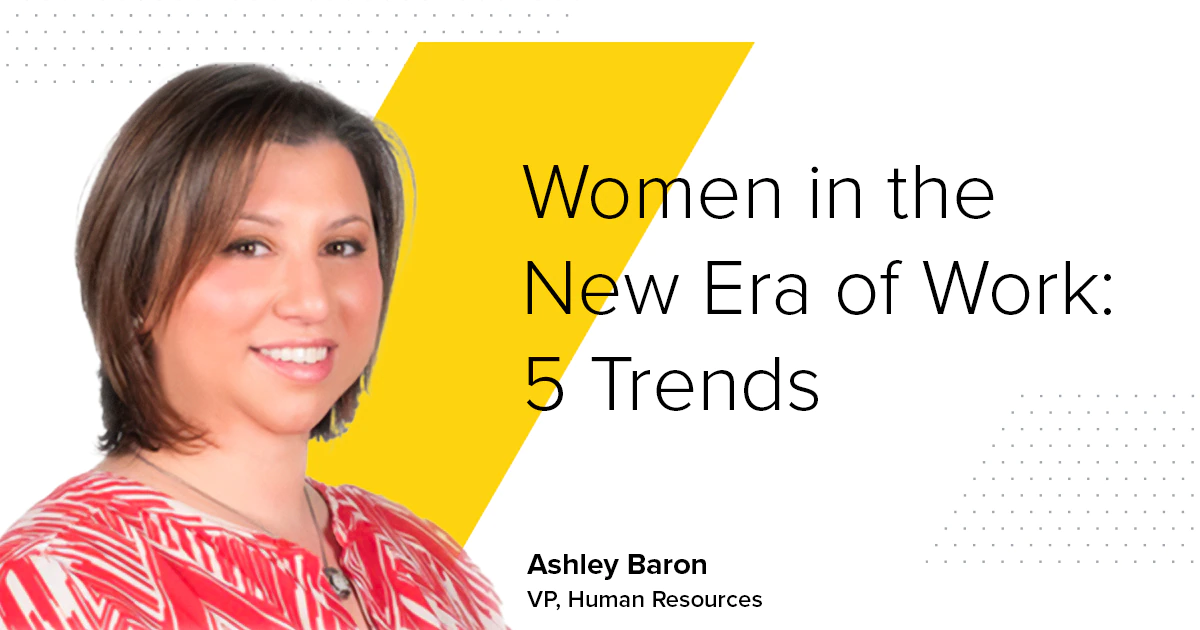 The pandemic profoundly disrupted every aspect of our work and personal life. This is particularly true for women, who, in addition to holding down jobs, often take on primary caregiver responsibilities for their children, parents or other family members.
As we enter into a new era of work in which employees have more options – flexibility is the norm, health and well-being are vital and opportunities to advance workplace gender equity are perhaps more promising than ever.
According to Ashley Baron, Vice President of Human Resources for Stanley Black & Decker, seeing more women succeed and advance is going to take listening and putting practical ideas into practice. As Baron advises…
These best practices can create a more desirable and equitable employee experience for women in the workplace:
Offer Greater Flexibility
For women who are primary caregivers, the lack of flexibility in a full-time or part-time work schedule often leaves them no choice but to leave the workforce to handle their caregiver responsibilities. The future of work urges companies and managers to give employees autonomy over where and when work gets done, so long as the output meets or exceeds deliverables.
Even in some of our high-volume assembly operations facilities, where in-person work is a job requirement, we can still offer flexible schedules that allow employees to select shifts that work best for them while meeting production targets.
Implement Hybrid Work Models
In this new era of work, an "all or nothing" mindset just doesn't work. Not all jobs, of course, allow for offsite work. Take, for example, hands-on manufacturing positions or roles requiring access to special equipment/technology/materials. Yet, women can perform many traditionally office-based jobs on a fully virtual or hybrid basis (part virtual, part in the office). Among the advantages of a hybrid work arrangement: employees can self-manage their productivity while having the flexibility to work in the office and connecting in person with colleagues.
Modernize Benefits Offerings
The world has changed dramatically in the last two years, and the needs of employees have changed, too. Employers must focus on supporting employees' holistic well-being and understanding the stress and anxiety that the uncertainty of the pandemic continues to create, particularly for working women who statistically shoulder the home and family caregiver responsibilities most often.
Where to start? By surveying employees and listening to their concerns about how an employer can help lighten their load by expanding their benefits offerings in a meaningful way. For us, the result included enhancing benefit offerings to aid caregiver responsibilities (e.g., adding in-home backup care services and virtual tutoring). By extending our free employee assistance program (EAP) globally, we also made wellness and mental health support that much more accessible.
Consider Technological Enhancements
To create equitable employee experiences regardless of work location/working style – research shows that "proximity bias" (an unconscious tendency to give preferential treatment to those in our immediate vicinity) is a real concern that well may pressure women, especially, to return to the office to "stay in good standing." This is where technological advancements can help tremendously.
One great enhancement Stanley Black & Decker is making to address proximity bias concerns is adding larger screens to conference room walls or in the center of the table so that virtual participants remain highly visible and can collaborate with their coworkers just as they had in virtual settings.
Create New Pathways for Women
With the growth of virtual and hybrid-based work arrangements, employers are competing that much harder for talent. Among the ways they can fuel those efforts and help level the playing field for working women:
Provide a C-Suite Roadway
Creating career development programs for women, including women of color, who have the skills and potential to lead is so critical. There's no better time to identify and develop women as successors to executive or C-suite level roles.
Help Women More Easily "Return" to Work
Tapping into talent by targeting atypical applicant pools, such as "returners" who want to get back to work after taking time away for caregiver responsibilities but fear their time away makes them unqualified or less qualified. By creating a returner program – as we've done at Stanley Black & Decker – employers can find a whole new pipeline of motivated and qualified talent.
In this new era of work, thinking differently and taking action will make all the difference.
Want to explore more?
Tune in for Ashley Baron's guest appearance on Kearney's International Women's Day Forum: Be bold, make change.