Why IBM Invests Time and Dollars in the Institute for CSR
By: Diane Melley, Vice President, Global Citizenship Initiatives, Corporate Marketing, Communications and Citizenship, IBM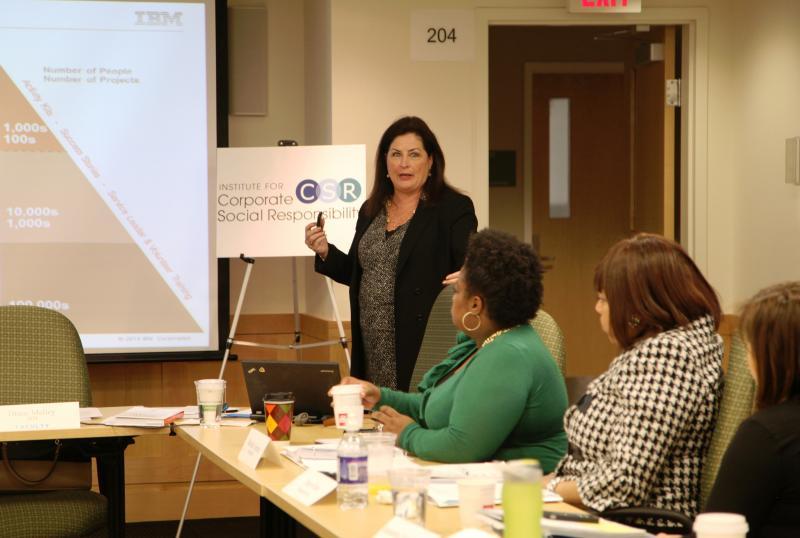 IBM's Diane Melley presenting at the Institute for CSR
At IBM, we view talent development as a core value and a key element of our current and future success. Investing in employee training not only helps attract and retain great team members, it also builds loyalty, inspires creativity, and increases our reputation as a company.
But, employee development, like many areas of business requires planning, investment, and an eye towards the future.
As the corporate social responsibility (CSR) field continues to grow, mature, and innovate, part of my role as a CSR executive is to ensure that my team members have the knowledge, skills, and networks they need to continue creating positive impact in our communities and deliver increased social and financial value back to IBM. That's why, since the launch of the Institute for CSR in 2014, I have served as a faculty member and have made the strategic investment of time and dollars for my team members' participation in this impressive Professional Certificate Program.
The Institute for CSR was designed by and for the CSR field as a practical, interactive, and affordable professional development opportunity. Over the course of four, two-day sessions, participants learn from some of the field's most innovative thinkers, authors, and practitioners and expand their professional networks learning alongside CSR peers from across the country.
The Institute's curriculum is highly interactive, steeped in practice, and based on real-life case studies and current trends. This ensures that my team members are being challenged with the freshest and most relevant ideas, thinking, and challenges facing the field of CSR today. As a bonus, the small class size and face-to-face learning experience provides an intimate forum for robust discussions, debates, and exploration of the unique challenges faced by CSR professionals and their companies.
IBM's support of and participation in the Institute for CSR is just one of the many ways we demonstrate our commitment to professional development and our team's understanding of the CSR profession. Here are testimonials from just two of IBM's Institute for CSR graduates:
"Earning my Professional Certificate from the Institute for CSR has been invaluable in my career. The incredible faculty members and the broad range of topics covered, coupled with the meaningful networking opportunities with other CSR professionals, creates a unique and beneficial experience. The knowledge I gained at the Institute has had a meaningful impact on the way I approach my work and the impact IBM is having on the communities we serve."  -Christian Schoen, Senior Program Manager & Certified Project Executive, IBM Corporate Citizenship & Corporate Affairs

"The Institute for CSR program is an amazing opportunity to learn from thought leaders about best practices in Corporate Social Responsibility and Corporate Philanthropy. I enjoyed the diversity of thought as it relates to solving systemic and societal issues facing communities. The alignment of the private sector to the United Nations 2030 Sustainable Development Goals was invaluable learning as I focus on IBM's CSR efforts in the geographies I serve. Most importantly, learning how companies are using tech and data to define metrics and evaluate community impact was critical for my skills development as I work to effectively measure the outcomes of the strategic partnerships I create.- Steven Pearson, Manager, IBM Corporate Citizenship and Corporate Affairs
I hope you'll encourage your team to participate in this unique program in 2018! Early bird registration ends December 15! Download an application and check out the 2018 Brochure which includes the class dates, list of faculty, and more.