Whole Kids Foundation Invests $1.5M To Grow 500 Edible Gardens for Schools and Nonprofits Serving More Than 300,000 Students
School gardens educate and empower kids to make healthy food choices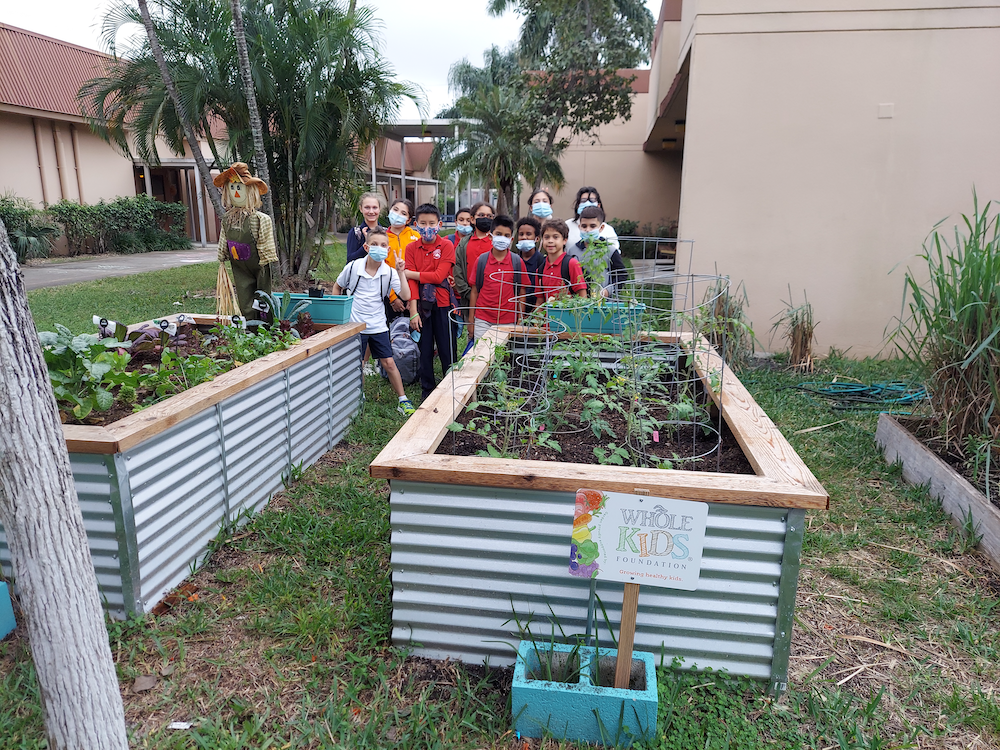 AUSTIN, Texas, August 17, 2022 /3BL Media/ - Whole Kids Foundation, a nonprofit focused on children's nutrition and wellness, announced today that 500 garden grants will be awarded to schools and nonprofit organizations to start or expand edible learning spaces.
The $1.5 million investment will support more than 300,000 students by providing Whole Kids Foundation Garden Grants in 49 U.S. states, Washington D.C., Puerto Rico and nine Canadian provinces. The program provides $3,000 grants to K-12 schools to support educational gardens on school grounds. Nonprofit recipients supporting children's programming are funded to support edible learning spaces in non-school environments such as community gardens, libraries, museums or after-school programs.
"School gardens are vibrant powerful tools that feed kids in more than one way," said Nona Evans, President and Executive Director of Whole Kids Foundation. "These hands-on, multidisciplinary spaces connect students with real food, spark their curiosity, encourage meaningful learning experiences and inspire life-long healthy eating habits."
Research shows that students who participate in gardening, nutrition and cooking classes eat more fruits and vegetables per day than they did before the program. Edible gardens also support a wide range of classroom curriculums including science, nutrition, math and art. They have shown to improve children's academic performance, behavior at school and appreciation for the environment.
For garden grant applicants that were not funded this year, Whole Kids Foundation partner Lettuce Grow is providing 600 hydroponic growing systems (Farmstands) to schools and nonprofits in select areas. Recipients will also receive a seedling starter pack and an essentials kit with nutrients and other supplies. Lettuce Grow's contributions, valued at $360,000, will allow schools and nonprofits to grow fresh vegetables, fruits and herbs and use their Farmstands as a learning tool. "Lettuce Grow is honored to support Whole Kids Foundation," said Jacob Pechenik, Founder and CEO of Lettuce Grow. "Together, we can make access to nutritious food possible through our partnership, by tapping into children's innate curiosity and love of learning."
Over the past 11 years, Whole Kids Foundation has awarded funding for more than 7,500 edible gardens, investing $17 million and benefiting more than 4.9 million students. The Foundation opens the garden grant application window each year in February, and grant notifications are made in August.
Whole Kids Foundation is honored to partner with like-minded sponsors who help them reach thousands more kids and support hundreds of edible gardens every year. The Foundation values the generous contributions from CLIF Bar, GoGo SqueeZ, Happy Family Organics, Horizon Organic, Kettle Brand, Orgain, Purely Elizabeth, Santa Cruz Organic, Stonyfield Organic and Tom's of Maine and encourages shoppers to shop these brands that give back.
In partnership with The Bee Cause Project, Whole Kids Foundation is also opening the grant application window for Bee Grants on September 1, 2022. These grant programs allow for schools and nonprofit organizations to receive support for educational beehives and bee programming so students can observe bees up close and learn about the vital role pollinators play in the food system.
Additionally, the Foundation offers online resources for families including activities, book recommendations, worksheets and other inspiration to encourage healthier food choices.
For more information on the Whole Kids Foundation Garden Grant program including eligibility and success stories, visit wholekidsfoundation.org. To discover grantees in specific locations, visit the Grant Recipients Database.
###
About Whole Kids Foundation
Whole Kids Foundation supports schools and inspires families to improve children's nutrition and wellness. Founded by Whole Foods Market in 2011, the independent, nonprofit organization is based in Austin, Texas, and serves schools and organizations in the U.S., Canada and the U.K. For more information on the Foundation's school programs including school gardens, salad bars, bee hives, and nutrition education for teachers, visit wholekidsfoundation.org. For ongoing news and updates, follow Whole Kids Foundation on Facebook, Instagram or Twitter.
Media Contact:
Nona Evans, Executive Director
Whole Kids Foundation
Nona.Evans@wholefoods.com
512.289.9258