Whole Kids Foundation and Mikaila Ulmer to Host "Dream Like a Teen" Young Entrepreneur Virtual Round Table on October 3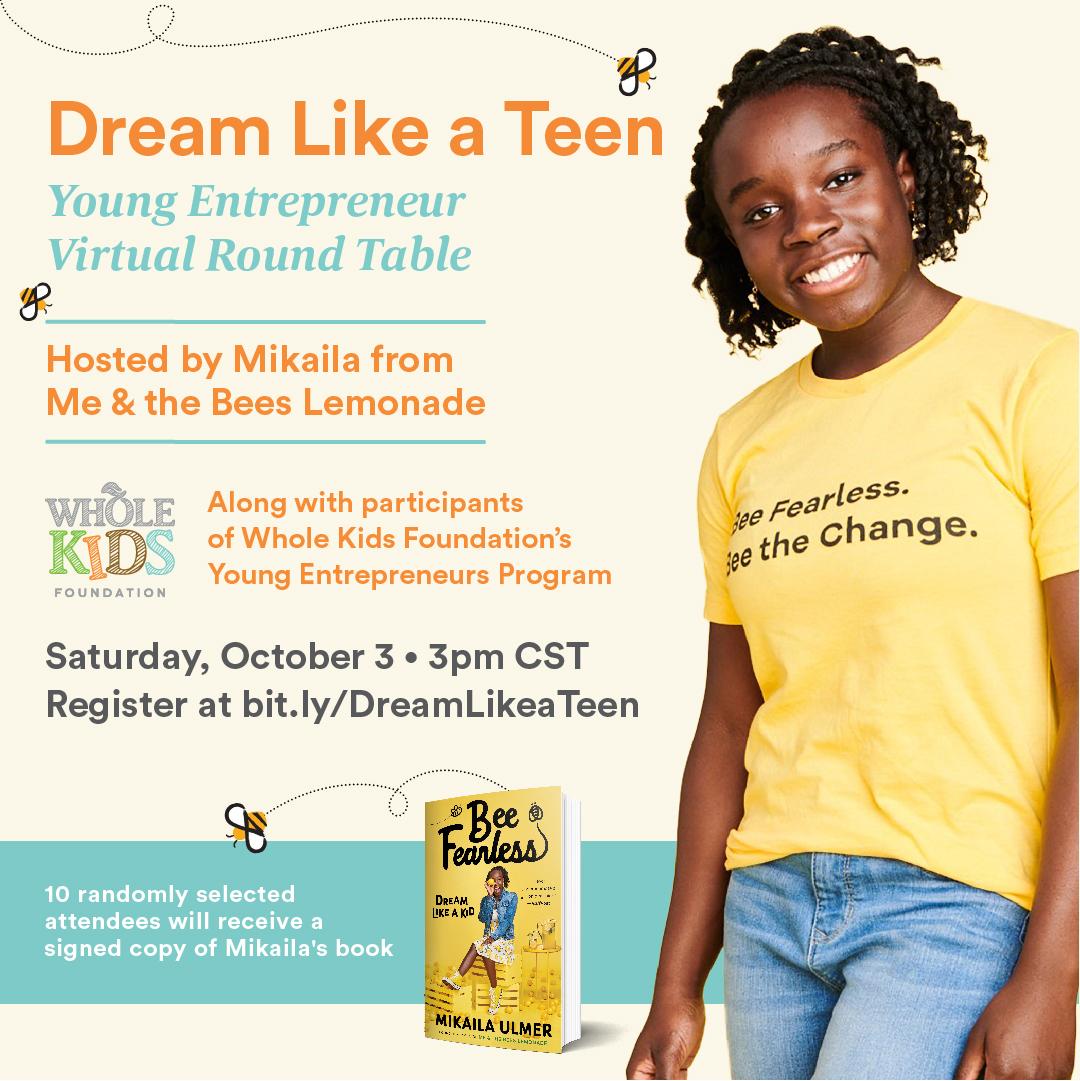 WHAT:    
Top youth entrepreneurs from across the country are joining Whole Kids Foundation in a virtual event to share their wins, insights and key learnings with the aim of helping other kids start or grow their businesses. The online event is free and open to the public. 
WHO:     
Whole Kids Foundation, a nonprofit focused on children's nutrition and wellness which recently launched a grant program for young entrepreneurs, is teaming up with business sensation Mikaila Ulmer, 16-year-old founder and CEO of Me & the Bees Lemonade, author of the new book Bee Fearless: Dream Like a Kid, and one of TIME magazine's Top 30 Most Influential Teens to host the event. Mikaila will moderate a panel of teen speakers from the following organizations:
WHEN:    
Saturday, Oct. 3, 2020 at 3pm CST. 
WHERE:    
Zoom. Anyone interested in attending can register on Eventbrite at https://bit.ly/DreamLikeaTeen.
WHY:      
In the U.S., 8 in 10 students (77%) in grades 5 – 12 say they want to be their own boss, 45% say they plan to start their own business, and 42% say they will invent something that changes the world, according to the Gallup-HOPE Index. Mikaila and her fellow kidpreneurs will share key lessons and advice to help other youth pursue their entrepreneurial dreams.  
DETAILS:    
All event attendees will receive a digital copy of "The Kidpreneur's Guide to Building Your Own Buzziness Plan," a key excerpt from Mikaila's new book. Ten randomly selected attendees will also receive a gift bag that includes a signed copy of Mikaila's book, as well as products and recipes from the panelists' organizations. Part memoir and part business guide, Bee Fearless shares Mikaila's 10-year entrepreneurial journey to save the bees through her purpose-driven lemonade company and includes key lessons for others who want to follow in her footsteps. What started with a lemonade stand in her front yard has taken her across the globe, placed her on stage with the leaders of Fortune 500 companies, thrown her into the "Shark Tank," and led her to events at the White House and back. Whole Kids Foundation is thrilled to team up with Ulmer and this panel of talented youth speakers to help inspire the next generation of changemakers.
###
About Whole Kids Foundation
Whole Kids Foundation supports schools and inspires families to improve children's nutrition and wellness. Founded by Whole Foods Market in 2011, the independent, nonprofit organization is based in Austin, Texas, and serves schools and organizations in the U.S., Canada and the U.K. For more information on the Foundation's school programs including school gardens, salad bars, beehives, and nutrition education for teachers, visit wholekidsfoundation.org. For ongoing news and updates, follow Whole Kids Foundation on Facebook, Instagram or Twitter.
FOR IMMEDIATE RELEASE
Contact: Liz.Burkhart@wholefoods.com | 512.284.1836