Whole Cities Foundation Awards 10 Newark Fresh, Healthy Food Access Grants up to $20,000 Each to Advance Community Health
A $229,500 Investment in Locally Led Initiatives Spans All Five Wards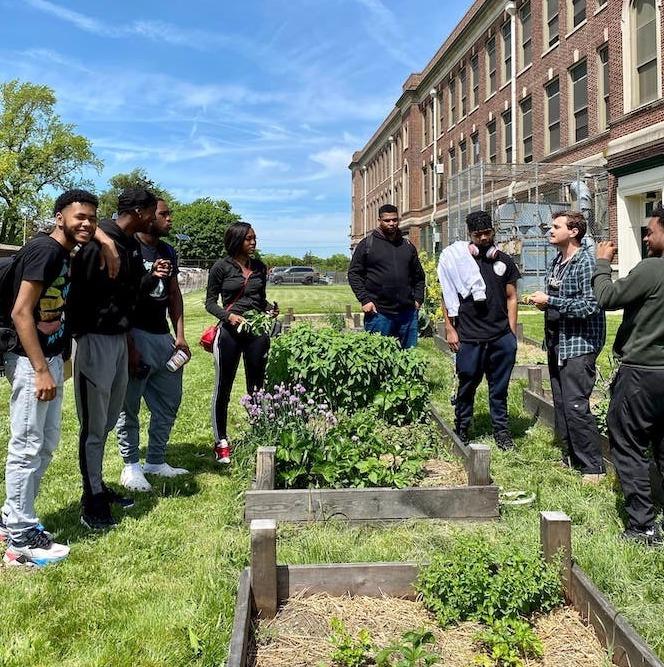 Ellen DeGeneres Urban Farm
NEWARK, N.J., May 9, 2023, /3BL Media/ - Whole Cities Foundation, a nonprofit broadening community access to fresh food and nutrition education, announced today that 10 community-led nonprofit organizations have been awarded up to $20,000 each through the Newark Fresh, Healthy Food Access Grant.
In 2017, Whole Cities Foundation started the Newark Fresh, Healthy Food Access Grant program with the support of its founder Whole Foods Market to advance the city's long-term healthy food access solutions and improve community health. Since then, the Foundation has awarded more than $1 million to 33 locally led organizations throughout Newark's five wards and has provided financial backing for additional opportunities shaped by the goals and requests of its grant partners. Grantees have included community gardens, urban farms, farmers' markets, mobile markets, healthy cooking classes, nutrition education programs, agriculture-skills development programs, and a SNAP incentive project.
"Powerful change can happen when different strengths and talents come together for a common goal, and that's what is happening in Newark," said Dianna Purcell, Director of Programs at Whole Cities Foundation. "A growing network of local gardeners, community leaders and innovators are making real pathways to create a healthy and sustainable local food system from the ground up. Whole Cities Foundation is grateful to play a supporting role through the Newark Fresh, Healthy Food Access Grant program."
This year, the following 10 Newark organizations were awarded grants averaging $19,450 each:
City Green, Inc., Clinton Hill Community Action, Ellen DeGeneres Urban Farm, Girls; Live, Love, Laugh, Inc., Ironbound Community Corporation, Kids in Business, Newark Water Coalition, Rabbit Hole Farm Newark, Treehouse Ent & Cultural Arts Movement, Inc., and Urban League of Essex County.
"The Ellen DeGeneres Urban Farm produces fresh, organic food and helps to rebuild the local economy by bringing food directly to our local residents," said Sandra Ragoo, Executive Director at The Ellen DeGeneres Urban Farm, a first-time grantee located on the campus of West Side High School in the West Ward. "Besides fresh, healthy food access, our urban farm impacts the local community by empowering students to have entrepreneurial mindsets, increasing upward economic mobility through job creation, and serving as a model for sustainable environmental practices."
Whole Cities Foundation reviews applications in conjunction with the Newark Community Advisory Council, a panel of engaged Newark leaders. Grantees are determined by the sustainability of their projects and their alignment with the Foundation's mission.
The 2023 Newark Fresh, Healthy Food Access Grants paired with additional project funding totals $233,500. These grants launched an additional three-year, $780,000 commitment by the Foundation to continue advancing the local food system in partnership with the Newark community through 2025.
Similar to the program in Newark, Whole Cities Foundation previously supported deep community engagement through grants for healthy food access in four more cities: Detroit, Mich.; New Orleans, La.; Jackson, Miss.; and Greater Englewood, a neighborhood of Chicago, Ill. These commitments were in addition to the Foundation's Community First Grant program, which has reached more than 128 cities in the U.S. and Canada.
For more information on Whole Cities Foundation's Newark Fresh, Healthy Food Access Grant program, including a list of past grant partners, visit wholecitiesfoundation.org/grants/newark-nj. The next grant application window will open in early 2024.
####
ABOUT WHOLE CITIES FOUNDATION 
Whole Cities Foundation works alongside community-based organizations to improve neighborhood health through collaborative partnerships, nutrition education, and broader access to fresh, healthy food. Founded by Whole Foods Market in 2014, the independent, nonprofit organization is based in Austin, Texas and has partnered with more than 250 community organizations in more than 130 cities across the U.S. to build thriving local food systems and improve health. Through vibrant grant programs, Whole Cities Foundation supports community gardens, urban farms, pop-up produce stands, agriculture skills development, farmers' markets, mobile markets, healthy cooking classes and other community-directed initiatives. For more information on the Foundation and its programs, visit wholecitiesfoundation.org. For ongoing news and updates, follow Whole Cities Foundation on Facebook, Instagram, Twitter or LinkedIn.
###
Media Contact:
Chanta Williams, Interim Executive Director
Whole Cities Foundation
Chanta.Williams@wholefoods.com
1.888.611.0081