Whirlpool Corporation Highlights Commitment to Environmental Sustainability, Social Responsibility and Employee Support in 2022 Sustainability Report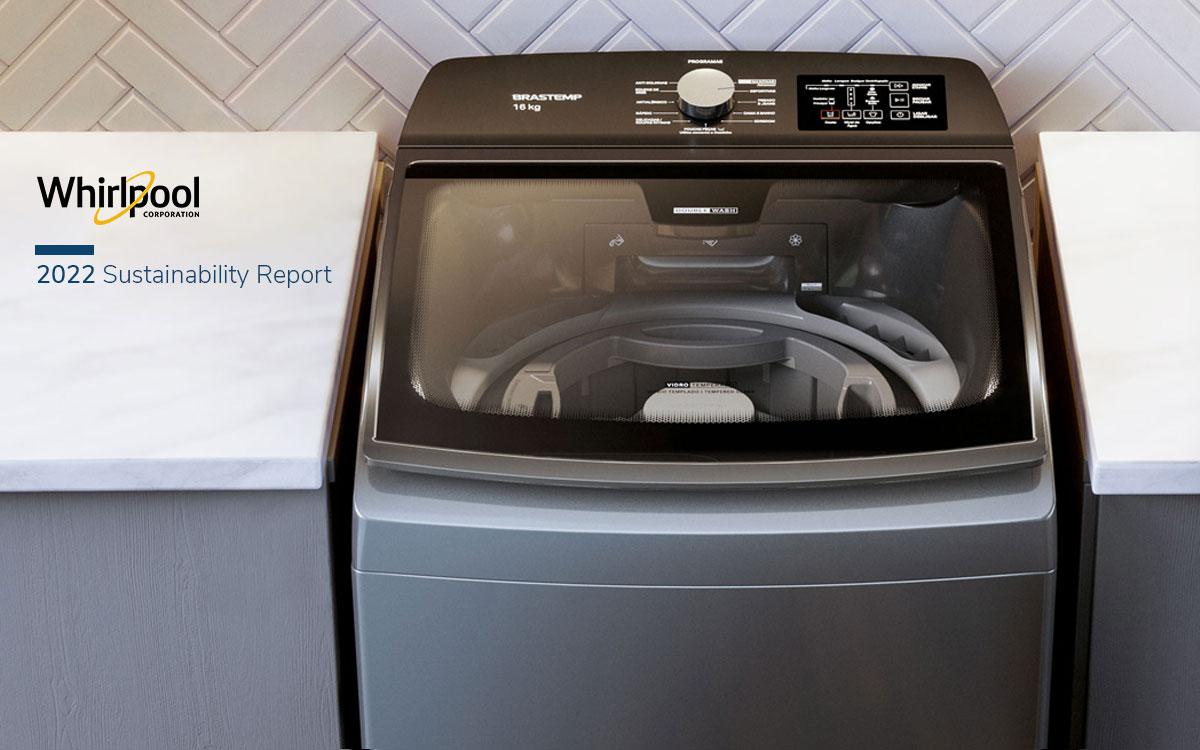 BENTON HARBOR, Mich., April 17, 2023 /3BL Media/ - Whirlpool Corporation (NYSE: WHR) today published its 2022 Sustainability Report, highlighting the company's enduring commitment to environmental sustainability, social responsibility, corporate governance initiatives, and progress in meeting its sustainability and Inclusion and Diversity goals.
"Whirlpool Corporation has established a series of goals and commitments that shape our approach to environmental stewardship, employee and community support and product sustainability," said Marc Bitzer, chairman and CEO of Whirlpool Corporation. "The progress made against these commitments is a testament to the work of every single Whirlpool employee, because we all have a role to play in improving life at home for our consumers."
The 2022 Whirlpool Corporation Sustainability Report highlights progress across the company's commitments to sustainable products and operations, support for employees, communities, and corporate governance, including:
Sustainable Products and Operations 
Whirlpool Corp. reached its commitment to be Zero Waste to Landfill Gold or Platinum status (a greater than 95 percent diversion rate) at 29 of 29 large manufacturing sites worldwide1.
The company activated two virtual power purchasing agreements (VPPAs) that are expected to yield renewable energy to match 100 percent of Whirlpool Corp.'s electricity consumption by its U.S. manufacturing plants.
In 2022, the company achieved approximately 25 percent GHG emissions reduction in scopes 1 and 2 compared to the prior year.
The company continued towards its goal to reduce emissions from its products in use (scope 3 category 11) by 20 percent by 2030 from a 2016 baseline.
Further enhanced efforts to thoughtfully design and deliver products for consumers that make the best use of materials, have a sustainable operating life, and that can be responsibly managed at the end of life.
Supporting Our Employees
As part of its ongoing commitment made in the company's 2020 Pledge for Racial Equality and Fairness, Whirlpool Corp. engaged over 1,300 U.S.-based people leaders with Unconscious Bias and Empathy training.
As a signatory on the Catalyst CEO Champions For Change Pledge, Whirlpool Corp. has delivered increased women's representation at the director level by 18 percent in the last five years.
Began the formal roll-out of its global and holistic well-being strategy, Be*well, with continued education and additional resources for employees.
Reduced employee safety incident rates across the company's global operations.
Supporting Our Communities
Committed to expanding its work with Habitat for Humanity to double the number of people impacted by 2025. Last year, the company donated $2 million with more than 3,200 home appliances donated to new Habitat homeowners.
Through the BuildBetter with Whirlpool program, the company committed to work with Habitat for Humanity to build at least 250 climate-resilient and energy-efficient homes by 2024. At the end of 2022, 143 out of 250 builds were in progress.
Whirlpool Corp. has committed to installing 500 Feel Good Fridges in the U.S. by 2025. At the end of 2022, more than 300 refrigerators had already been donated and stocked with easily accessible food in underserved communities.
The 2022 United Way campaign raised $4.5 million from employee giving and a Whirlpool Foundation match for education, income, health and basic needs.
"Back in 1969, Whirlpool Corporation CEO Elisha Gray wrote a letter to shareholders, explaining the importance of environmental consciousness, as well as taking care of the communities where we work and live, ensuring they can thrive," said Pam Klyn, Whirlpool Corporation's senior vice president of corporate relations and sustainability. "We continue to operate with these same principles in mind while driving progress and making a positive impact across environmental, social and governance aspects of sustainability."
Corporate Governance
As a result of these efforts, Whirlpool Corporation continues to be recognized for its accomplishments in environmental sustainability, social responsibility, and corporate governance initiatives. In 2022, the company was named to the Dow Jones Sustainability World Index (DJSI), as well as the Forbes' World's Best Employers list, Fortune's Most Admired Companies, and Just Capital's America's Most JUST Companies.
To learn more about Whirlpool Corporation's 2022 Sustainability Report and sustainability commitments, please visit here.
1 Zero Waste to Landfill goal reached for all large global manufacturing facilities owned by Whirlpool at December 31, 2022 with the exception of a new manufacturing facility in Argentina that opened Oct. 28, 2022 and the InSinkErator business which was acquired on Oct. 31, 2022.
About Whirlpool Corporation 
Whirlpool Corporation (NYSE: WHR) is committed to being the best global kitchen and laundry company, in constant pursuit of improving life at home. In an increasingly digital world, the company is driving purposeful innovation to meet the evolving needs of consumers through its iconic brand portfolio, including Whirlpool, KitchenAid, Maytag, Consul, Brastemp, Amana, Bauknecht, JennAir, Indesit, Yummly and InSinkErator. In 2022, the company reported approximately $20 billion in annual sales, 61,000 employees and 56 manufacturing and technology research centers. Additional information about the company can be found at WhirlpoolCorp.com.
Whirlpool Corporation Additional Information 
This press release contains forward-looking statements about Whirlpool Corporation that speak only as of this date. Whirlpool disclaims any obligation to update these statements. Forward-looking statements in this document may include, but are not limited to: statements regarding Whirlpool Corporation's external ESG commitments and goals, VPPA-related energy generation expectations, and community support efforts. Actual performance may differ materially from that expressed or implied in such statements. Reference should be made to the factors discussed under "Risk Factors" in Whirlpool Corporation's periodic filings with the Securities and Exchange Commission. Although the forward-looking statements contained in this press release are based upon what are believed to be reasonable assumptions, investors cannot be assured that actual results will be consistent with these forward-looking statements, and the differences may be material. These forward-looking statements are made as of the date of this press release and, except as expressly required by applicable law, Whirlpool Corporation assumes no obligation to update or revise them to reflect new events or circumstances.
Contact: Whirlpool Corporation 
Media: 269-923-7405 
Media@Whirlpool.com