When Disaster Strikes: Companies Plan for Employee Catastrophic Assistance
by Jan Lee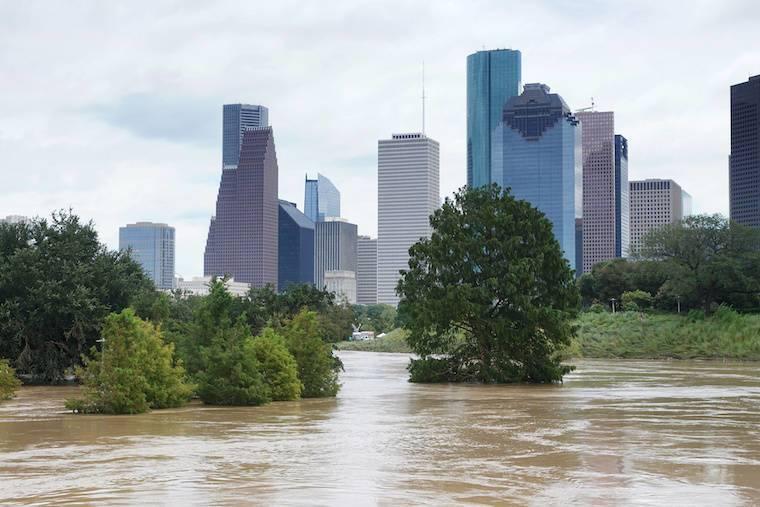 When Hurricane Harvey decimated entire neighborhoods, Southwest Airlines worked with Silicon Valley Community Foundation to raise funds for affected employees in Houston. Image credit: Adobe Stock / Irina K.
Originally published on TriplePundit
If there is any positive takeaway from last year's unexpected climate events, it's that emergency response networks can and are learning how to adapt to meet the challenges of natural disasters.
The joint efforts of Michigan's and Florida's 2-1-1 emergency systems that helped guide entire communities away from Hurricane Irma in South Florida last December were proof that public-private partnerships can help save millions of lives if they have networks and resources already in place.
Businesses are learning that finding ways to innovate and harness their own individual strengths to help people when public resources aren't readily available can make a difference as well.
As two companies found last fall, those benefits can also come full circle. Businesses that have networks and funding mechanisms in place to support their employees when disaster strikes are better equipped to meet their own long-term staffing.
In the following cases, the corporations highlighted relied on experienced third-party partners who could manage disaster funds, provide insight on how best to fundraise and disburse grants that were needed quickly by employees affected by disaster.
Southwest Airlines: Supporting staff keeps networks resilient
Last year's hurricane season wasn't the first that  Southwest Airlines found itself scrambling to prepare for. Hurricane Matthew, which affected its flight operations in Florida, the eastern seaboard, the Bahamas and South America in 2016, and Hurricane Ike, which leveled substantial damage to Texas and other regions in 2008, were both learning experiences for the airline. In both cases, the storms affected not just the incoming and outgoing flights of an airport, but important hub operations within its region and beyond.
But Harvey, which barreled ashore last August as a tropical storm, quickly submerged entire neighborhoods. Megan Lee, Southwest Airlines' senior manager of community outreach explained that, within hours, the roads around Houston's Hobby Airport, the state's third-busiest airport, began to flood, stranding passengers, staff and flights.
"The operational impacts [of Harvey] were huge for us," said Lee, who noted that the closure of the airport lasted almost a week and ultimately started a "domino effect" that impacted operations across the nation. The closure meant that pilots and flight attendants wouldn't be able to get to reassigned airports and planes couldn't be reassigned to other airports, either.
"Those are all the airplanes we expected to use somewhere else. Southwest has a really high fleet utilization percentage, so we don't have a lot of spare aircraft sitting around," said Lee. Other stations would have to cope without the added fleets.
But the airline was also faced with the realization that many of its Houston staff would be facing dire problems of their own. More than 4,000 employees lived in the Houston area. As flooding increased, many of those employees could be facing extensive damage to their homes that would eventually force them to seek alternative shelter.
The airline's private charity organization was called into action. Thankfully, Southwest already had a charity organization in place to help employees in need. Its 501(c)(3) Employee Catastrophic Assistance Charity had been implemented in the 1990s. Funded largely by employee donations, it was able to launch into action immediately and funnel one-time grants to staff members affected by Harvey.
"But [we] were also drawing a lot of cash in a very short amount of time out of the charity," explained Lee, "which is where the idea to have a telethon was born." A network-wide telethon meant that with the right technology, all 56,000 employees could potentially help replenish funds for storm victims in need.
But that too, presented a challenge. The charity wasn't set up to take one-time donations, such as during a telethon. It was structured to accept payroll deductions. Plus, the demand from Harvey was huge. Southwest turned to Silicon Valley Community Foundation (SVCF), an organization that managed other Southwest funds, and asked for help.
With SVCF's assistance, Southwest was able to set up a specific fund that would accept credit card payments and direct the funds into the charity. It could also oversee disbursements as well, ensuring that donor recipients received their grants quickly.
The new telethon was almost a prescient step.
"We set up the telethon with SVCF right in the thick of Harvey," said Lee. "[While] we were running the telethon that day, we were watching Hurricane Irma approach Florida, the Caymans and other islands. And then right up behind that was Maria." The telethon helped raise funding to not only help Harvey victims, but lend support to employees affected by Irma and Maria. While Irma had a comparatively short-term impact on Southwest's operations, Maria, which devastated San Juan, resulted in long-term impacts on Southwest's operations and its resident employees. The fund is still handling catastrophic assistance to hurricane victims.
But raising funds to support Southwest employees wasn't anything that unusual for the company or its staff, said Lee. "We really just leaned on our culture. I think this is why we have this wonderful, longstanding charity that supports employees. It has always been a priority for us to put our employees first and take care of our own."
"I think the one thing we've learned is that no two disasters are alike. You try to learn what you can from everyone and continually improve your process and your knowledge," said Lee. But being proactive and having a third-party system in place can help both the company and the employees cope with the unexpected need for catastrophic assistance.
VIAVI Solutions: Support network for California fire victims
The potential to fund innovative employee programs isn't limited to companies as large as Southwest. Technology companies with local reach and a vested interest in protecting staff also sought out ways to help during disasters.
One such company is VIAVI Solutions, a global leader in network and service enablement and optical technologies. Today, VIAVI Solutions' two business segments serve some of the world's best-known brands. The world's largest network providers, governments, and industries ranging from aerospace to pharmaceuticals rely on VIAVI to help them deliver high-quality, secure, mission-critical products and services to their customers.
Its Santa Rosa facility, with over 480 employees found itself on the edge of the "California Inferno" this October, when the Tubbs fire swept through the area.
VIAVI Solutions' Senior Vice President of Human Resources Petra Nagel said more than 100 employees were affected by the fire.
"Over 20 employee families lost their homes, and nothing was salvageable," said Nagel, who said that others were forced to seek shelter in evacuation centers while emergency responders fought to save their neighborhoods. The Tubbs fire was only one of many that raged in Northern California during the summer of 2017, but it leveled closely knit neighborhoods in a space of hours.
The immediate outpouring of concern by company employees who were not affected by the fires was notable, said Nagel, and became the backbone of VIAVI's efforts to set up an emergency relief fund in the months that followed.
"For those who lost homes, any and all support was necessary. During the first few days following the fire, unaffected employees offered rooms in their homes for others who were displaced."
Because VIAVI's office structure was unaffected by the fire, "it became a spot for families to come for food and supplies" while local communities assessed their options regarding if and how they would eventually be able to rebuild.
"Once temporary housing and other basic needs were met," said Nagel, "financial support became the primary need."
The corporation made an initial donation and then offered to match all employee donations dollar-to-dollar. Employees, as well as customers, from across the globe responded. To date, Nagel said, the fund has raised over $320,000 and donations continue to come in.
The company used its internal communication networks, email blasts, company events and other methods to alert staff of the funding campaign. And like Southwest Airlines, it realized that coordinating the disbursement of those funds through a third-party organization not only made it easier for the company, but also added oversight and credibility to each stage of the process.
"A committee was formed led by SVCF to make the necessary decision and arrangements around the fund parameters, the length of the campaign, the application process, the communications and fund distribution. The program was online and accepting donations within two weeks after the disaster," explained Nagel, who added that partnering with an organization like SVCF added speed to the process, ensuring that employees in need received assistance quickly.
The takeaway lesson from the California fires, Nagel said, is that it pays for companies to be proactive. "Set up a program in advance of necessity," she said. "We never imagined we would encounter a tragedy of this magnitude, and we were fortunate to be introduced to experts to help take the lead during a time of crisis."
This article is sponsored by Silicon Valley Community Foundation and went through our normal editorial review process.