Wells Fargo Bank Branches Become Holiday Food Banks
Wells Fargo Bank Branches Become Holiday Food Banks
Wells Fargo kicks off a joint effort with United Way to fight hunger by collecting nonperishable food donations nationwide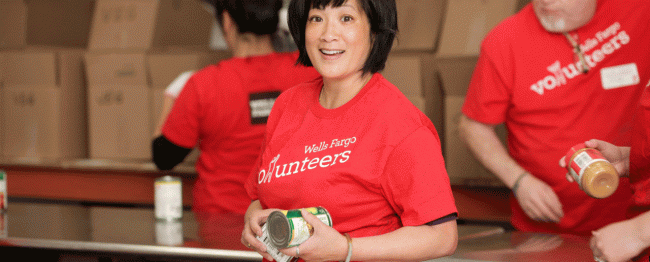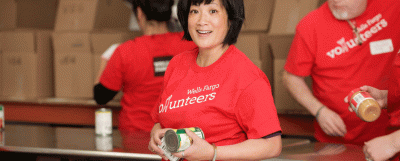 Wednesday, November 29, 2017 - 5:00pm
Wells Fargo is doubling as a food bank this holiday season in a joint effort with United Way to fight hunger.
From Nov. 28 to Dec. 30, approximately 5,900 Wells Fargo branches will serve as food donation centers, collecting nonperishable foods in specially marked bins as part of the Wells Fargo Holiday Food Bank.

A pop-up food bank tour will also make stops at 17 cities throughout the U.S. as part of the effort. Displays for the campaign will promote opportunities through United Way to volunteer, donate food, and learn more about hunger in the U.S.

"The stark reality is that one in seven Americans rely on a food bank over the holidays to help put food on the table," said Mary Mack, head of Community Banking. "By bringing together our customers, our team members, nonprofits, and others, we'll make it easier for everyone to enjoy holiday meals together."

Wells Fargo will officially kick off the campaign in New York on #GivingTuesday, Nov. 28, with a $5 million grant to United Way.

"This donation from Wells Fargo will support our local United Ways' fight to address hunger in communities and provide families with vital resources to live healthier lives," said Brian Gallagher, United Way Worldwide president and CEO.

The hope is that, by working together this holiday season, Wells Fargo can help support the 41.2 million Americans the U.S. Department of Agriculture estimates are "food insecure" – meaning they can't always obtain adequate nutrition.

"The holidays are about people coming together as family and friends to celebrate," Mack said, "and sharing meals together and making memories around the table is a cherished part of that tradition."

Supporting communities year-round

The holiday food banks add to Wells Fargo's year-round philanthropic support of nonprofit organizations and volunteer efforts of the company's more than 260,000 team members.

From Nov. 28 to Dec. 30 alone, Wells Fargo volunteers will support 41 food-related nonprofits — delivering meals, sorting food, and working to fight hunger in 14 states and the District of Columbia.

"At Wells Fargo, our commitment to building better communities starts with providing the millions of underserved people and families in our country with access to basic needs such as stable housing, food on the table, steady employment, education –  and ultimately improved well-being and quality of life," said Jon Campbell, head of Corporate Responsibility and Community Relations for Wells Fargo. "Thanks to our team members, customers, and long-time partners at United Way Worldwide, we'll be able to make a big difference for many people in need this holiday season."

In 2016, Wells Fargo donated a total of $281.3 million to nonprofits, and team members volunteered 1.7 million volunteer hours to their favorite charities.

Finding ways to #feeditforward

Wells Fargo's holiday food bank support comes as annual giving declines nationally, and millions of families depend on food banks for nutrition. According to Indiana University and Purdue University's Generosity for Life initiative to improve the world by improving giving, annual charitable support dropped from $1,011 per person in 2007 to $872 in 2015.

More than 15 million — or 12.3 percent — of all U.S. households were food insecure at some point in 2016, according to the U.S. Department of Agriculture's annual study.

While the overall percent considered food insecure improved slightly from 2015 to 2016, the Pew Research Center found that the number facing severe poverty — defined by the U.S. Census Bureau as those with family or individual incomes below half of their poverty threshold — reached its highest point in at least 20 years in 2016.

Because of those trends, Wells Fargo conducted research in advance of the holiday food bank campaign. Its online survey of 1,000 adults ages 18 and up examined the motivators for giving, food versus money donations, and other factors involved in increasing food-bank support.

Visit Wells Fargo Stories to learn more about the survey and how you can help make more meals possible for the hungry and #feeditforward this holiday season.