Waste Management Supports Recycling Education with $100,000 Donation for Cutting-Edge Training Scholarships
Waste Management Funds Workshop Offered by Keep America Beautiful and The Recycling Partnership at 2018 WasteCon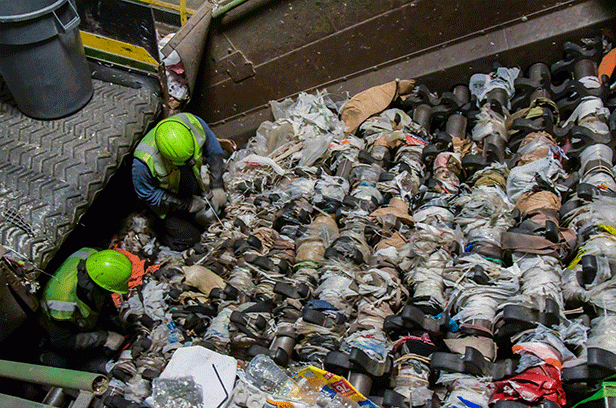 STAMFORD, Conn., August 13, 2018 /3BL Media/ – Keep America Beautiful and The Recycling Partnership will offer 40 communities within 10 states the opportunity to be a part of an advanced recycling workshop at WasteCon 2018, which takes place Aug. 20-23 in Nashville, Tennessee. This fully-funded training program by Waste Management will bring together key community recycling leaders from across the Southeast to improve their respective community recycling programs.
The workshop is part of a three-month program that includes both pre- and post-webinar sessions as well as presentations on best management practices for recycling programs from The Recycling Partnership and Keep America Beautiful. Pre-training will allow participants to conduct a community recycling assessment that captures impact measurement. Post-measurement guidance will cover recycling quality improvements and education through a webinar.
"To ensure successful recycling programs, it's vital that our leaders have the resources and recycling education needed to spearhead change in their community environments," said Helen Lowman, president and CEO, Keep America Beautiful. "Keep America Beautiful is grateful for Waste Management's continued support of the Keep America Beautiful mission. This contribution gives our hardworking affiliates access to invaluable information and training."
"Recycling literacy is critical to the success and sustainability of any recycling program," commented Tara Hemmer, senior vice president of operations, safety & environmental compliance, Waste Management.  "We are proud to support this collaboration and work together to improve recycling education and programs."
Workshop attendees are encouraged to utilize social media channels to highlight the importance of the program and share ways to effectively reduce recycling contamination. To help rally for recycling behavior change, participants can share a recycling fact or other impactful information learned during the workshop using the hashtag #DoBeautifulThings.
About Waste Management
Waste Management, based in Houston, Texas, is the leading provider of comprehensive waste management services in North America. Through its subsidiaries, the company provides collection, transfer, recycling and resource recovery, and disposal services. It is also a leading developer, operator and owner of landfill gas-to-energy facilities in the United States. The company's customers include residential, commercial, industrial, and municipal customers throughout North America. To learn more information about Waste Management visit www.wm.com or www.thinkgreen.com.  
About The Recycling Partnership
The Recycling Partnership (www.recyclingpartnership.org) is a national nonprofit organization that leverages corporate partner funding to transform recycling for good in cities and towns all across America. As the only organization in the country that engages the full recycling supply chain from the corporations that manufacture products and packaging to local governments charged with recycling to industry end markets, haulers, material recovery facilities, and converters; The Recycling Partnership positively impacts recycling at every step in the process. By the end of 2018, The Recycling Partnership expects to have served more than 850 communities with tools, resources and technical support, helped place over 430,000 recycling carts, reached 40 million households, and helped companies and communities invest more than $30 million in recycling infrastructure.
About Keep America Beautiful
Keep America Beautiful, the nation's iconic community improvement nonprofit organization, inspires and educates people to take action every day to improve and beautify their community environment. Celebrating its 65th Anniversary in 2018, Keep America Beautiful strives to End Littering, Improve Recycling and Beautify America's Communities. We believe everyone has a right to live in a clean, green and beautiful community, and shares a responsibility to contribute to that vision. 
Behavior change – steeped in education, research and behavioral science – is the cornerstone of Keep America Beautiful. We empower generations of community and environmental stewards with volunteer programs, hands-on experiences, educational curricula, practical advice and other resources. The organization is driven by the work and passion of more than 600 Keep America Beautiful affiliates, millions of volunteers, and the collaborative support of corporate partners, social and civic service organizations, academia, municipalities, elected officials, and individuals. Join us on Facebook, Instagram, Twitter and YouTube. Donate and take action at kab.org.
###