Voya Promotes A Lifetime of Financial Well-being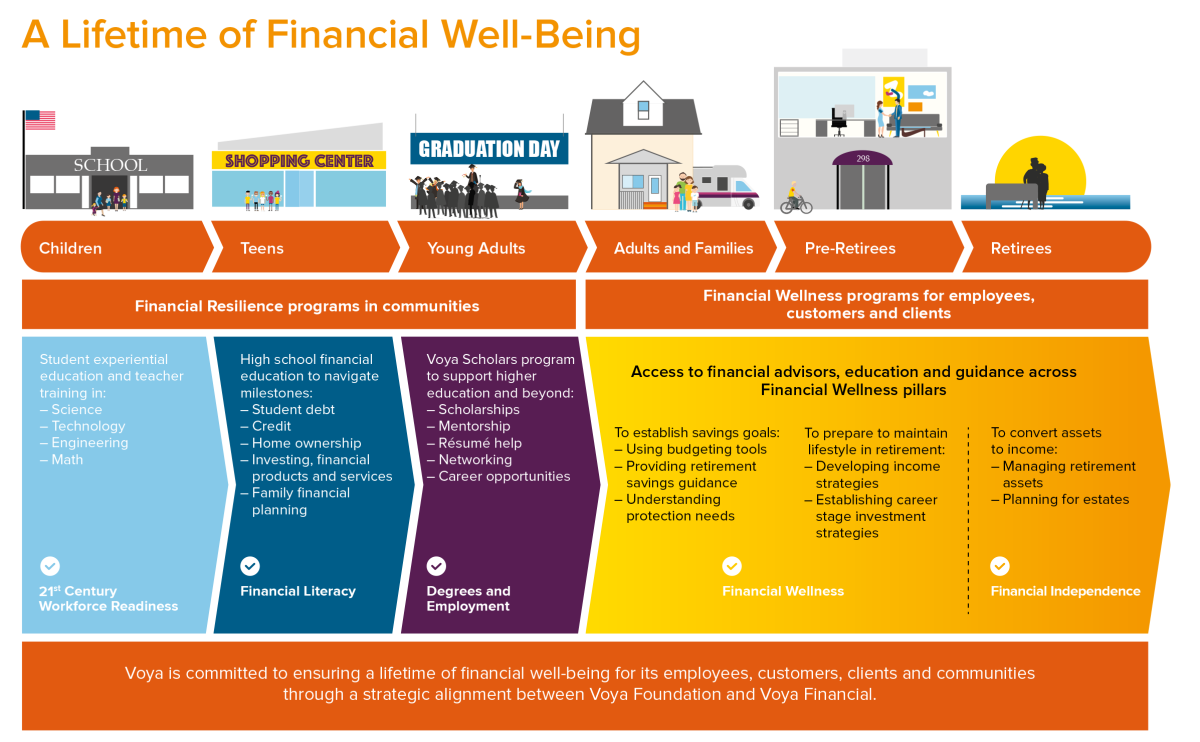 Managing one's finances can be challenging and stressful, and Voya is committed to enabling all Americans to achieve a secure financial future. We use our core competency — financial knowledge — to educate Americans of all ages, and offer tools and solutions that help them achieve financially secure futures. This year's Corporate Responsibility Annual Report highlights the strategies and programs Voya has in place to promote a lifetime of financial well-being.
Voya's financial education begins with our employees. In a recent survey, we learned that employees wanted more support in improving their overall financial wellness. In response to our employees' needs, Voya launched a renewed focus on helping employees improve their financial security. In addition to leveraging our existing best-in-class resources, we've created a whole host of new tools and experiences to help employees strengthen their financial health. To complement these new experiences, we have also developed a full suite of educational materials on a wide spectrum of topics ranging across budgeting, insurance protection and retirement planning.
We are also committed to helping customers, clients and communities ensure a lifetime of financial well-being. This past year, Voya developed the "Voya Way of Advice and Guidance," a collaborative blend of enterprise points of view and expertise on customer financial wellness, retirement readiness and solutions to better position Voya as a thought leader in these areas. With a unified voice, we can build on our current products and distribution channels to drive enterprise-wide collaboration in deploying holistic customer solutions. With a clear understanding of our customers, our teams will be able to focus on ways we can more rapidly deliver new and competitive products, services and tools to meet changing customer and employer needs.  Work is already underway on our next generation of financial wellness capabilities to help our customers achieve better financial outcomes and enjoy a more balanced financial life.
Through Voya Foundation, we continue to advance financial resilience by supporting financial literacy programs as well as STEM education initiatives. These programs support both teacher training and student education, from grade school through graduation day, with experiential learning, scholarships, mentorships and career opportunities.
Through a strategic alignment between Voya Foundation and Voya Financial, we're constantly striving to encourage the financial wellness of our employees, customers, colleagues and communities.