USC Shoah Foundation and Discovery Education Award $10,000 to 2022 Stronger Than Hate Challenge Winners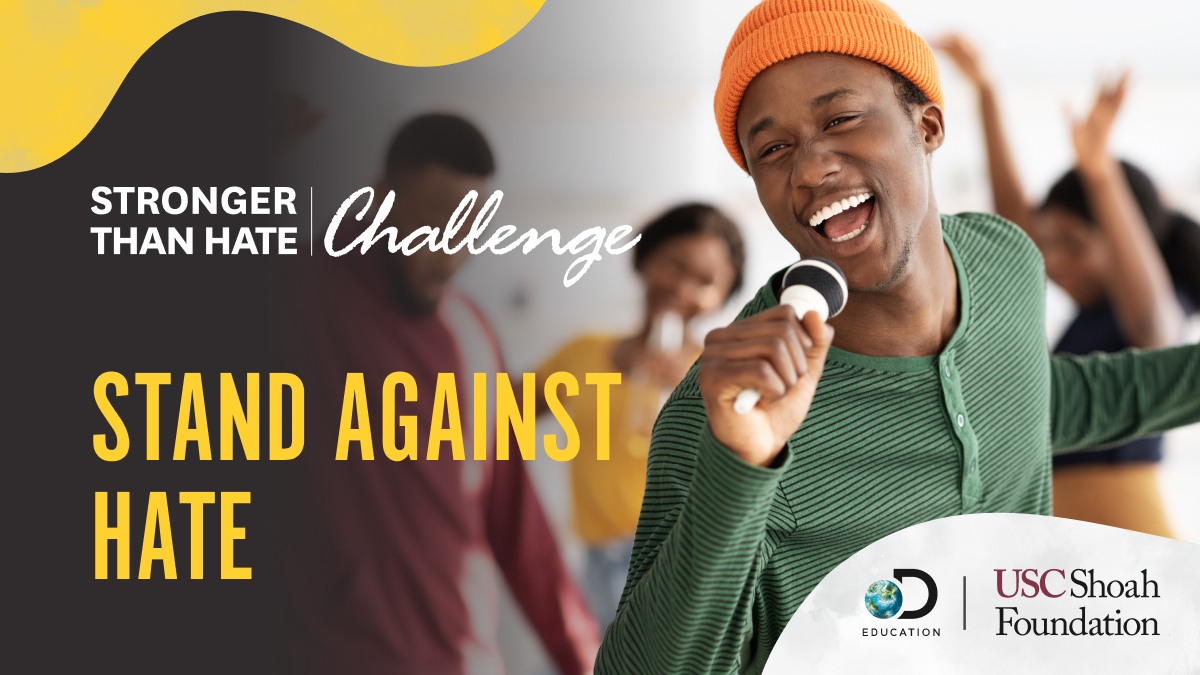 CHARLOTTE, N.C., October 28, 2022 /3BL Media/ - USC Shoah Foundation – The Institute for Visual History and Education (USC Shoah Foundation) and Discovery Education today announced the winners of the 2022 Stronger Than Hate Challenge. The 2022 winners exemplify the power of youth voices to connect communities to overcome hate.
The Stronger Than Hate Challenge builds upon USC Shoah Foundation and Discovery Education's no-cost and standards-aligned educational initiative, Teaching with Testimony. Inspiring middle and high school students to create a better future, Teaching with Testimony utilizes the powerful testimony of survivors and witnesses of genocide to create powerful learning experiences.
The Stronger Than Hate Challenge encourages students ages 13+ in the United States, United Kingdom, and Canada to work individually or in groups of 2-4 to submit multimedia projects demonstrating the power of story to create a community that is stronger than hate.
"Research shows us that students are facing a mental health crisis. The Stronger Than Hate Challenge empowers students to creatively express the power of empathy, understanding, and respect. Congratulations to the 2022 winners and the change you're already making in the world," said USC Shoah Foundation Head of Programs for Education, Lesly Culp.
The winners of the Stronger Than Hate Challenge demonstrated excellence in leveraging testimony and creativity to promote empathy, understanding, and respect in their local communities. The 2022 Stronger Than Hate Challenge winners are:
First Place
10th graders Sadie H. and Amelie A. from Lincoln High School of the Lincoln School District located in Rhode Island will receive a $6,000 scholarship for the video project entitled "The Power of a Voice". In addition, Sadie and Amelia will each receive an exclusive learning experience from the team of storytellers at USC Shoah Foundation.

The video submission consists of pencil-like sketches focused on how speaking up can overcome hate. The artists note that "through testimony, we saw all the ways that people have struggled through hate and genocide. The way that ignorance fueled so much of their pain was something that we wanted to focus on in our project."

Second Place
9th grader Charlee S. from West Boca Raton High School of the School District of Palm Beach County located in Florida will receive a $3,000 scholarship for the project entitled "Color the World with Kindness".

Charlee's project centers on the story of Irene Binzer, a Holocaust survivor. As a young Jewish woman herself, Charlee emphasized in her piece how the power of speaking up can change the world. Charlee shared that "The notion of using one's voice influenced my project to center on the power of youth and how they can bring color to a world that is black and white."

Third Place
11th grader Aron G. from Morristown High School of the Morris School District located in New Jersey will receive a $1,000 scholarship for the video project entitled "Don't Be A Bystander".

The project focuses on the power of testimony. Aron stated: "I am working towards reducing hate around the world by using survivor testimony to show the effects of hate. Their stories evoke empathy, so we can learn from history and help prevent it from happening again."
"Teaching with Testimony – and the Stronger Than Challenge – are wonderful examples of how students are creating a more peaceful and collaborative world," said Amy Nakamoto, General Manager of Social Impact at Discovery Education. "We are proud to stand alongside USC Shoah Foundation in putting testimony in classrooms nationwide."
Teaching with Testimony supports the integration of social-emotional learning—student understanding of their emotions, social skills, and how these influence decision-making and interpersonal relationships—into classroom learning through with dynamic and thoughtful content and inspiring educational supports.
The digital resources from Teaching with Testimony, including the Stronger Than Hate Challenge, support education online, at home, or wherever learning is taking place. Learn more about the Stronger Than Hate Challenge and the partnership at TeachingwithTestimony.com and in the Social Impact Partnerships channel on Discovery Education's K-12 learning platform.
Connecting educators to a vast collection of high-quality, standards-aligned content, ready-to-use digital lessons, intuitive quiz and activity creation tools, and professional learning resources, Discovery Education provides educators an enhanced learning platform that facilitates engaging, daily instruction.
For more information about Discovery Education's award-winning digital resources and professional learning services, visit www.discoveryeducation.com, and stay connected with Discovery Education on social media through Twitter and LinkedIn.
###
About USC Shoah Foundation
USC Shoah Foundation – The Institute for Visual History and Education develops empathy, understanding and respect through testimony, using its Visual History Archive of more than 55,000 video testimonies, award-winning IWitness education program, and the Center for Advanced Genocide Research. USC Shoah Foundation's interactive programming, research and materials are accessed in museums and universities, cited by government leaders and NGOs, and taught in classrooms around the world. Now in its third decade, USC Shoah Foundation reaches millions of people on six continents from its home at the University of Southern California.
About Discovery Education
Discovery Education is the worldwide EdTech leader whose state-of-the-art digital platform supports learning wherever it takes place. Through its award-winning multimedia content, instructional supports, and innovative classroom tools, Discovery Education helps educators deliver equitable learning experiences engaging all students and supporting higher academic achievement on a global scale. Discovery Education serves approximately 4.5 million educators and 45 million students worldwide, and its resources are accessed in over 100 countries and territories. Inspired by the global media company Discovery, Inc., Discovery Education partners with districts, states, and trusted organizations to empower teachers with leading EdTech solutions that support the success of all learners. Explore the future of education at www.discoveryeducation.com. 
Contacts
Grace Maliska
Discovery Education
gmaliska@discoveryed.com
Ron Demeter
USC Shoah Foundation
uscsfpress@usc.edu