U.S. Energy Secretary Granholm Praises Progress on State Pier at Future Offshore Wind Turbine Staging and Assembly Facility
U.S. Representative Courtney, CT Port Authority, Ørsted and Eversource host Sec. Granholm, CT Governor Lamont, and other state and local officials for tour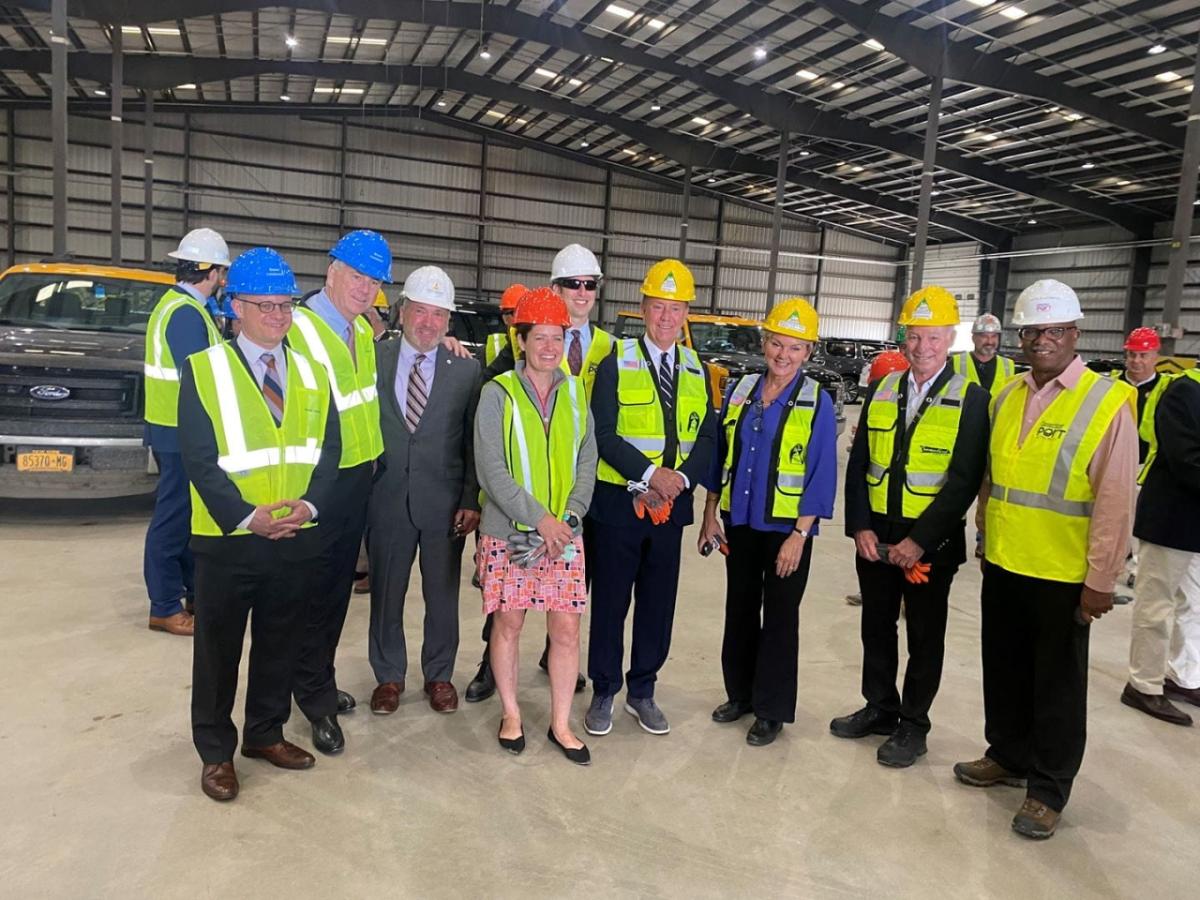 Ørsted Head of Market Affairs for New England, David Ortiz, Eversource President and CEO Joe Nolan, New London Mayor Michael Passero, CT Department of Energy and Environmental Protection Commissioner Katie Dykes, CT Port Authority Chairman David Kooris, Connecticut Governor Ned Lamont, U.S. Secretary of Energy Jennifer Granholm, U.S. Congressman Joe Courtney, CT Port Authority Interim Executive Director Ulysses Hammond.
NEW LONDON, Conn. July 1, 2022 /3BL Media/ – Joint venture partners Ørsted and Eversource joined U.S. Representative Joe Courtney in welcoming U.S. Energy Secretary Jennifer Granholm today to tour the construction progress at State Pier in New London. Ørsted and Eversource are working with the State of Connecticut, Connecticut Port Authority, and Gateway Terminal to transform State Pier into a world-class, state-of-the-art, heavy-lift marine terminal and future offshore wind hub.
The tour also included Connecticut Governor Ned Lamont, U.S. Senators Richard Blumenthal and Chris Murphy, Connecticut Department of Energy and Environmental Protection Commissioner Katie Dykes, New London Mayor Michael Passero, Connecticut State Building Trades Council President Keith Brothers, representatives from the Connecticut Port Authority and Kiewit Infrastructure Co., and other state and local officials.  
Starting in Q1 2023, State Pier will play a vital role in the fight against climate change, supporting wind turbine staging and assembly for Ørsted and Eversource's portfolio of projects in the Northeast, including South Fork Wind (currently under construction), Revolution Wind, and Sunrise Wind. Collectively, these projects will provide enough clean energy to power more than one million homes in the Northeast.
The redevelopment of State Pier is expected to create more than 400 jobs, including for Connecticut's building trades, by the project's completion early next year. As a staging and assembly hub for Ørsted and Eversource projects, vessel activity will significantly increase at State Pier and generate high-skilled, long-term employment in New London – approximately 100 long-term positions supporting offshore wind turbine staging and assembly.
"It is an honor to welcome Secretary Granholm and Governor Lamont to State Pier, where we will launch Connecticut's next great maritime industry and help deliver a clean energy future for the state and the nation," said Joe Nolan, Chief Executive Officer and President of Eversource Energy. "State Pier is a critical part of our plan to develop 1.7 gigawatts of renewable energy in the Northeast, providing enough clean energy for more than a million American homes. It is also a tremendous driver of well-paying jobs and local investment, which we witnessed firsthand today." 
"I want to thank Secretary Granholm for joining us for today's tour – we wouldn't be where we are today without your hard work and the Biden administration's vision of 30 gigawatts of offshore wind by 2030," said David Ortiz, Head of Market Affairs for New England of Ørsted Offshore North America. "State Pier will help us achieve that goal while also being a centerpiece for the industry's advancement in the region, which positively impacts our local communities, local businesses, and local workers. We look forward to continuing our work with all of our partners to realize our vision, as our investments in clean energy deliver real economic benefits and jobs." 
In total, Ørsted and Eversource are contributing $77.5 million towards the cost of the State Pier redevelopment project, plus $20 million in lease payments over 10 years once on the site. For more information, visit revolution-wind.com/state-pier.
About Ørsted Offshore North America
The Ørsted vision is a world that runs entirely on green energy. Four years in a row, Ørsted earned recognition as the world's most sustainable energy company by Corporate Knights, including for 2022. The company is a global clean energy leader and has the largest portfolio of offshore wind energy in the world. 
In the United States, Ørsted operates the Block Island Wind Farm, America's first offshore wind farm, and constructed the two-turbine Coastal Virginia Offshore Wind pilot project – the first turbines to be installed in federal waters. Ørsted has approximately 5,000 megawatts of offshore wind energy in development in five states and across seven projects. Ørsted Offshore's North American business is jointly headquartered in Boston, Massachusetts and Providence, Rhode Island and employs approximately 250 people. To learn more visit us.orsted.com or follow us on Facebook, Instagram and Twitter (@OrstedUS).
About Eversource
Eversource (NYSE: ES), celebrated as a national leader for its corporate citizenship, is the #1 energy company in Newsweek's list of America's Most Responsible Companies for 2021 and recognized as one of America's Most JUST Companies. Eversource transmits and delivers electricity and natural gas and supplies water to approximately 4.4 million customers in Connecticut, Massachusetts, and New Hampshire. The #1 energy efficiency provider in the nation, Eversource harnesses the commitment of approximately 9,200 employees across three states to build a single, united company around the mission of safely delivering reliable energy and water with superior customer service. The company is empowering a clean energy future in the Northeast, with nationally recognized energy efficiency solutions and successful programs to integrate new clean energy resources like solar, offshore wind, electric vehicles, and battery storage into the electric system. For more information, please visit eversource.com and follow us on Twitter, Facebook, Instagram, and LinkedIn. For more information on our water services, visit aquarionwater.com.
Media Contact
Justin May, on behalf of Ørsted and Eversource
jmay@gbpr.com 
860-839-1538