UPS Longitudes | Nespresso & UPS
Kika Buhrmann, VP of B2B @ Nespresso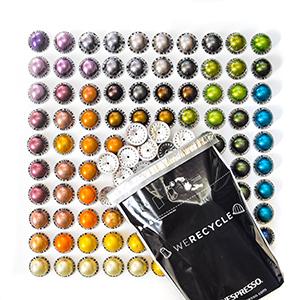 From Bean to Cup: Sustainability Across the Supply Chain
In today's marketplace, consumers look for more than just quality and price when making a purchasing decision — sustainability and sourcing are more important than ever.
This applies to purchases as large as a home to as small as a cup of coffee. Kika Buhrmann, Vice President of Business to Business at Nespresso, has helped make sustainability a core part of Nespresso's brand.
Nespresso has participated in UPS's carbon neutral shipping program for a few years now, and we sat down with Buhrmann to learn more about the company's dedication to carbon neutrality and her views on the future of sustainability.
Longitudes: What is Nespresso's philosophy when it comes to sustainability? What are your biggest commitments and priorities?
Buhrmann: From coffee sourcing to post-consumer use, sustainability is at the core of our business and part of every decision we make. One of the ways this takes shape is in our efforts to help improve farmer sustainability.
In 2003, we developed the Nespresso AAA Sustainable Quality™ Program in collaboration with the Rainforest Alliance to create a sustainable supply of the world's highest quality coffees. Today, we are proud to source more than 90 percent of our coffee through the program, which accounts for more than 100,000 farmers across 13 countries.
Our sustainability approach continues throughout our supply chain. We make our capsules from aluminum because it protects the freshness and quality of our coffees, and it can be infinitely recycled.
This commitment to the circular use of our products is why we are especially proud of our long-time partnership with UPS to provide several options for convenient recycling: Both consumers and our hotel, restaurant and office customers can bring their capsules to one of 88,000 UPS drop-off locations or 500 collection points in Nespresso Boutiques and select retailers across the country.
Once the capsules are collected, the coffee grounds are turned into compost and topsoil, and the aluminum is ultimately reused to make new products.
Longitudes: What expectations do your customers have regarding sustainability? What about employees and other stakeholders?
Buhrmann: Our consumers and business customers are quality-focused, and they want an elevated coffee experience. They also care deeply about sustainability. A high percentage of global consumers believe that companies need to place as equal, or even more of, a weight on societal interests as they do business ones.
One of our global goals is to empower the Nespresso team to contribute to our sustainability agenda. We know that more than 80 percent of our employees take pride in our sustainability initiatives, a milestone that is particularly meaningful to us.
Longitudes: What role does sustainable logistics and transportation play in supporting Nespresso's efforts?
Buhrmann: Both logistics and transportation play a large role in supporting our ongoing sustainability efforts.
First, we optimize our distribution network, which allows us to maximize ground transportation for the last-mile delivery and reduce both air freight service usage (and the consequent CO2 emissions) and overall domestic truck load movements.
We also work to leverage our retail network for fulfillment and delivery, which allows us to reach consumers through eco-friendly delivery modes like foot messengers or bike delivery.
Finally, we continue to promote click-and-collect options for our consumers, which allows them to either pick up their order directly at Nespresso Retail locations or various UPS Access Point locations across the country.
Longitudes: What drove Nespresso's decision to participate in UPS's carbon neutral shipping program?
Buhrmann: In 2014, we set the global goal to become carbon neutral in our operations by 2020 and in 2018, we reached that milestone.
The foundation of this achievement was planting more than 3.5 million trees on and around coffee farms between 2014 and 2017 to help restore local ecosystems and unproductive lands. Participating in UPS carbon neutral shipping further expands our reduction efforts beyond our operations to the indirect emissions that result from transportation.
Longitudes: What will sustainability look like at Nespresso in 10 years?
Buhrmann: As our climate continues to change, resiliency will continue to be a major focus for us. We rely on small farmers to grow and harvest the world's highest quality coffees, and these producers increasingly face unacceptable levels of uncertainty and risk due to climate change.
We have spent decades working directly with farmers to help build sustainable coffee sectors around the world, including in Puerto Rico, Zimbabwe and South Sudan. We have seen firsthand the positive and transformative power coffee can have on improving farmer livelihoods, fostering economic development and rebuilding communities.
We will continue to encourage consumers and businesses to recycle, working toward our ultimate ambition of recycling all Nespresso capsules. We could not make recycling easy and accessible if it weren't for our valued partnership with UPS, and we look forward to continuing to collaborate for years to come.
Check out Nespresso's circular economy work with UPS in UPS's latest interactive Sustainability Report.