UPS Longitudes | Food Is the Best Antidote to Chaos
Barron Segar @ World Food Program USA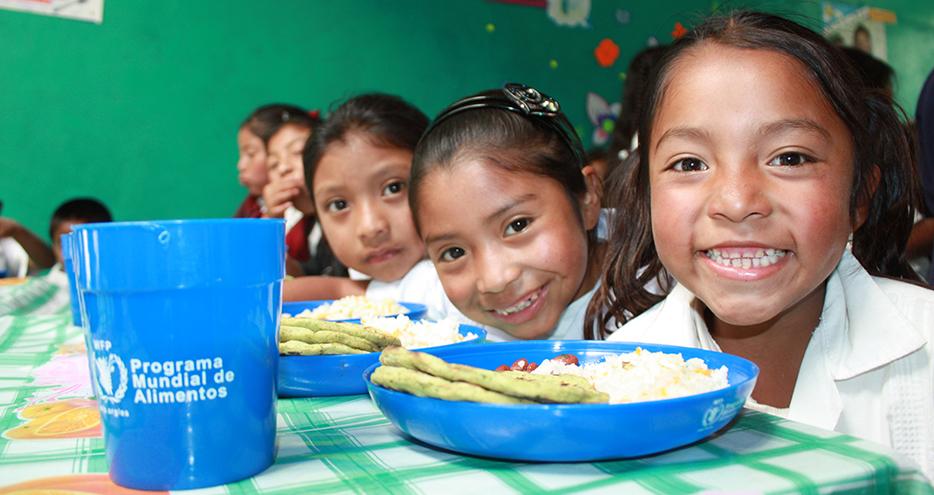 FOOD IS THE BEST ANTIDOTE TO CHAOS
During my organization's more than 50-year history, we have witnessed countless disasters and responded to famines, cyclones, earthquakes and wars that devastated communities and left trails of hunger and poverty in their wake.
The United Nations World Food Programme (WFP), the world's leading hunger-relief organization, is no stranger to crises — but we have never seen anything like the coronavirus pandemic.
COVID-19 has shaken the world to its core. It has overwhelmed health systems and devastated economies. As the virus continues to spread, it threatens to become the greatest global humanitarian catastrophe since World War II.
A hunger pandemic
Without intervention, this crisis is on track to ignite a "hunger pandemic." We estimate that the number of severely hungry people could increase by 80 percent — from 149 million pre-COVID-19 to 270 million before the end of 2020 — in the nearly 80 countries where we work.
Tackling this rising tide of hunger requires the largest humanitarian response in the U.N. World Food Programme's history. We are meeting the challenge by mobilizing an army of humanitarians to combat hunger and feed up to 138 million of the hungriest and poorest people this year.
In addition to lifesaving food and resources, the U.N. World Food Programme also provides vital services for U.N. agencies and NGOs. As the logistics backbone for global COVID-19 response efforts, we transport medical supplies, PPEs, food and humanitarian workers to the most fragile countries through a sophisticated network of regional hubs.
Partnering with UPS
But we cannot do this critical work alone. The U.N. World Food Programme relies on strong partnerships — with governments, individuals, corporations and foundations — to reach people in urgent need.
The UPS Foundation is one of these crucial partners. At the World Food Program USA, the U.S. affiliate of the U.N. World Food Programme, we have long enjoyed its support and dedication to our mission.
Through the years, The UPS Foundation has contributed not only funds but vital logistics and technical support. In times of emergency, it has provided the U.N. World Food Programme with airlift services and warehouse facilities to deliver and house essential supplies. It has also deployed rapid response teams to help coordinate our response and sent executives to the field to share logistics expertise.
As in past crises, UPS is playing an important role in our response to COVID-19. It has stepped up to the plate, increasing its support to meet the rapidly rising needs around the globe.
For 70 years, The UPS Foundation has worked to improve lives in the U.S. and abroad, showcasing a commitment to caring for people in need wherever they reside. As social justice issues have risen to the surface, so has a groundswell of support, action and a passionate call for equity and equality for all.
Standing up for the most vulnerable
It is important to remember these values and the legacy they have established. We know that everyone is feeling the impacts of COVID-19, but it is devastating people in vulnerable areas the most.
More than ever, the U.N. World Food Programme needs support to prevent tens of millions from falling into famine. COVID-19 is a dark cloud hanging over us all — but know that the human spirit is still a light to a world in tremendous need.
I have seen the face of starvation, and it is heartbreaking. Until the day when we have a medical vaccine, food is the best antidote against further chaos.
Without it, we could witness more social unrest, deepening conflict and widespread under-nutrition among populations not previously hungry. Now, more than ever before, we must stand up for the most vulnerable among us.
We can keep those in need from falling behind. Together, we can provide millions of people with the lifesaving food and relief they need to survive this pandemic and get back on their feet when chaos ultimately subsides.
World Food Program USA (WFP USA) is the recognized leader in America's pursuit to end global hunger, inspiring citizens to do everything in their power to create a zero-hunger world. The organization works with U.S. policymakers, corporations, foundations and individuals to generate financial and in-kind resources for the United Nations World Food Programme to feed families in need around the world and develop policies necessary to alleviate global hunger. To learn more about their mission, please visit here.
Read more on UPS's thought leadership blog, Longitudes.