UPS Longitudes | Don't Give Up Hope: Steering and Growing a Small Business During COVID-19
Evelyne Nyairo @ Ellie Bianca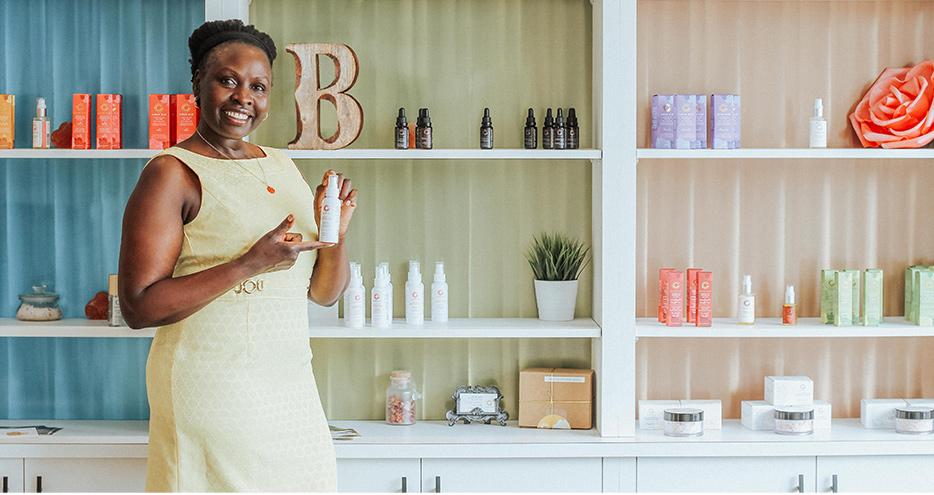 DON'T GIVE UP HOPE: STEERING AND GROWING A SMALL BUSINESS DURING COVID-19
After a literal bittersweet encounter in the African nation of Chad, I felt compelled to create a company to address gender inequalities and help empower women so they can find their voices.
Let me explain: Working as an environmental scientist and chemist, my consultancy work brought me to Chad, this land of the most beautiful wild mango trees. Never one to pass up the opportunity to indulge in succulent mangoes, I had my fill courtesy of a family whose mother and children climbed the trees in the hot sun to harvest the fruit for me to eat.
I went to give the money to the mother who then told me, "You must hand the money over to the father as a sign of respect." Sitting off to the side, never lifting a finger or even looking up to acknowledge my existence, was the father. I felt both anger and frustration as I handed the money over to him.
The episode took me back to the boardrooms in Canada where I had experienced gender discrimination. The sweetness of the mangoes inspired me to take a stronger interest in the earth's bounty, and the bitter experience of misogyny compelled me to think of a sustainable way to incite change.
"Ellie Bianca recognizes beauty in all forms and supports the empowerment of women through business and education."
Steering a small business
With a nod to my young daughter, Ellie, a budding champion for women's rights, I founded Ellie Bianca in 2014, and we launched our first product in 2015. We're a proudly Canadian, all-natural, environmentally sustainable, socially conscious skincare line that recognizes beauty in all forms and supports the empowerment of women through business and education.
Three pillars serve as the foundation for the company: kind to your skin, kind to the earth, kind to women.
I haven't always been in the skincare industry, and I felt like I didn't belong at first. As a small business owner, it can be a lonely road. To manage, I had to build a new community around me.
These relationships have been crucial. I met other business owners in the green beauty and wellness space who showed me the ropes of the industry. And in turn I am paying it forward by mentoring other budding entrepreneurs and watching them blossom.
Each new mentee fuels me to keep pushing so I can show them success is within their reach as well.
Navigating the beauty industry — and COVID-19
The beauty industry is competitive to say the least. To stay afloat, it is imperative to showcase a unique selling point.
At Ellie Bianca, we ensure our brand tells our story: We are a non-GMO, organic skincare line that promotes women empowerment by providing scholarships for the next generation.
Our clients identified with that mission and wanted to support the cause. They continue to purchase from us because of our broader mission. While our values remain the same, we had to pivot when coronavirus brought disruption to our doorstep.
The global pandemic halted expansion plans. And as the economy shifted, consumer purchasing power waned — and we needed to do things differently to meet the needs of our customers.
When the government of Canada sent out a call for those with capacity to help in the fight against COVID-19, we jumped into action. We went to the drawing board and used our expertise to create hand sanitizer.
We didn't want any ordinary sanitizer — we had to really think about the quality of the product and stay true to our ethos of all natural.
We used high quality ethyl alcohol (ethanol). We also selected highly potent (200x) aloe vera juice powder and high-grade vegetable glycerin specifically for their ability to moisturize the skin by bringing oxygen to the surface and increasing the synthesis, as well as the strength, of skin tissue.
We will also manufacture hand soaps that fight germs while leaving your hands feeling lavishly pampered.
"To fellow small business owners: Trust the process. Allow whatever life throws at you to serve as a springboard for new aspirations and ventures."  
Logistics challenges
At the onset of the pandemic, we had some logistics issues, as many of our products originated outside Alberta and even outside Canada. However, our business relationships helped us maneuver through some of these challenges.
UPS, for example, has been with us every step of the way throughout the pandemic. We ship through UPS's WorldShip, and we have a dedicated client service manager who helps us tackle any logistical challenge.
UPS has been extremely kind to us. They provided us a flexible payment method, which helped build trust. I can say we often feel overlooked by larger corporations, but UPS continues to support us and help us reach our audience.
Mastering logistics was particularly important as we moved full steam ahead into the world of e-commerce.
We've always had an online platform, but the pandemic pushed us to leverage the technology to reach new heights. We recognize that the consumer needs to feel like there is a real person behind that online storefront.
To do so, we set up a chat line where we answer customer questions and advise them based on the products and so on. And when we ship our products, we add a personal touch by making sure every order includes a handwritten note thanking our customers for their purchase.
This helped us weather the pandemic as our clients continued to buy from us.
What I learned
One thing I have always known — but the pandemic reinforced — is that cash is king. Businesses should constantly find opportunities to manage cash flow. You need flexible, innovative ways to pivot as we did with the hand sanitizer and now the cleaning products.
To fellow small business owners, I would say, trust the process. Allow whatever life throws at you to serve as a springboard for new aspirations and ventures. Do not give up hope; do everything you can to keep your dreams alive.
Sure, it's scary. But just by diving into the deep end, you inspire others to follow suit.
We will continue to listen to our customers and respond to their every need — all the while embodying the qualities that inspired me in that distant land lined with the most beautiful mango trees.
To learn more about Ellie Bianca products, visit here.
To read more on UPS's thought leadership blog, visit UPS Longitudes.