Unlocking the Power of Policy at Ceres 2020 in New York!
Unlocking the Power of Policy at Ceres 2020 in New York!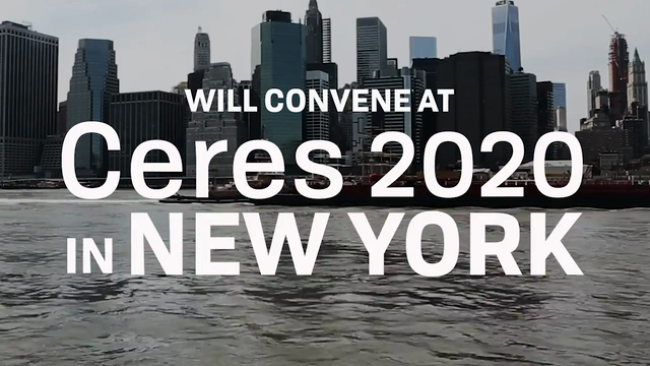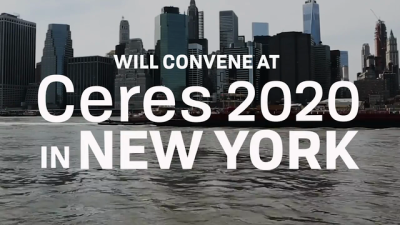 Monday, February 24, 2020 - 12:35pm
At Ceres 2020 in New York, we'll explore how policy and legislation can serve as real solutions to our most pressing sustainability challenges—like climate change—and how both investors and companies can help shape innovative climate and energy policies at the state, regional, national and global levels.
Here are just a few of the sessions at Ceres 2020 that will focus on the policy solutions for combating the climate crisis and other sustainability threats.
BICEP Breakfast: Bootcamp for Policy Advocacy
Supportive policies are an essential element of achieving ambitious sustainability and climate goals. In this bootcamp, participants will:
Explore how Ceres BICEP Network companies are successfully impacting climate, clean energy, and clean transportation policies around the country
Examine the climate, economic, and business imperative for advocacy
Evaluate how seasoned and new company advocates are building the internal buy-in to nimbly engage in advocacy across issues and regions
Identify tools and tactics for successful policy advocacy that will allow companies to meet financial and sustainability goals faster and more cost effectively
Scaling Decarbonization Policies​
While cross-sectoral policies such as carbon pricing are critical in the fight to stop climate change, many heavy emitting sectors of the economy rely on technologies or market structures that make full decarbonization challenging without smart sector-specific policies, especially by 2050 or earlier. In this session, participants will:
Explore challenges and opportunities for decarbonizing different sectors of the economy, including transport, buildings, industry, and electric power
Outline best-in-class decarbonization policy strategies
Examine company leadership on decarbonization policy development and advocacy
Explore the opportunities and risks of negative emissions technologies and practices
Partnering for Progress: Multi-State Climate Collaborations​
Collaboration between states has been a hallmark of bringing climate policies to scale. Over the past decade, Northeast and Mid-Atlantic states have collaborated on reducing emissions from the electricity sector. On the West Coast, states and provinces are working together on economy-wide emission reduction programs. Following the Trump Administration's decision to withdraw from the Paris Agreement, governors around the country came together to share lessons learned, develop new climate programs and scale solutions. We'll discuss the lessons learned to date, opportunities for scaling and replication between states, and the role of the private sector in helping move the needle. In this session, participants will:
Understand the economies of scale when states work together to address and invest in climate solutions.
Identify opportunities for advocacy and growth of clean energy policies in 2020
Evaluate the successes and lessons learned to date
Conservative Case for Climate Action and Clean Energy​
Conservative voices are powerful allies in the effort to pass climate legislation in the United States, and our political systems effectively require bipartisan cooperation to enact major policies. In this session, participants will:
Discuss the conservative case for clean energy and climate action
Build a better understanding of the universe of conservative efforts on climate and clean energy policy advocacy
Explore specific examples of conservative policy engagement
These are just a few of the many sessions at Ceres 2020 in New York. Register now and reserve your spot on the agenda before they fill up. The time is now!
Ceres 2020 in New York will mobilize the world's most influential capital market leaders to accelerate and scale up innovative solutions on the most pressing global sustainability challenges. These leading executives will map out the urgent steps for increased investor and corporate action on sustainability risks and opportunities across diverse sectors of the economy.