UN Global Compact Bulletin (March 2019)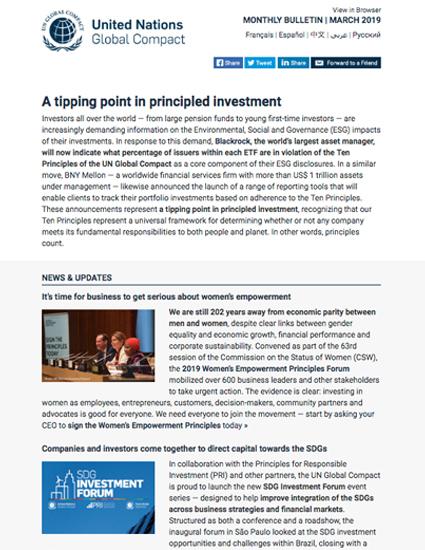 UN Global Compact Bulletin (March 2019)
A tipping point in principled investment
Investors all over the world — from large pension funds to young first-time investors — are increasingly demanding information on the Environmental, Social and Governance (ESG) impacts of their investments. In response to this demand, Blackrock, the world's largest asset manager, will now indicate what percentage of issuers within each ETF are in violation of the Ten Principles of the UN Global Compact as a core component of their ESG disclosures. In a similar move, BNY Mellon — a worldwide financial services firm with more than US$ 1 trillion assets under management — likewise announced the launch of a range of reporting tools that will enable clients to track their portfolio investments based on adherence to the Ten Principles. These announcements represent a tipping point in principled investment, recognizing that our Ten Principles represent a universal framework for determining whether or not any company meets its fundamental responsibilities to both people and planet. In other words, principles count.
NEWS & UPDATES
It's time for business to get serious about women's empowerment
We are still 202 years away from economic parity between men and women, despite clear links between gender equality and
economic growth, financial performance and corporate sustainability. Convened as part of the 63rd session of the Commission on the Status of Women (CSW), the 2019 Women's Empowerment Principles Forum mobilized over 600 business leaders and other stakeholders to take urgent action. The evidence is clear: investing in women as employees, entrepreneurs, customers, decision-makers, community partners and advocates is good for everyone. We need everyone to join the movement — start by asking your CEO to sign the Women's Empowerment Principles today »
Companies and investors come together to direct capital towards the SDGs
In collaboration with the Principles for Responsible Investment (PRI) and other partners, the UN Global Compact is proud to launch the new SDG Investment Forum event series — designed to help improve integration of the SDGs across business strategies and financial markets. Structured as both a conference and a roadshow, the inaugural forum in São Paulo looked at the
SDG investment opportunities and challenges within Brazil, closing with a bell ringing ceremony on the exchange trading floor. Learn more about SDG investment opportunities »
Two new UN Global Compact Board Members announced: Dr. Musimbi Kanyoro and Mr. Anand Mahindra
Appointed by UN Secretary-General António Guterres, Dr. Musimbi Kanyoro, President and CEO of the Global Fund for Women, and Mr. Anand Mahindra, Chairman of Mahindra Group, join more than 20 other members on the UN Global Compact Board — all of whom serve as champions of the global corporate sustainability movement. As a multi-stakeholder advisory body comprised of leaders in the global corporate sustainability movement, the Board provides ongoing strategic and policy advice, ultimately helping to shape the future of the initiative. Learn more about our governance »​
Despite some progress on gender equality, resistance remains
In the wake of #MeToo and #TimesUp, gender equality has made big strides — but not everyone is ready for change, and in
some cases, progress faces resistance. Together with Male Champions of Change, the UN Global Compact hosted a CEO Roundtable during CSW to tackle backlash against global diversity and inclusion efforts. "We can't afford to take two steps back for every step forward," says Lise Kingo. "Gender equality is not only the right thing to do, but it also makes business sense." Learn how you can help advance gender equality in the face of backlash »
Introducing the Water Action Hub 3.0: Address critical water challenges
The Water Action Hub has enabled organizations from all corners of the world to connect with potential partners, showcase new projects and learn from other water stewardship efforts. Launched in 2012, the Hub now has 1,500+ users from over 600 organizations and features 550 projects. On World Water Day (22 March), the CEO Water Mandate, together with GIZ, launched a beta version of the Hub that compiles key insights on water stewardship, allowing Hub users to author, publish and share their own insights and best practices. Browse the Hub today »
85 stock exchanges ring the bell for gender equality
In honour of International Women's Day, the UN Global Compact together with its partners rang the bell for gender equality at stock exchanges around the world, drawing attention to the important intersection of finance and women's empowerment. Research shows clear links between gender equality and investment value — companies with more than one woman on the board gain 3.7 per cent return a year over those that have none, and having at least 30 per cent of women in leadership positions adds 6 per cent to the net profit margin. Discover how stock exchanges work with companies and investors in support of women's empowerment »
HIGHLIGHTS FROM OUR LOCAL NETWORKS
Paul Polman joins Global Compact Network Indonesia to ring the bell for gender equality
The bell ringings continued in Jakarta, with Global Compact Network Indonesia organizing the first-ever "Ring the Bell for Gender Equality" event in the country. The event was attended by Paul Polman, Vice Chair of the UN Global Compact Board, and H.E. Sri Mulyani Indrawati, Minister of Finance of the Republic of Indonesia, as well as over 200 other business leaders. Read more »
View More News from Around the World »
ACTIONS YOU CAN TAKE
Assess your company's gender equality performance
Over 1,200 companies from 100 countries have already assessed their gender equality performance using the WEPs Gender Gap analysis tool. Join them and unlock a new level of economic growth by eliminating gender bias within your company »
It's time to adopt better water stewardship practices
In the lead up to World Water Day, learn more about the best practices in water stewardship that can drive impact and ensure water for all. Explore how you can help address water challenges via the Water Action Hub »
What do the 17 SDGs mean for investors?
Financing the SDGs is a big challenge, but not an insurmountable one. We invite you to work with financial intermediaries in raising the financing needed to achieve the SDGs by 2030. Join our Financial Innovation Action Platform today »
Watch our highlights video of the 2019 Women's Empowerment Principles Forum and CEO Roundtable on Gender Equality. Click here to share this video on Twitter!
OUR FEATURED RESOURCES
Women's Empowerment Principles Global Trends Report 2018
Sustainable Development Goal 6: Synthesis Report on Water and Sanitation
SDG Bonds & Corporate Finance: A Roadmap to Mainsteram Investments
INTRODUCING NEW UN GLOBAL COMPACT ACADEMY SESSIONS
Exclusively available to UN Global Compact Participants, the Academy enables you to enhance your knowledge and capabilities with learning opportunities available regardless of your corporate function or where you are on your sustainability journey »
WELCOME NEW JOINERS
The UN Global Compact welcomes 110 new companies and 20 new non-business stakeholders.
The largest companies (by employee number) to join during the month were:
EXPLEO (France)
Kelly Services Inc (United States of America)
BRAC Bank Limited (Bangladesh)
Anglo American Chile Ltda. (Chile)
Grupo Enel Argentina (Argentina)
Milliman (United States of America)
Lacteos de Honduras SA de CV (Honduras)
Johnson & Johnson - Global Community Impact
LATAM (Brazil)
Empresa de Buses Hualpen Ltda (Chile)
TECNASA (Panama)
79 companies were expelled for failing to Communicate on Progress.
UPCOMING EVENTS
11 APR: New York | Partnerships Driving Inclusive
Implementation of the SDGs The 2019 ECOSOC Partnership Forum will showcase how innovative multi-stakeholder partnerships and partnership platforms including those led by national governments can help drive implementation of the
Sustainable Development Goals (SDGs) and address existing gaps »
ABOUT THE UN GLOBAL COMPACT
As a special initiative of the UN Secretary-General, the United Nations Global Compact is a call to companies everywhere to align their operations and strategies with ten universally accepted principles in the areas of human rights, labour, environment and anti-corruption, and to take action in support of UN goals.