UN Global Compact Bulletin (December 2018)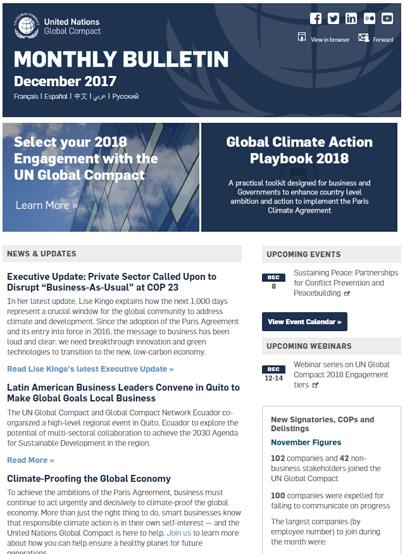 UN Global Compact Bulletin (December 2017)
Select your 2018 Engagement with the UN Global Compact. Find the right level of engagement to suit your company's need.
Explore the Global Climate Action Playbook 2018, a practical toolkit for business outlining high-level policy updates, outlook on key climate actions and the arc of ambition, and snapshot of country-level analysis on Nationally Determined Contributions and Sustainable Development Goals.
NEWS & UPDATES
Executive Update: Private Sector Called Upon to Disrupt "Business-As-Usual" at COP 23
In her latest update, Lise Kingo explains how the next 1,000 days represent a crucial window for the global community to address climate and development. Since the adoption of the Paris Agreement and its entry into force in 2016, the message to business has been loud and clear: we need breakthrough innovation and green technologies to transition to the new, low-carbon economy.
Latin American Business Leaders Convene in Quito to Make Global Goals Local Business
The UN Global Compact and Global Compact Network Ecuador co-organized a high-level regional event in Quito, Ecuador to explore the potential of multi-sectoral collaboration to achieve the 2030 Agenda for Sustainable Development in the region.
Climate-Proofing the Global Economy
To achieve the ambitions of the Paris Agreement, business must continue to act urgently and decisively to climate-proof the global economy. More than just the right thing to do, smart businesses know that responsible climate action is in their own self-interest — and the United Nations Global Compact is here to help. Join us to learn more about how you can help ensure a healthy planet for future generations.
At COP 23, Chief Executives and Leaders Agree: More Ambitious Targets Needed to Meet Paris Agreement Objectives
Leaders from business, civil society, Government and the United Nations convened in Bonn on 15 November to discuss an accelerated pathway forward towards implementing the Paris Climate Agreement and the Sustainable Development Goals (SDGs) at the COP 23/CMP 13: High-Level Meeting of Caring for Climate.
View more News & Updates »
TAKE ACTION
Choose your 2018 Engagement Tier: Will your Company Become a Participant or Signatory?
Starting in January 2018, the UN Global Compact will offer two distinct engagement tiers to suit your company's needs: Participant or Signatory. In order to engage in either tier and remain an active Participant or Signatory of the UN Global Compact, we ask larger companies to make a required annual financial contribution, based on their company's annual gross revenue/sales.
Join Forces to Create a Better World for All
Many of the UN Global Compact's success stories come from the effective partnerships we've helped participants establish. For example, partnerships helped make platforms, such as Caring for Climate, the CEO Water Mandate, the Women's Empowerment Principles and Business for Peace, into models for translating global frameworks into local action across sectors. These partnerships demonstrate the great potential of working together to drive innovation and impact, advance the sustainable development agenda and address other major global challenges.
Building the Business of Tomorrow
Through innovation and leadership, the UN Global Compact is paving the way to the future we want by working with companies, investors and business schools.
View more on what you can do »
FROM OUR LIBRARY
UPCOMING EVENTS
DEC 8: Sustaining Peace: Partnerships for Conflict Prevention and Peacebuilding (New York)
UPCOMING WEBINARS
DEC 12-14: Webinar series on UN Global Compact 2018 Engagement tiers (Multiple Dates and Languages)