Turn of Events
The Asia Society's Young Leadership Internship Program is teaching students about far more than just staging parties, galas and weddings. Discover how this Regions Bank community partner is imparting life skills while elevating culture in the community.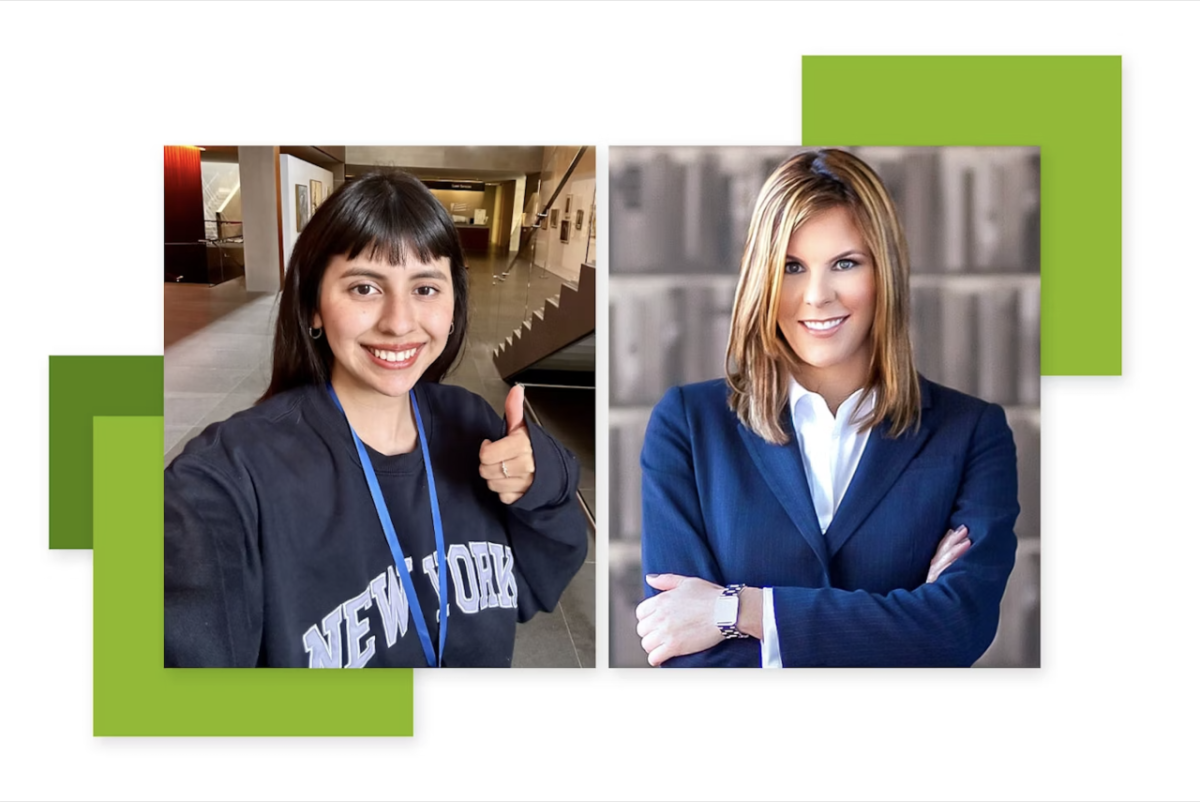 Karla Macareno (left) is part of the Asia Society's Young Leaders Internship Program providing participants with event planning and an extensive variety of life skills. Regions Commercial Banking relationship manager Megan Bickel connected with students engaged in the program for an interactive conversation about building savings, raising credit scores and additional financial insights.
By Kim Borges
During Asian American and Pacific Islander (AAPI) Heritage Month in May, Regions Bank is celebrating and honoring the rich history and traditions of diverse communities. Here, we highlight a Regions community partner working to advance greater cultural understanding.
To you, they're simply cloth napkins and place cards.
To Karla Macareno, they're essential tools.
"I didn't know how much it takes to do an event," said Macareno, an intern at the Asia Society in Houston, Texas. "It takes a lot of supplies, a lot of hard work and dedication, a lot of people to do this."
This includes weddings, proms, birthday parties, corporate events and even educational workshops like the Inner City Capital Connections training Regions Bank brought to Houston for more than 50 under-resourced entrepreneurs in late 2022. The Asia Society hosts more than 300 events annually.
Regions also supports the nonprofit's Young Leaders Internship Program offering students like Macareno the opportunity to not only develop hands-on skills with event preparation, but to gain lifelong teambuilding and leadership skills as well.
Commercial Banking relationship manager Megan Bickel also connected with the Young Leaders program interns in April to discuss building savings, raising credit scores and other financial wellness insights.
The students led the conversation just as much as I did. I learned just as much from them as they hopefully did from me.
Megan Bickel, Commercial Banking relationship manager at Regions
"Money can be a hard thing to talk about, but this group asked wonderful questions," said Bickel. "They are eager to be successful in life. We had an open dialogue. The students led the conversation just as much as I did. I learned just as much from them as they hopefully did from me."
"For me, it was very beneficial," Macareno confirmed. "I'm a whole newbie to savings. There were several times during our conversation with Megan when I thought, 'I'm going to write that down.'"
Charles Gonzalez, event manager at the Asia Society, has observed Macareno's growth in many other areas thanks to the Young Leaders Internship Program.
"Karla is smart, dependable, confident and quick and eager to learn new things," said Gonzalez. "As her confidence grows, she is now conducting some of our site visits with new clients and creating new client rental contracts. She's been a tremendous help during our busiest time of year."
And Macareno had a rare opportunity to actually enjoy, rather than work, an event during the Asia Society's Tiger Ball, the nonprofit's largest annual fundraiser. A donor offered program interns the chance to experience the evening at no cost.
"I'd never been to a gala before," said Macareno. "When I heard about it, I said, 'I can go too?' and they said, 'Yeah, you can come.' We danced, we ate, we got to have a good time. Everybody was so happy to be there. I don't usually wear dresses, but I got out of my comfort zone and said, 'Let's do this.'"
The Asia Society was a great place to start my internship. I've been able to make strong relationships with everyone. They're friendly, they're supportive, they're awesome!
Karla Macareno
Beyond feeling like the belle of the ball, Macareno came away with an even greater appreciation for those involved with making the night's event magic happen.
"They worked so much, they were tired, but they managed to work through it," she said. "It always takes a whole team to pull off events."
While Macareno wasn't initially sure she wanted to enter the events industry, her internship experience has opened her mind.
"Event planning is now one of my top job searches because of what I did here," she explained. "I didn't think I was going to like it as much as I did."
She's grateful to Regions for offering her the avenue to make that discovery.
"This opportunity is meant for me to grow more from this position and take all of the learning I've been doing with me for my future jobs," she said. "The Asia Society was a great place to start my internship. I've been able to make strong relationships with everyone. They're friendly, they're supportive, they're awesome!"