Transform. Influence. Lead. Hispanic Action Network (HAN) Aligned at the UnidosUS Annual Conference
Transform. Influence. Lead. Hispanic Action Network (HAN) Aligned at the UnidosUS Annual Conference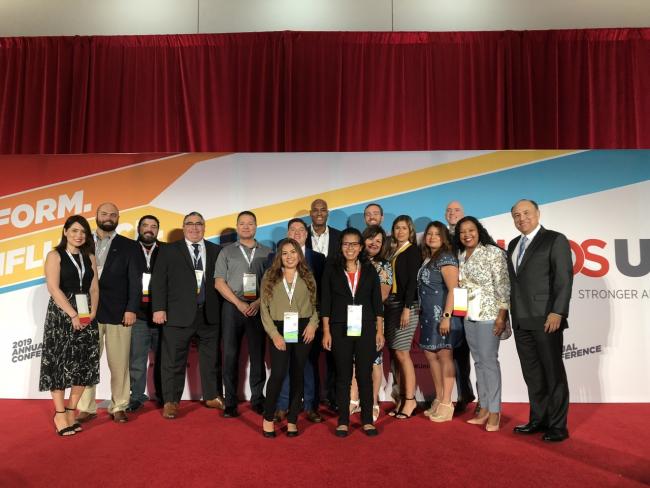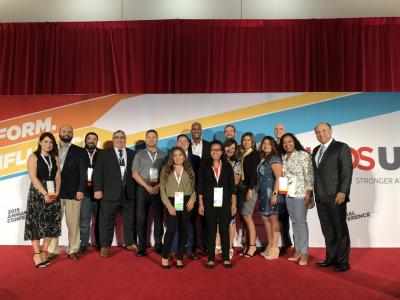 Thursday, August 22, 2019 - 9:30am
August 22, 2019 /3BL Media/ FedEx Hispanic Action Network (HAN) leadership recently attended the UnidosUS Annual Conference held in San Diego, CA, August 3 - 6. More than 3,000 visitors were on hand for the Conference and thousands more at the National Latino Family Expo that featured 125 exhibitors.
FedEx fully engaged to inspire the community
Rene Bustamante, Staff Vice President and Assistant Treasurer, Global Cash Management, FedEx Corporation, spoke on behalf of FedEx and presented two Líderes Initiative students with a $5,000 scholarship each, based on their academic excellence, financial need, and community involvement.
Rene is no stranger to dedicating his time to the good of others and the community. For years, he has exemplified his community focus at FedEx by mentoring numerous employees, supporting initiatives in the community, and helping shape a sustainable Hispanic strategy for the next generation of leaders at FedEx. He is motivated by what the future holds for FedEx's support of diversity and inclusion in the Hispanic community and the role HAN has embraced by empowering an employee base that now is over 15% of the FedEx workforce.
"As an officer of the company I am honored to support our employees and help them grow in their careers. It's just as important to lead by example investing my time in organizations like UnidosUS that promote education, development and career opportunities for youth in the Hispanic community."
It didn't stop there. Jerry Alvare, communication specialist, FedEx Ground, spoke on behalf of FedEx at one of the collaborative leadership workshops and Tony Gonzalez, Sr HR business partner, FedEx Ground, participated in the UnidosUS Superhero Family 5K run kicking off the conference. "The event was a rush of energy; so many people looking for an opportunity to transform our world and committed to building a better future for all." Alejandra Reyna from FedEx Freight México commented on her first UnidosUS Annual Conference experience.
A diverse and unified collaboration
Janet Murguía, President & CEO, UnidosUS galvanized the ballroom crowd Saturday afternoon to come together stating, "Our unity will see us to a better future...Our strength is our diversity and our unity."
At FedEx, we are committed to addressing the future of the transportation, distribution, and logistics together to drive growth and lift communities across the globe. Our team members and operating companies remain united by our longstanding Purple Promise: to make every FedEx experience outstanding. It guides everything we do.
The connection with UnidosUS helps drive the diversity of thought FedEx promotes. Employees are valued and the company understands the importance of investing in team member's futures.
Adali Hernandez, Corporate Relations Executive, UnidosUS, clearly saw the commitment FedEx has to its employees.
"It was really inspiring and humbling to see that FedEx values employees as family. It shows there is an investment in the employees, the resources and talent so they can see what the conference has to offer and take it back to their teams across the country."
UnidosUS is one of the many opportunities for employees to engage with the community and through affinity groups at FedEx. For more information on how to get involved in the community, go to the FedEx Cares site. Also, check out FedEx's investment in the Hispanic and Latino communities.