Tork Heavy-Duty Cleaning Cloth, 99% Biobased, Receives Two Amsterdam Innovation Awards 2022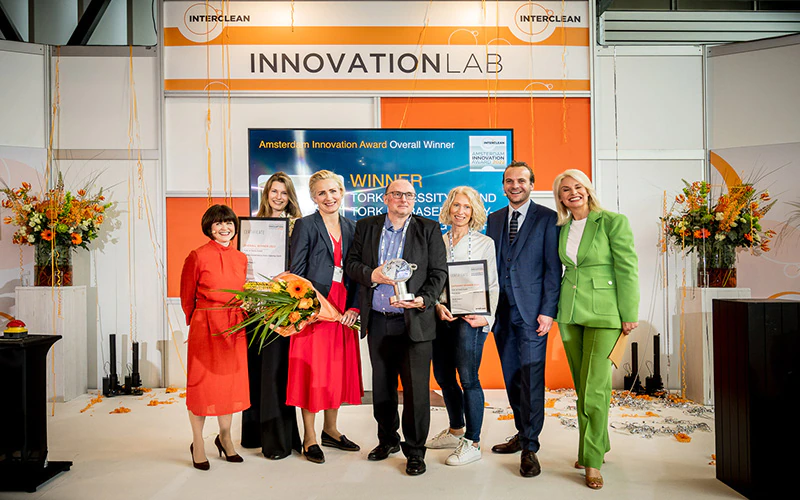 Originally published on TORK News Center
May 11, 2022 /3BL Media/ - The innovative and sustainable cleaning cloth for multipurpose usage which helps to lower environment impact in industry and foodservice environments while improving efficiency, is this year's overall and category winner of the Amsterdam Innovation Award.
The Tork Heavy-Duty Cleaning Cloth, 99% biobased, is the overall winner and winner in the category Sustainability & Environment of this year's prestigious Amsterdam Innovation Award. The award highlights the industry's most innovative products that really make a difference. The jury stated at the award show on May 10: "With the development of this new cloth, Essity is aiming to reduce consumption, waste, pollution and emissions. The fact the packaging is made from 100 per cent recycled fibers and at least 30 per cent recycled plastics completes the sustainability picture for the customer."
"Sustainability has become a significant factor in customer choices," said Anna Königson Koopmans from Essity. "The winning Tork Cloths are designed to maximize efficiency and deliver greater sustainability, while maintaining rigorous performance standards. We are proud to be the overall and category winner of this year's Amsterdam Innovation Award."
The Tork Heavy-Duty Cleaning Cloth, 99% biobased, is made from 99% plant-based fibres and sustainably sourced – independently certified by TÜV Austria as OK Biobased. It helps companies reduce their environmental impact while benefiting from improved performance for absorption, durability, linting and solvent consumption. In addition, Tork Cleaning Cloths are interfolded for easier, faster access and one-at-a-time dispensing. This means customers only touch what they take, reducing waste and cross-contamination.
The Tork Heavy-Duty Cleaning Cloth, 99% biobased is one of many ways how Tork helps customers elevate their businesses with sustainable hygiene management.
For more information about the Tork Heavy-Duty Cleaning Cloth, 99% biobased and Tork at Interclean Amsterdam, please see here: https://www.intercleanshow.com/amsterdam/innovations/innovation-award-winner
For more information, please contact:
Raquel M Carbonari
Brand Activation Director NA
raquel.carbonari@essity.com