Top 10 Insights - The Connected Consumer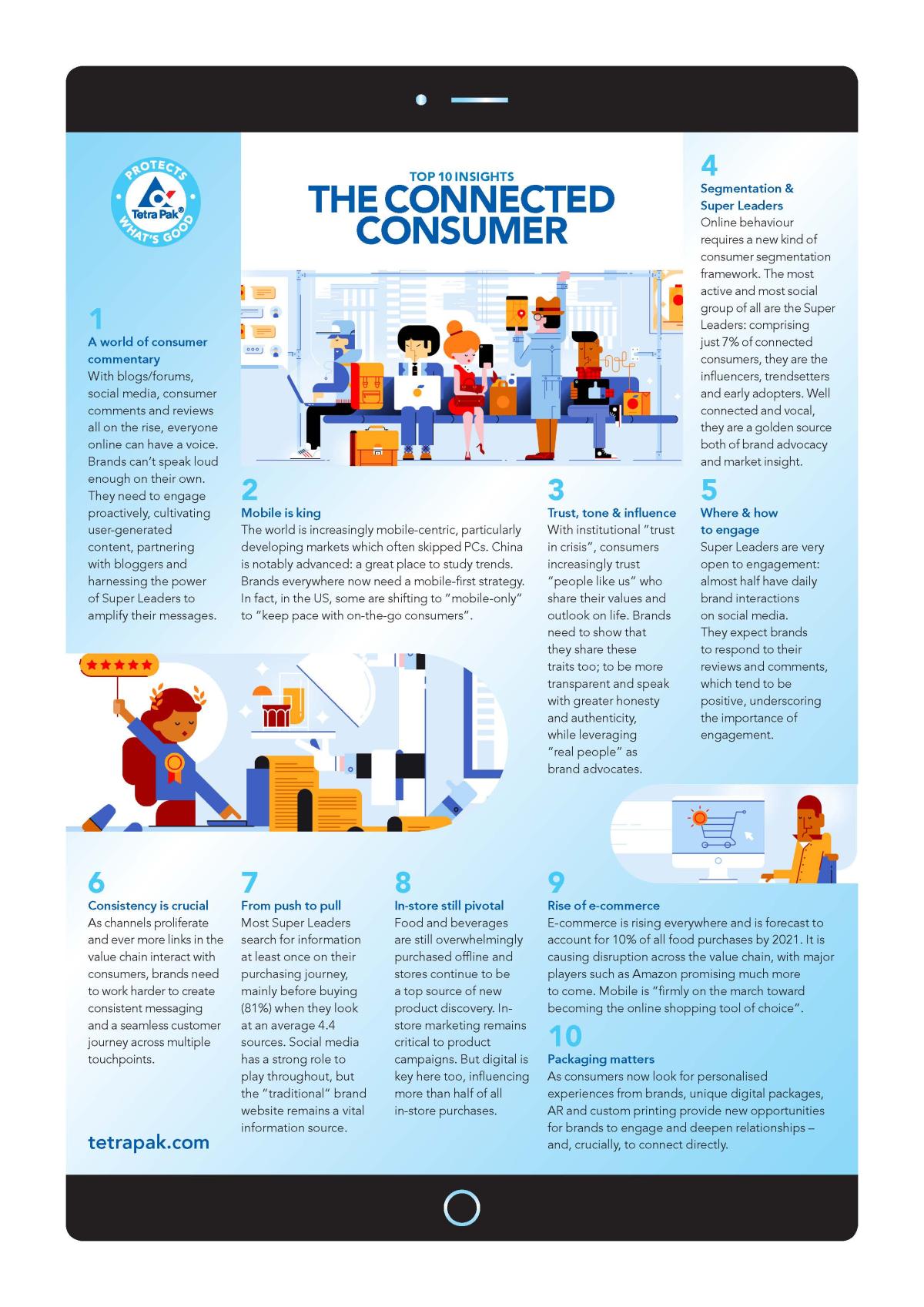 Tetra Pak Index: The Connected Consumer
The 10th edition of the Tetra Pak Index, published in collaboration with General Assembly, focuses on the fast-moving, information-saturated world of the connected consumer.
This in-depth free global study explores how food and beverage brands can leverage social media and digital channels to cultivate engaging content, that will to initiate and deepen consumer relationships; and harness the power of advocates to amplify positive messages.
Global overview
The report is based on research across 57 markets with 70,000 consumers, plus "deep dive" qualitative quantitative surveys to gain rich insights into online behaviour, customer journeys and what, how and why content is shared online.
Find out: how mobile is shaping the online conversation, and the markets that are setting the pace; the most influential marketing channels, and how to leverage them; which connected consumers to focus on, and how to develop relevant content that fosters and builds advocacy.
A new framework
Understanding online behaviour requires a new kind of segmentation framework. At the "top of the tree" are the Super Leaders, the most active and most social group of all. The earliest of adopters, the vocal trendsetters, who are a new kind of influencer, vital to unlocking the connected mass market, now and in the future.
Find out: who Super Leaders are, and where and how to engage with them; how Super Leader behaviour varies across markets and interaction hotspots; and what, where and when they like to post about your brands.
Redefining the customer journey
As the offline and online worlds blur for connected consumers, they increasingly expect a seamless experience across all channels and devices.
Find out: how mobile is increasingly the "glue" that connects the "omnichannel" experience; the role of online in the new customer journey; the disruptive ambitions of Amazon; the opportunities for personalisation, augmented reality and the digitally enabled packaging: "It gives brand owners a direct link to the consumer through the most important communication channel there is – the product itself."