Timberland Helps Reclaim the Horqin Desert
Timberland Helps Reclaim the Horqin Desert
Timberland® plants millions of trees to reverse deforestation of the Mongolian region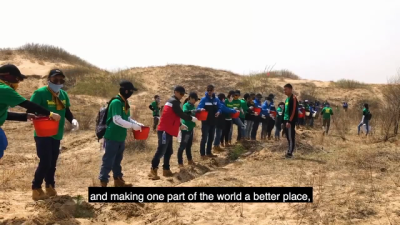 Tuesday, June 18, 2019 - 1:30pm
Over time, a region of lush grasslands in northern China suffered from overpopulation, overgrazing and the impacts of climate change to become the Horqin Desert which is now the size of Switzerland. 
Located in Inner Mongolia, the Horqin Desert began to have far-reaching impact, as agriculture suffered and sandstorms affected not only northern China but also Japan, South Korea and Taiwan.
Since 2001, Timberland® has partnered with Japanese non-profit Green Network to support a reforestation project with funding and nearly 300 days of employee volunteer hours. This Earth Day, Timberland returned to the desert to continue work on the project. 
Today 2.6 million trees stand in the Horqin Desert, greening an area that spans the size of nearly 1,500 football fields and helping to quell sandstorms and improve air quality for millions. 
For a peek into Timberland's Earth Day return to the Horqin Desert and more on the brand's environmental commitment, check out the video.