TCS Wins Gold and Two Silver Stevies® at the 2017 Great Employers Awards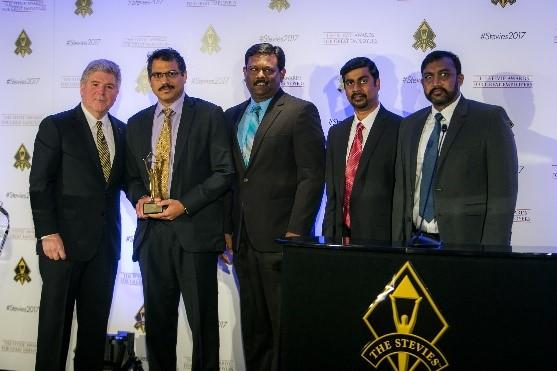 NEW YORK and MUMBAI, October 18, 2017 /3BL Media/ -- Tata Consultancy Services (TCS), (BSE: 532540, NSE: TCS) a leading global IT services, consulting and business solutions organization, today announced it won three Stevies® at the second annual Great Employers Awards 2017. TCS was recognized with a Gold Stevie® for Achievement in Employee Engagement in the Americas, and two Silver Stevies® for Achievement in Recruitment and Employer of the Year – in the large enterprise and computing industry categories.
The Stevie® Awards for Great Employers is an international business competition open to all organizations, recognizing the best employers and the human resources professionals, teams, achievements, and HR-related products and suppliers who help to create and drive great places to work. Winners were given the awards during a gala banquet in New York City on September 22, at the Marriott Marquis Hotel.
"TCS' is deeply committed to engaging its employees through a culture of learning, collaborating and performance," said Surya Kant, President, North America, U.K. and Europe, TCS. "Our dedication to hiring local talent, meeting the challenges of the ever changing digital landscape, and diversity across all roles shines through in this recognition from the Stevie® Awards for Great Employers."
"The judges were impressed with the quality of entries we received in the second annual Stevie Award for Great Employers. The dedication these Stevie-winning organizations have to providing great workplaces for employees was evident in each nomination," said Michael Gallagher, President and Founder of the Stevie Awards.
The key contributors to TCS' three Stevie® Great Employer Awards were its industry leading U.S. hiring and recruitment processes specific to college and MBA graduates and experienced professionals. TCS was also recognized for its HR leadership and commitment to developing a world class organization through its workforce management practices and in depth training programs that aide employees in their development and growth at the company.
TCS' North American HR team won the Gold Stevie® Award for Achievement in Employee Engagement in- The Americas for its multi-pronged employee engagement strategy that engages employees across all levels of the organization in an effort to build and harness a culture of learning, openness and performance orientation.
The primary factors behind TCS winning two Silver Stevie® Awards:
Achievement in Recruitment: recognized for its industry leading job creation in the American IT Services sector over the past five years, plus its efforts to fully digitalize the onboarding experience through the ibegin platform and its dedication to STEM education in the U.S. over the past decade.
Employer of the Year: notable efforts to meet the challenges of the ever changing digital landscape and TCS' North American investments, including its innovation labs and extensive nationwide STEM education programs, academic partnerships, and endowments.
Details about the Stevie Awards for Great Employers and the list of 2017 Stevie winners are available at www.StevieAwards.com/HR.
About Tata Consultancy Services Ltd. (TCS)
Tata Consultancy Services is an IT services, consulting and business solutions organization that delivers real results to global business, ensuring a level of certainty no other firm can match. TCS offers a consulting-led, integrated portfolio of IT, BPS, infrastructure, engineering and assurance services. This is delivered through its unique Global Network Delivery Model™, recognized as the benchmark of excellence in software development. A part of the Tata group, India's largest industrial conglomerate, TCS has over 385,000 of the world's best-trained consultants in 46 countries. The company generated consolidated revenues of U.S. $17.6 billion for year ended March 31, 2017 and is listed on the BSE Limited and National Stock Exchange of India Limited. For more information, visit us at www.tcs.com.
TCS Media Contacts: