TCS in Fortune 50 List of Companies That Changed the World
High Profile Ranking Places Tata Consultancy Services Among World's Most Admired Brands, such as JP Morgan, Apple, Johnson & Johnson, and Unilever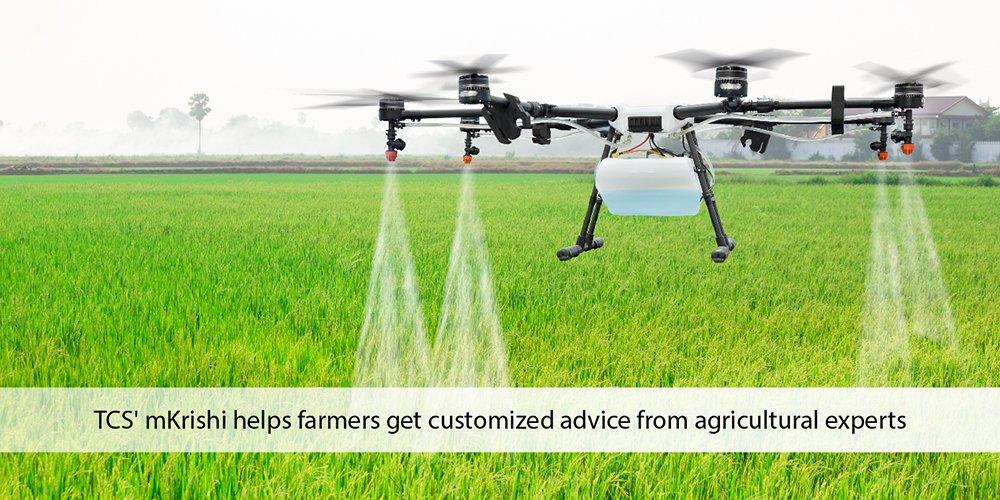 NEW YORK and MUMBAI, September  14, 2017 /3BL Media/ -- Tata Consultancy Services (BSE: 532540, NSE: TCS), a leading global IT services, consulting and business solutions organization, has been recognized in Fortune's annual list of the Top 50 companies that are changing the world, ranked 30th among many of the world's most notable brands. The Fortune list is selected by an independent panel of experts, acknowledging companies whose businesses are helping to address numerous societal challenges and ultimately 'do well by doing good.'
TCS applies its technical and digital expertise to develop solutions that help communities around the world, combined with the significant active volunteerism of its employees. Among the initiatives cited by Fortune, TCS' mKrishi was identified as an innovative digital solution that is helping to make a positive impact for marginalized communities. The mKrishi tool provides a mobile-based advisory platform that gives farmers access to customized advice from agricultural experts, helping them decide what crops to raise, anticipate weather changes and predict when crops will achieve the best price.
K Ananth Krishnan, Executive Vice President and Chief Technology Officer, TCS, said, "It is an absolute honour for TCS to be part of the prestigious 2017 Fortune Top 50 companies that 'Change the World' list. This is outstanding recognition for us and exemplifies our commitment to excellence and service to society. At TCS, we continuously strive to make an impact that can lead to a positive societal change."
Beyond the mKrishi solution, TCS is a prominent supporter of STEM education, particularly among women and under-represented minorities, inspiring such groups to pursue careers in IT. It is a founding member of Million Women Mentors and its goIT program has reached students around the world, teaching computing science, app development and design thinking. TCS is also inspiring future generations of tech leaders through targeted partnerships such as its $35 million donation to Carnegie Mellon University to explore innovation for the 4th Industrial Revolution and work with the British Council to provide 1,000 internships to India for UK STEM graduates.
TCS' commitment to skills development includes initiatives to help address the literacy challenge facing 17% of all adults globally, two-thirds of which are women. For example, the Computer-Based Functional Literacy (CBFL) program is activate across India and other developing countries. Beyond investment in skills, the Fortune accolade also cited TCS initiatives across sustainability and health and wellness. The company has been named in the top 2% of international companies by EcoVadis for its CSR and sustainability efforts, which have seen CO2 emissions fall by almost 50% since 2007. Furthermore, TCS is a major contributor to the Clean India: Clean Schools initiative to ensure proper sanitation and encourage young people to attend school.
TCS' support for health and wellness comes through its partnerships with many of the world's biggest marathons, including New York, London and Amsterdam, to inspire more active lifestyles in those communities. Its support for long distance running extends to the company's global Fit4Life initiative, where TCS employees are encouraged to run and stay active through a corporate support and recognition system.
Across all these programs
These stories and many more from TCS were collated in a campaign called #DigitalEmpowers, launched at the 2017 World Economic Forum. The program provides a platform for inspiring and engaging stories that capture digital's empowering impact across the globe.   
About the Fortune Change the World 50
The Change the World list recognizes companies that have had a positive social impact through activities that are part of their core business strategy. It prioritizes companies with annual revenues of $1 billion or more. Fortune writers and editors, with help from partners at FSG and Shared Value Initiative, evaluate and rank the companies on three factors:
Measurable social impact: Consider the reach, nature and durability of the company's impact on one or more specific societal problems. This category receives extra weight.
Business results: Consider the benefit that such socially impactful work brings to the company. Profitability and contribution to shareholder value outweigh benefits to the company's reputation.
Degree of innovation: Consider how innovative the company's effort is relative to that of others in its industry and whether ­other companies have followed its example.
About Tata Consultancy Services Ltd. (TCS)
Tata Consultancy Services is an IT services, consulting and business solutions organization that delivers real results to global business, ensuring a level of certainty no other firm can match. TCS offers a consulting-led, integrated portfolio of IT, BPS, infrastructure, engineering and assurance services. This is delivered through its unique Global Network Delivery Model™, recognized as the benchmark of excellence in software development. A part of the Tata group, India's largest industrial conglomerate, TCS has over 385,000 of the world's best-trained consultants in 46 countries. The company generated consolidated revenues of U.S. $17.6 billion for year ended March 31, 2017 and is listed on the BSE Limited and National Stock Exchange of India Limited. For more information, visit us at www.tcs.com.
To stay up-to-date on TCS news in North America, follow @TCS_NA. For TCS global news, follow @TCS_News.
TCS Media Contacts: