TCS Digital Empowers: Join Amazon, Good360, US National Science Foundation and More on Jan 10-11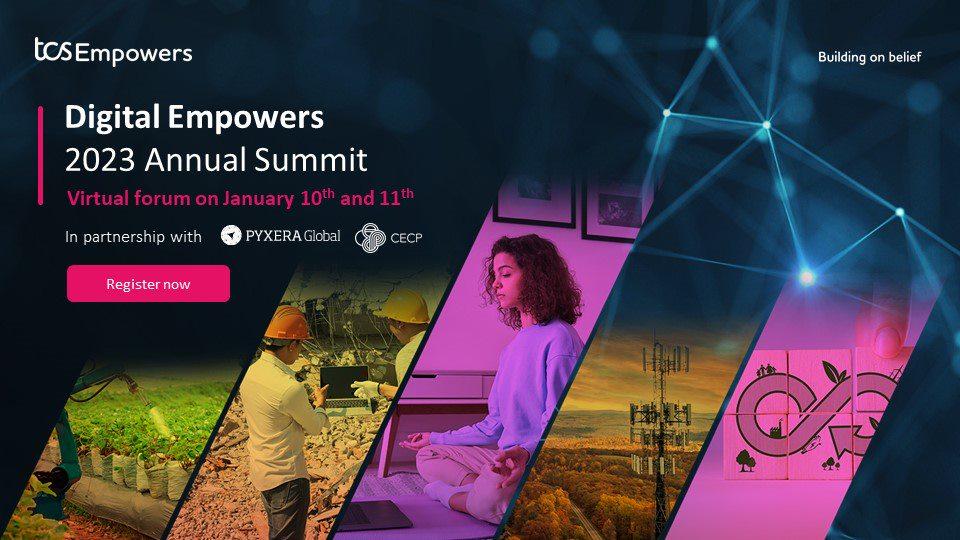 Join TCS for bold and big conversations with innovative leaders from the US National Science Foundation, Michigan Medicine, Illumina, Liberty Global, The Hunger Project, Amazon, Good360, and more.
Register today for the 2023 Annual Summit livestream and join the Digital Empowers community to discover how you and your organization can play a critical role in empowering actualized prosperity where you live and work.
In 2023, TCS will prime communities for prosperity by gathering the most impactful organizations with the best digital solutions, backed by experience, to understand which solutions need to be moved forward. TCS wants to hear from you, your community, and your organization to help unpack solutions.
"TCS Digital Empowers convenes voices from across sectors and backgrounds to underscore digital innovation that brings us closer to an equitable and inclusive digital economy. I'm honored to be giving a keynote at the Digital Empowers 2023 Summit on January 11."
~ Suresh Muthuswami, Chairman, North America of Tata Consultancy Services, and keynote speaker on January 11.
During the two-day summit, you will:
Learn from eight disruptive thinkers who are applying innovative solutions to critical social issues in the areas of food security, health equity, the circular economy, the future of work, disaster response, and the digital divide.
Engage with seasoned practitioners who are proposing technology and partnership-based solutions to solve the barriers to an equitable future of work.
Understand how these critical social issues, although unique, are connected to one another through needs such as equity.
Join us as we examine the role of technology today and identify ways it will catalyze impact in the near future.
Through Digital Empowers, TCS has partnered with Chief Executives for Corporate Purpose (CECP) and PYXERA Global to foster cross-sector collaboration using leading-edge technology and digital innovations to make progress on core social issues. CECP and TCS will guide speakers through this virtual forum.
Register at https://on.tcs.com/2023Summit for this important conversation.