TCS and U.S. Chamber of Commerce Foundation Assemble Leaders to Discuss Digital Technology's Impact on the Future of Philanthropy
Tata Consultancy Services and Other Experts Discuss How to Incorporate AI, Automation, Blockchain, and Cloud Technologies to Solve Problems Affecting Health, Education and the Environment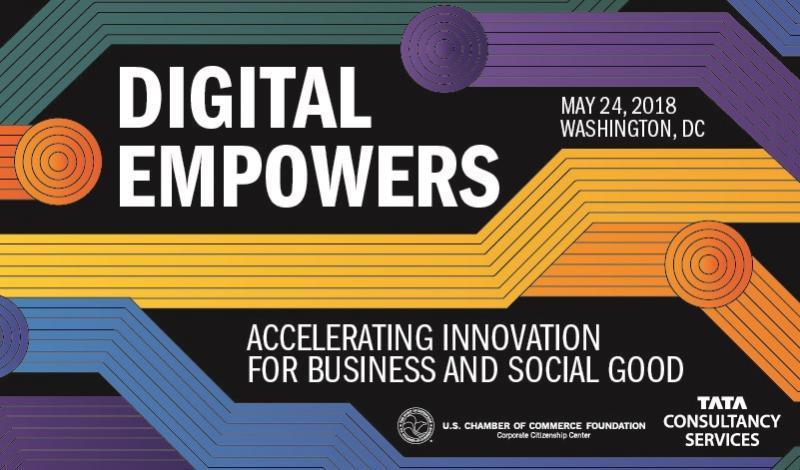 WASHINGTON, D.C. and MUMBAI, May 24, 2018 /3BL Media/ -- Tata Consultancy Services (TCS), (BSE: 532540, NSE: TCS) a leading global IT services, consulting and business solutions organization, in partnership with the U.S. Chamber of Commerce Foundation (USCCF), is convening today for Digital Empowers: Accelerating Innovation for Business and Social Good at the Chamber of Commerce in Washington D.C. The forum connects leaders across business, technology, government, policy, and citizenship areas with on-the-ground partners who are shaping the future of innovation and social impact to discuss with nonprofit leaders how technology can solve pressing societal challenges.
Every day, non-profit organizations across the U.S. receive billions in contributions, supporting causes from education, health and the environment, to social wellbeing and arts and humanities. These organizations face challenges, including governance, reporting, impact, and scale. Similar to how digital technology is helping enterprises grow and transform, it can play a pivotal role in alleviating these societal issues and provide an opportunity for social innovation.
The forum's objective is to increase awareness and understanding around the impact of advancements in technology. Speakers from across industries will share how their organizations leverage new technology and digital innovations, including blockchain, design thinking, virtual reality, robotics, and cloud analytics to increase access and equity to individuals and communities.
"In the Business 4.0 era, we have the unique opportunity to harness the abundance of digital technologies to leapfrog innovation for business and social good," said Balaji Ganapathy, Head of Workforce Effectiveness, TCS. "Having leaders from across sectors involved helps to develop a shared vision, increases awareness, advocacy and public-private partnerships, and creates a paradigm shift towards creating exponential value for our fellow citizens and the community."
"At the most basic level—businesses are problem solvers. From providing invaluable services to innovating new products, the private sector—by design—finds opportunity and drives solutions," said Marc DeCourcey, Senior Vice President, U.S. Chamber Foundation. "So it only makes sense that leading businesses are also leveraging technology to solve some of the greatest social issues of our time." 
The event's program will discuss ways to develop partnerships, funding opportunities and human and technology capital. Featured speakers include Surya Kant, President of  North America, UK and Europe at Tata Consultancy Services; Kevin Brault, Principal and Federal Health Care Sector Leader at Deloitte & Touche LLP; Dr. Kingsley Fregne, Group Leader of Robotics & Intelligent systems, Advanced Technology Laboratories at Lockheed Martin; Denise Spell, Chief of Operations and Engineering at the Field Innovation Team; and Jeff Weld, Ph.D., Senior Policy Advisor and Assistant Director for STEM Education at the White House Office of Science and Technology Policy. TCS and USCCF will also publish a report defining the strategies organizations can utilize to benefit from advanced technology.
About Tata Consultancy Services Ltd. (TCS)
Tata Consultancy Services is an IT services, consulting and business solutions organization that partners with many of the world's largest businesses in their transformation journeys. TCS offers a consulting-led, Cognitive powered, integrated portfolio of IT, Business & Technology Services, and engineering. This is delivered through its unique Location Independent Agile delivery model, recognized as a benchmark of excellence in software development. A part of the Tata group, India's largest multinational business group, TCS has over 394,000 of the world's best-trained consultants in 46 countries. The company generated consolidated revenues of US $ 19.09 billion for year ended March 31, 2018 and is listed on the BSE (formerly Bombay Stock Exchange) and the NSE (National Stock Exchange) in India. For more information, visit us at www.tcs.com.
To stay up-to-date on TCS news in North America, follow @TCS_NA. For TCS global news, follow @TCS_News.
TCS media contacts: